The Cheesy Swap For Irresistible, Grown-Up Mozzarella Sticks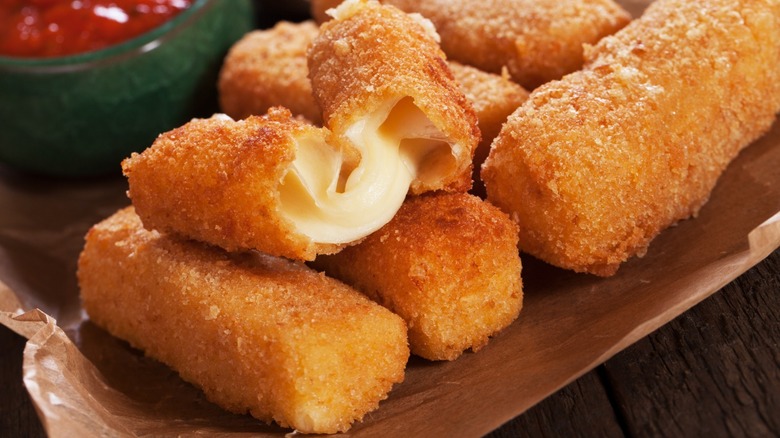 Igor Dutina/Shutterstock
There's a reason that mozzarella sticks appear on so many restaurant menus, from casual Italian eateries to cozy spots serving up pub fare. The combination of the ooey, gooey mozzarella interior and the crispy fried crust is a winning one. Add a dipping sauce to level things up and you've got an appetizer that few would refuse.
However, if you're looking to craft an elevated version of the menu staple at home, all you need to do is swap out the cheese you use. While mild mozzarella cheese is a crowd-pleaser, you'll thrill more adult palates by using brie instead. A TikTok video shared by @scutters demonstrated exactly how to execute this swap, and the post received over 261,000 likes and more than 11,000 shares as users of the platform were tantalized by the dish.
To avoid too much food waste, you will have to rethink the shape of your fried cheese. Since brie typically comes in a wheel rather than a block, it's not easy to get uniform rectangles of cheese — you'd be wasting a ton around the edges. Instead, slice the brie into wedges that can then be breaded. While the individual in the video skewered each brie wedge to make it easier and tidier to bread and fry them, it's not a necessity. You could simply toss them in your breading mixture and then get the exterior crisp according to your preference — frying, air frying, or baking all work.
More tips for decadent breaded brie bites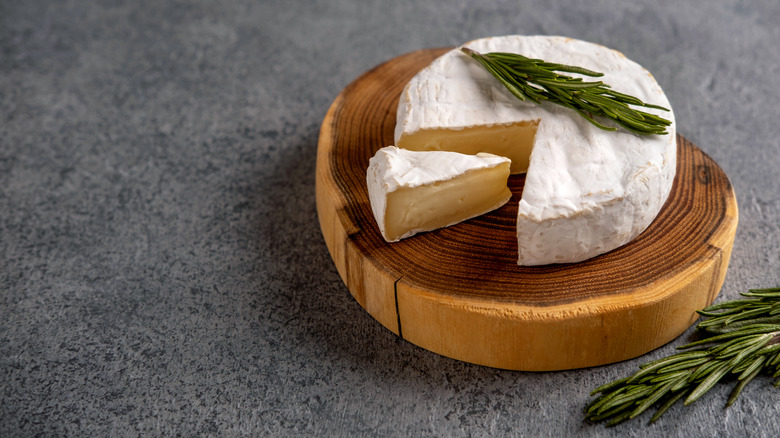 Svetlana Khutornaia/Shutterstock
Once you've unwrapped your wheel of brie and are ready to start slicing, don't be tempted to remove the rind in order to make the exterior more closely resemble mozzarella's smoothness. While these crispy breaded brie wedges might be inspired by mozzarella sticks, you're not looking to replicate the original dish. The rind is edible, so no worries there; and it'll actually help the cheese hold its shape. Depending on the temperature of your oil or oven, some of it may ooze slightly on the cut sides, but the rind should help contain most of the ooey, gooey interior.
Since you're elevating the cheese you're using from mozzarella to brie, you'll also want to make sure you swap out the typical marinara dipping sauce that comes with mozzarella sticks for something that complements brie. For example, the rich, buttery flavor of brie pairs perfectly with fruit, so fruit jam or preserves make a great dipping option. Everything from peaches to cranberries to blackberries works well — if making your own, go with what's in season.
And, don't be afraid to enhance the breading as well. While you need the flour and egg to ensure everything adheres to your cheese, you can easily level up your breadcrumbs with a bit of added flavor. Incorporate some ground pecans to add nutty flavor notes, for example, or spice up your breadcrumbs with chili powder and drizzle the final product with honey for an irresistible sweet-heat combo.