When You Can Get Breakfast At These Popular Fast Food Chains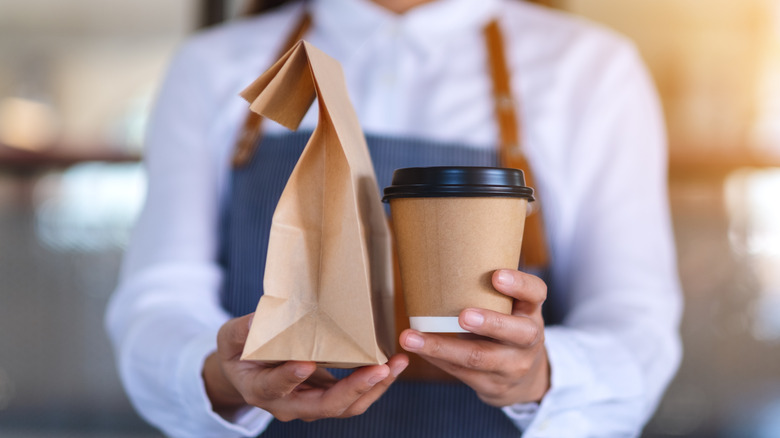 Farknot_architect/Getty Images
We get it. You're tired, you're groggy, and you have a million and one tasks to get accomplished for the day. What you need is a good hot breakfast to get you up and off to a great start. Unfortunately, grabbing a fast food breakfast on-the-go isn't always as easy as you might hope. Depending on the fast food chain and the time you choose to visit, you just might be met with a closed drive-thru window and a dark restaurant. But don't fret.
Although store hours and breakfast times vary, there are certain fast food chains that open early, serve breakfast late, and may even offer breakfast as an all-day affair. Interested in knowing which is which? Of course, you do. In this post, we'll give you the low-down on exactly which restaurants serve breakfast when and which locations are kind enough to offer eggy deliciousness all day. So, if you're ready, let's dive in.
Wendy's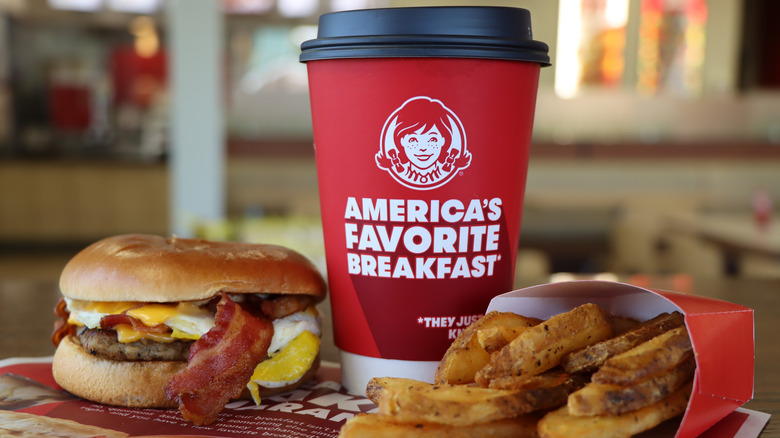 Deutschlandreform/Shutterstock
In case you don't already know, Wendy's restaurant serves up sweet treats and yummy eats that everyone can enjoy for breakfast. According to Wendy's website, the Dave Thomas-founded company  typically starts serving breakfast fare at 6:30 a.m. before ending it at 10:30 a.m. But if you're looking for delivery options, don't expect your food to show up quite that early. If delivery services are offered at all, they usually start a bit later, with most dropping off steaming hot sandwiches and other goodies around 8 a.m.
So, what exactly does Wendy's have on its menu at the crack of dawn? Expect to wake up to flaky croissants and fluffy biscuits or, if you're really hungry, a breakfast Baconator, which has sausage, cheese, bacon, egg, and Swiss cheese sauce on a bun. This fast food joint also has french toast sticks, seasoned potatoes, coffee, and, oh, a very flavorful oatmeal bar with blueberries and cranberries in it.
And while most of these items will go into hiding as soon as the clock strikes 10:30 a.m., you may be in luck. Some items, such as the oatmeal bar, can still be enjoyed throughout the day or during evening hours. Sweet!
Burger King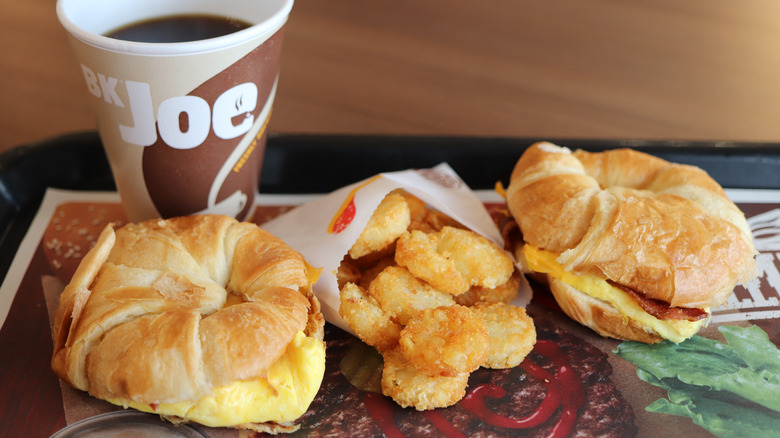 Deutschlandreform/Shutterstock
Ah, ya just can't help but love Burger King, especially when it's serving fresh breakfast as early as 6 a.m. We were pleased to find many BK locations opening their doors to hungry customers so early. The earlier start time is helpful for those clocking in for an extremely early shift, starting a lengthy commute, or needing to grab a bite for the babes on the way to daycare or school.
What's more, there may even be flexibility when it comes to what time Burger King's breakfast ends. While most locations will wrap up morning fare around 10:30 a.m., a select few may keep dishing up the goods until as late as 11 a.m.
So, what's there to grab from Burger King this early in the day? Sample its ever-popular Croissan'wich with egg and cheese and your choice of sausage, bacon, ham — or all three — on a croissant. You can also get melty burritos, biscuit sandwiches, french toast sticks, or pancakes and sausage. Hash browns are also available. Burger King also makes sweetened iced coffee for those needing a quick morning jolt before strutting into the office. Thanks, BK!
Taco Bell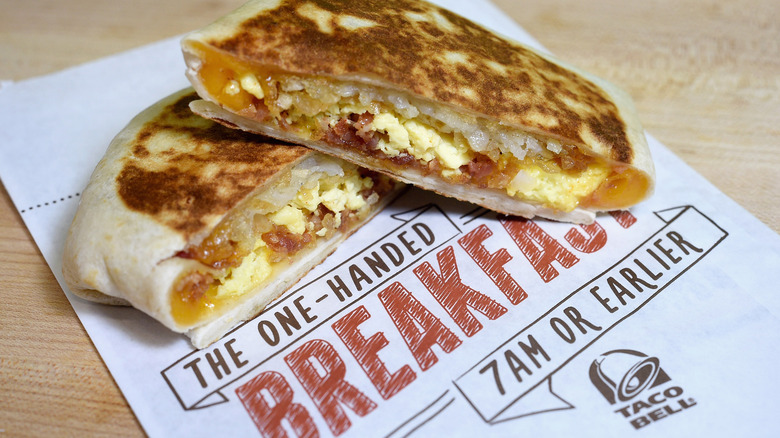 Joshua Blanchard/Getty Images
Though we love that Taco Bell has breakfast, we wish it offered its warm wrapped offerings a little earlier. But, hey, we'll take what we can get.
According to Taco Bell, most locations start serving breakfast at 7 a.m., which may be a bummer to those needing to get their day off the ground sooner. Having said that, Taco Bell fans can consistently enjoy egg-stuffed items up until 11 a.m., which is slightly later than a few of the other popular fast food chains we've looked into. 
These later hours mean you can shamelessly grab a breakfast Crunchwrap, bacon-stuffed quesadilla, or sausage burrito closer to your lunch break than at similar restaurants. And if it's the weekend, you're in luck ... the 11 a.m. cut-off means you can sleep in and still manage to grab these melty goods if you hurry. Just don't forget to sample Taco Bell's Cinnabon Delights, hash browns, breakfast salsa, or premium hot or iced coffee. You'll be glad you did!
White Castle
White Castle is known for tasty slider sandwiches packing plenty of savory grilled onions atop a thin 100% beef patty. But did you know White Castle also serves breakfast? It's true! Not only this, but you can literally order from its breakfast menu all day.
That's right. Unlike many fast food chains in its category, White Castle does not attempt to dictate when you can enjoy your sausage and eggs. Choose from surprising and interesting flavor combos, such as Belgian waffle breakfast sandwiches or its original slider bun topped with egg and cheese. You can also order up a simple breakfast toast sandwich topped with familiar meats and scrambled eggs resembling something you could actually make in your own home kitchen. Be sure to try its Hash Brown Nibblers too!
Just know that while some White Castle locations stay open 24 hours (hello, breakfast at 2 a.m.), others, including a couple locations in Nashville, Tennessee, may have limited operating times. To know for sure, check with your local White Castle before heading out.
McDonald's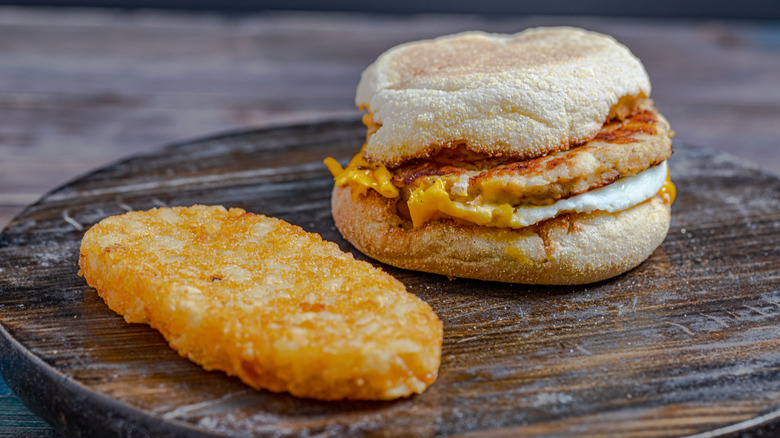 khaled82/Shutterstock
If you've got a Mickey D's close by, you're in luck: You just might snag Sausage and Egg McMuffins, McGriddles, pancakes, and breakfast burritos earlier than you ever thought to wake up.
Yep, you read correctly. Some locations offer breakfast as early as 5 a.m., which, we must say, is pretty impressive. Still, other locations may not get rolling until 6 a.m., so be sure to check with your local McDonald's to find out the correct time.
As far as ending times go, you should expect some variation. Many locations will stow away your favorite breakfast options by 10:30 a.m., but some restaurants, such as a few in Los Angeles and Texas, will stretch breakfast until 11 a.m. What's more, is that select McDonald's venues may even allow you to order a few of its breakfast items from the budget menu even after 11 a.m. Common breakfast grabs that remain available throughout the day often include the sausage burrito and hash browns, but as always, these options are subject to change.  
Bojangles
We've found another all-day breakfast banger for you, and if you're a biscuit lover, you'll totally dig it.
Bojangles is a popular restaurant featuring freshly baked biscuits and crispy chicken fare as the core focus of its ever-popular menu. Thankfully, fried chicken on biscuits isn't limited to morning hours, but instead, can be enjoyed all day long. Take your pick from savory country ham and egg, fried steak, and, yep, biscuits and gravy. Typical store hours are from 5 a.m. to 10 p.m. though variations in start times do exist.
And while you can grab these delicious eats during Bojangles' open hours, you shouldn't expect to be able to eat every menu item early in the morning. According to the Bojangles' website, there are some menu options that are off-limits until 10:30 a.m. These include family meals, dinner specials, and a few other select items. Oh, well. You win some and lose some, we always say.
Hardee's
Hardee's is an awesome choice for hearty breakfast options when you're feeling particularly ravenous. The issue? Its breakfast hours can often vary wildly. While you can generally expect breakfast to start no later than 7 a.m., there are some Hardee's locations that start serving as early as 6 a.m. In either case, know for certain that you can almost always expect to miss breakfast at Hardee's if you arrive any time after 10:30 a.m.
So, what does Hardee's have to offer enthusiastic foodies this early in the day? As we've previously mentioned, you'll want to bring your appetite when visiting this popular fast food chain. It features a filling pork chop and gravy biscuit sandwich, a loaded omelet biscuit combo, a biscuits and gravy combo, and a variety of other interesting breakfast options, including Southern style grits. You can also pick up a gooey cinnamon roll or sticky apple turnover if you happen to wake up with a sweet tooth. Just be sure to contact your local Hardee's for official breakfast hours before you dash out, especially if you plan to snag your goods earlier than 7 a.m.
Carl's Jr.
Carl's Jr. is known for savory and filling burgers, crispy fries, and other good eats, but breakfast hours can be hard to predict.
Don't get us wrong here. Carl's Jr. definitely delivers when it comes to early-morning bites. Nevertheless, it can be difficult to know exactly when it starts and stops serving breakfast. On average, we've found the most consistent breakfast hours for Carl's Jr. to be 6-10:30 a.m. Having said that, you may experience some locations dishing up breakfast starting as late as 8:30 a.m. or being available as late as 11:30 a.m., depending on where you live. 
As for what Carl's Jr. offers during these early hours, know that it tends to be a hodge-podge of awesome eats. Choose from breakfast burritos, egg-topped cheeseburgers, breakfast biscuits, french toast, and even a breakfast-inspired grilled cheese. All of this and more make heading over to Carl's Jr. early in the morning totally worth it ... just check in advance to confirm breakfast hours before stepping out.
Chick-fil-A
James Andrews1/Shutterstock
Looking to devour Chick-fil-A as you start your day? Thankfully, this highly acclaimed chicken spot opens its doors to the public bright and early. According to the Chick-fil-A website, most locations start serving breakfast grub at 6 a.m. and stop serving it at 10:30 a.m.
The catch? Though Chick-fil-A's breakfast hours are similar to other restaurants in this category, you should note that the franchise closes every Sunday. The founder of the restaurant, the late S. Truett Cathy, always closed at the end of the week as a way to honor his Christian faith and give employees a much-deserved break.
Still, Chick-fil-A delivers some pretty fascinating breakfast options from Monday through Saturday. The spicy chicken biscuit with crispy hash browns tops our list of faves, along with mouth-watering sweet tea to help quench your morning thirst. There are also a variety of biscuit and English muffin sandwiches plus its Chick-n-Minis. For the more healthy conscious eaters, options include an egg white grilled sandwich, a fruit cup, and Greek yogurt parfait. And though we're bummed about missing out on these tasty breakfast meals on Sundays, we're utterly grateful to be able to enjoy them all other days of the week.
Sonic Drive-In
There's something about knowing you can order breakfast whenever you want that makes you feel happy and giddy inside. Thanks to Sonic Drive-In, that dream can become a reality if you're lucky enough to have a location nearby. Sonic Drive-In offers breakfast food all day every day, so there's no need to panic about whether or not you've missed breakfast hours. Still, Sonic's operating times fluctuate considerably by location, so it can be challenging to know for sure when to grab your morning meal.
From what we can tell, the earliest open time for the Sonic Drive-In is 6 a.m., with some locations opening as late as 10 a.m. As for closing times, many Sonic restaurants shut down by 10 or 11 p.m., but others stay open 24/7. We told you the hours were crazy, right? Needless to say, you'll definitely need to check with your local Sonic Drive-In if you plan to swing by for breakfast. The hours vary so much that you may find yourself disappointed if you attempt a visit without checking your local store's hours first.
As for what's on the menu, you'll find a variety of breakfast burritos, CroisSonic and Toaster sandwiches, and french toast sticks. And be sure to try a cold brew iced coffee — regular or French vanilla. 
Whataburger
Whataburger has locations sprinkled mainly in Southeastern and Southwestern states, though more than three-quarters of its restaurants are in the big state of Texas.If you're lucky enough to live near one of these popular restaurants, you'll be equally delighted to know they offer yummy breakfast options perfect for satisfying your early morning desires.
So, what time can you expect to start feasting? Third-shift workers rejoice! Whataburger uniquely offers its breakfast menu from 11 p.m. to 11 a.m. This makes it easy for those looking to satisfy late-night cravings or early-morning appetites to get the food they so desperately yearn for.
Still confused about what exactly Whataburger dishes up for breakfast? Thankfully, this early riser menu is loaded with versatile options including egg-stuffed burritos, breakfast sandwiches, chicken biscuits drenched with honey butter, breakfast bowls, pancakes, hash browns, and more. So, go ahead. Pull up and make an order at 3 a.m. Whataburger has just made life that much easier.
Subway
Did you know that Subway offers breakfast? It's true! But what you may not know is that most locations serve breakfast versions of the chain's flatbread and wrap offerings every day and every hour they are open.
Surprised? So were we. But apparently, Subway not only totes fresh veggie and meat-stuffed subs to enjoy but also gives you a chance to order breakfast any time of the day at most locations.
With that said, you'll want to pay close attention to your local store's operating schedule before deciding when to make a Subway pit stop. Open times often vary significantly, and the same is true for closing times (although most shops close between 9 p.m. and 10 p.m.). Nevertheless, it can be helpful to know that if you do have a Subway nearby, you've got hot coffee, egg-filled wraps with options for bacon, ham, or steak as well as tasty flatbread right at your fingertips. You're welcome.
Jack in the Box
Got a weird hankering for breakfast at night? Thanks to Jack in the Box, you can scratch that itch. Feel free to order breakfast whenever you want it at this fun fast food joint, but be sure to check out the opening times. While most locations are open 24 hours, there are a few select locations, including a few in Indiana, that close a little past midnight.
If you can get there in time, expect the opportunity to enjoy mini pancakes, jumbo breakfast platters with all the fixings, and crispy hash browns dipped in ketchup. What's even more exciting is that, unlike many other fast food chains, Jack in the Box allows you to order from its full menu as long it's open. This means that you can literally order a cheeseburger with fries first thing in the morning or pancakes in the middle of the night. All in all, it's a win-win at Jack in the Box ... and we're so here for it.
Del Taco
Del Taco is a fast food joint that serves Mexican-inspired cuisine to food lovers in 15 states across the nation. As a result, you likely won't be surprised to learn that the restaurant also whips up fantastic breakfast burritos and other yummy dishes as part of its breakfast menu. 
So when can you expect to enjoy it? Del Taco's website makes it clear that breakfast is typically served between 5 a.m. and 10:45 a.m. For early risers, this is spectacular news. Just be aware that hours vary based on location, so be sure to check in with your local Del Taco before heading out with false expectations.
We'd also like to note that outside of tasty burritos and sausage tacos, you can also score a Café De Olla Iced Coffee to help wake you up in the morning. This delicious iced coffee creation comes perfectly essenced with brown sugar and cinnamon, making it the perfect way to start your day ... especially if you manage to get there early!