6 Fast Food Restaurants With The Cheapest Soft Drinks And 6 With The Most Expensive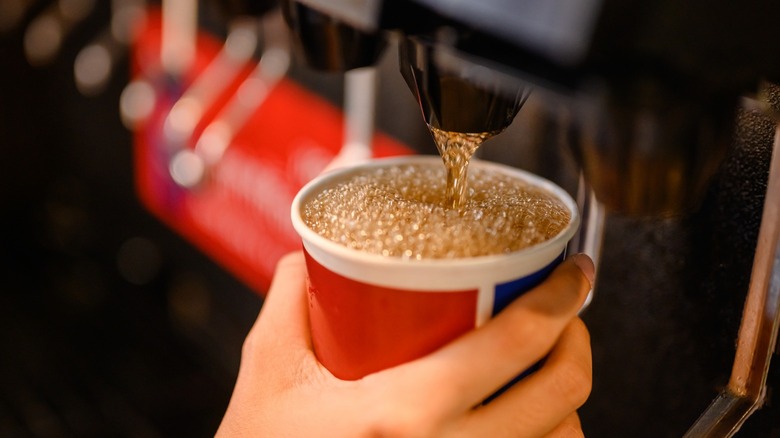 Day Of Victory Studio/Shutterstock
Cruising through the drive-thru to grab a refreshing fountain drink is practically a way of life. If you are lucky enough to find a McDonald's serving up $1 soft drinks, you can sip pretty sweetly without sacrificing too much of your hard-earned money. But more than food products on their menus, most fast food restaurants make money selling soft drinks, which means prices that can vary wildly from one outlet to the next. Maybe you're just popping into your favorite place to quench your thirst, or maybe you're adding a drink to your order to wash down your Super Crazy Tasty Combo. Whatever your reason for bellying up to the soda fountain, you're bound to find prices that make sense and prices that make you second-guess your sipping. In times when stretching your dining dollars as far as they can go, knowing which restaurant has the highest and lowest prices can help you decide.
To help clarify the carbonation confusion, we've rounded up restaurants with the most- and least-expensive drinks. We determined prices by researching order-ready menus online using the writer's ZIP code. Because prices vary by region, checking each restaurant's website will give the most accurate listings in your area.
Most expensive: Burger King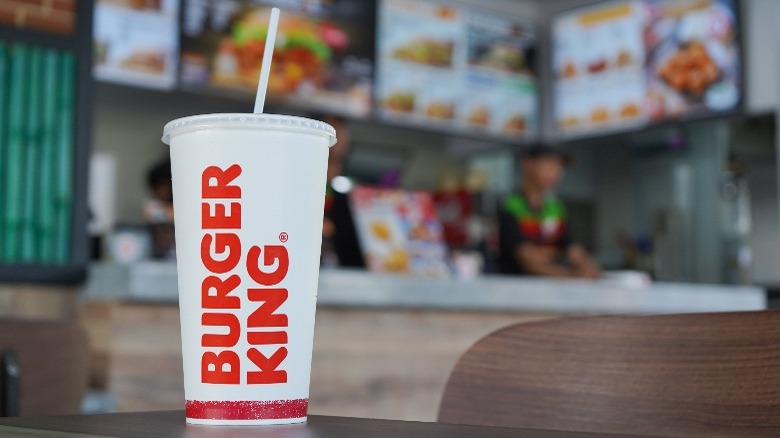 NP27/Shutterstock
You may be able to have your burger anyway you want it, but at Burger King, you can only have your drinks one way: pricey. The ruler of the charbroiled beef patty is also the reigning monarch of expensive fountain beverages. A small soda at the House of Whopper will run you $2.49, a whopper of a price for adding just 20 ounces of fizz to your cup. For a 30-ounce medium, you'll pay $2.99, and a large blast of syrup and bubbles will set you back $3.49 for 40 ounces. By comparison, a bottled Coke is 16.9 ounces, with a six-pack at Walmart priced at $3.78. When you consider the price per ounce, a large Burger King beverage costs more than double what you can get in a six-pack. That's difference enough to make anyone's wallet ache.
Sure, times have changed since diners ate at the first Burger King, so it's no surprise the price of soft drinks has gone up. According to The Daily Meal, the original price for a single King burger in 1957 was $0.37, which means a large drink today costs almost 10 times as much as a sandwich did then. Inflation and its struggle are real.
Most expensive: Del Taco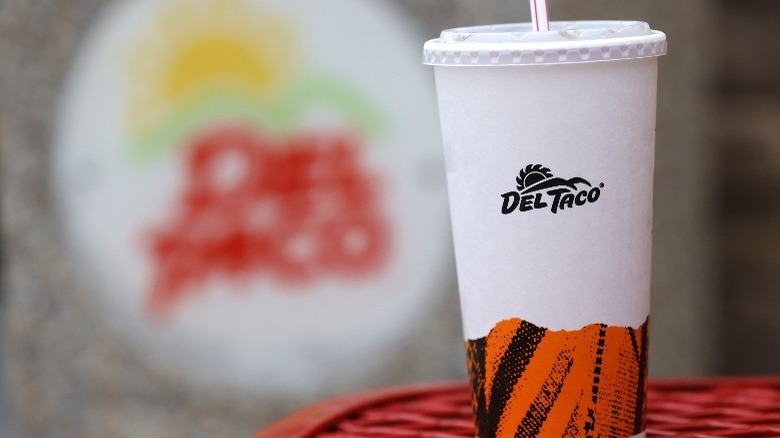 Justin Sullivan/Getty Images
Ordering a drink to go with your choice of popular Del Taco items is a given, considering how much food you receive. But looking at the Del Taco beverage menu, paying to chug while you chow is a costly prospect. In the fountain line-up, doing drinks at the Del means coughing up $2.49 for a 20-ounce small. Take things up a size to the 30-ounce medium, and you're looking at $2.89. And for a large, which in the dynamic Del Taco tradition is called a Macho, you'll pay $3.39 for 42 ounces. While the Macho gives you just under two liters of carbonated enjoyment, Kroger sells two-liter bottles for $2.99, a dime more than a Del Taco medium. Fast food drink prices may not be competitive with grocery retailers, but the cost difference for cola is considerable to conscientious consumers.
Though Del Taco provides hearty helpings of its spicy and savory selections at relatively reasonable prices, the beverage offerings tip the scales toward the "too expensive to sip" category. Unless you're absolutely parched, you can do better grabbing a two-liter bottle of your favorite drink at a grocery store to enjoy with your flatbread tacos and Macho Nachos.
Most expensive: Arby's
While Arby's serves up America's roast beef and fries so curly they practically qualify as DNA, it also sells soft drinks at prices questionable enough to choke your credit card. For a small drink from the Arby's menu, expect to pay about $2.39 for 22 ounces. A 30-ounce medium will cost you $2.89, and a 40-ounce large comes in at $3.19. Depending on the saltiness of your food and the amount of ice in your cup, you may be able to slurp through a large before you finish your meal. That sort of uneven fast-food cost-to-consumption ratio means you're paying a great deal for a not-so-great deal drink-wise. Ordering a smaller drink means hitting the ice-only stage that much faster.
Beyond the usual line-up of Coke, Sprite, and Dr. Pepper, Arby's also offers a slew of sweet specialty lemonade drinks, all of which land between the middle and high end of the pricing scale. Even a bottle of Pure Life water will cost you $1.89. So, while you may give a hearty "yes sir!" to the roast beef and fries, you'll likely be saying "no thank-you" to the inflated additional cost for bubbly sugar water.
Most expensive: Whataburger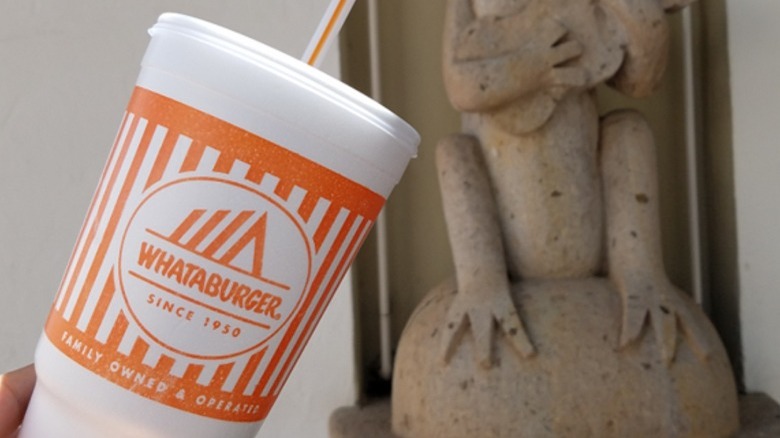 Instagram
With popular items on the Whataburger menu like patty melts, Whatacatch sandwiches, and breakfast burgers ringing up at a pretty penny, it would be a sweet deal if the orange-and-white warrior would cut diners a break on their drinks. Sadly, a stop at the beverage station will only add heartache to heartburn for those wealthy enough to drop dollars on their favorite refreshments. While a 16-ounce kid-sized soft drink runs $1.89, a 20-ounce small hits the cup at $2.29, and a 32-ounce medium pours in at $2.69. If you're looking for a super-chugging 44-ouncer, expect to shell out about $3.09. Keen eyes will notice a 40-cent increase between sizes, with larger sizes adding 12 extra ounces as well. But going from the kids size to the small size is only a four-ounce difference for the same $0.40 increase. Soft drink sizing can be so tricky.
While the Whataburger drink menu may not be ideal, getting 44 ounces of beverage for just over $3 means you get a good-sized glug, even if the cost is somewhat surprising. The lesson here is go in prepared to either spend a lot for your soda or expect less drink for the money you're willing to pay.
Most expensive: Popeye's
Popeye's occupies a special spot in the world of fast food. In addition to serving up a slew of classic Louisiana favorites, this dining powerhouse also offers fountain-style soft drinks at a premium. The Popeye's beverage menu provides diners with Coke products priced at $2.59 for 22 ounces in a small cup, $2.79 for 30 ounces in a medium, and $3.09 for 40 ounces in a large. The price-per-ounce descends as the size of the cup goes up. A little math demonstrates that a small drink will cost you $0.11 per ounce, while a medium brings the cost down to $0.09 per ounce, and a large drops it to around $0.07 per ounce. Looking through this lens might make the truth easier to swallow, but the same math on a two-liter bottle, which contains 67.628 ounces for $2.99 takes the per-ounce price to a scant $0.04. At the least, you're paying almost twice as much for a cup at Popeye's as you would pay for a bottle at the grocery store.
It's true that bubbly refreshment completes a meal filled with Cajun chicken and shrimp with a side of homestyle mac and cheese. But the eye-popping drink prices at Popeye's may give you cause for pause.
Most expensive: Subway
If you stop into Subway for a different kind of freshness, you may have noticed the beverage prices are more on the high-ticket side than other fast food franchises. Refreshment of the liquid kind on the Subway menu will set you back $2.89 for a 20-ounce small drink, while a 30-ounce medium breaks the bank at $3.19, and a 40-ounce large requires a small home equity line of credit at $3.39. Posting prices like this on the menu board is enough to send diners moving back to the real subway depot to find drinks they can afford. Note the 10-ounce difference between sizes adds an extra $0.30 between a small and a medium and only $0.20 between a medium and a large. Buying a small means paying $0.14 per ounce. That's a lot of coin for a little carbonation.
Subway also includes a variety of bottled beverages among the selection. A 16.9-ounce bottle of Coke costs $2.89, which is the same price as the 20-ounce fountain drink, but for 3.1 fewer ounces. Don't be fooled by the convenience of a bottle. If you're going for a Subway drink, be a discerning diner and spring for the better-priced beverages.
Least expensive: McDonald's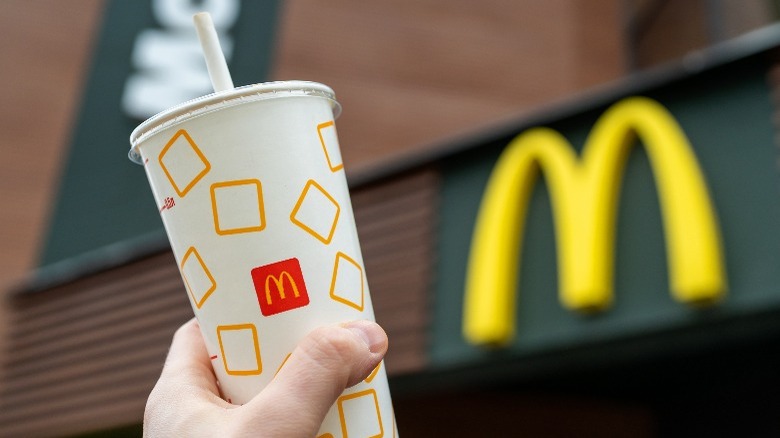 8th.creator/Shutterstock
Even if the occasional $1 for all drinks special run by McDonald's has passed you by, as Restaurant Dive calls out, you'll still be able to get affordable soft drinks there. The Golden Arches has definitely raised its menu prices through the years. But you can still find that McDonald's has some of the most cost-effective carbonation on the block. If you're hankering for just a sip, the McD's drink menu still gives you a 12-ounce drink for $1. Head on up to the 16-ounce small for $1.29, try a 21-ounce medium for $1.49, or go wild and grab a 32-ounce large for $1.59. Any of these generous glugs will keep you under the $2 mark, leaving you plenty of pocket change to spend on an extra soft serve cone or two to share with a friend.
McDonald's has always gone out of its way to provide lower-priced options for its customers. The $1 $2 $3 Menu is proof of just how inexpensive fast food can be. This cost-cutting strategy includes beverages that can be more than double the price at other outlets. Way to keep the fountain drinks fairly priced, Ronald!
Least expensive: Taco Bell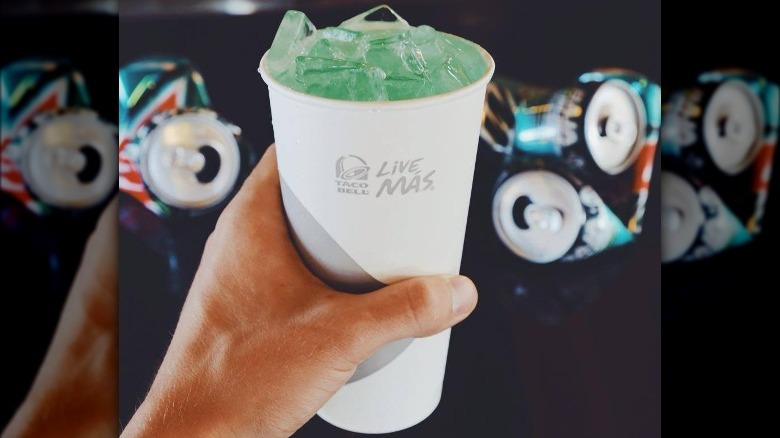 Facebook
When it comes to buying affordable soft drinks, make a run for the border and hit your nearest Taco Bell. The untold truth of Taco Bell's discount prices is that it was one of the early adopters of value menus. It's a natural fit that its cold concoctions remain some of the lower priced options around. From the Taco Bell drink menu of Pepsi products, including Mountain Dew Baja Blast, a 16-ounce pour will run you $2.19, a 20-ounce medium drink comes in at $2.29, and a 30-ounce large cup costs $2.39. You can easily whet your whistle for under $3 with this luscious line-up of properly priced pop. Great flavors at fantastic prices are a no-brainer for beverage fans who love their sparkling sips.
Consider these beverage price points next to the Cravings Value Menu which, while not reaching the all-time low of the $0.59-$0.79-$0.99 menu Taco Bell introduced back in the day, still lets hungry diners get their fill to eat and drink for just around $5. That's a bargain in any market, but most definitely in the realm of ever-increasing fast food beverage prices. Ring that bell and get your drink on.
Least expensive: Jack in the Box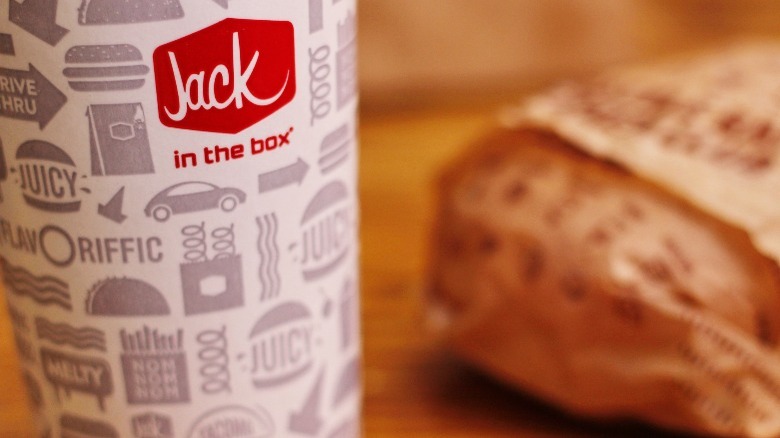 Birch Photographer/Shutterstock
If you're looking for cheap drinks to go with your cheap food, Jack in the Box is a prime location for thirsty fast food fiends to get carbonated satisfaction. The clown prince of convenient eating offers a menu of innovative options like teriyaki bowls and sourdough burgers, but it's the beverages menu that really puts a point on how properly priced the offerings are at the Box. When the urge for sweet fizz hits, you can take your pick of a cool 20-ounce medium for $1.88, try your luck with a 30-ounce large for $2.10, or shoot for the soda-fied stars with a 40-ounce extra-large for $2.32. No matter what you choose, your drink will set you back less than $3, an occasion worth celebrating.
So if you're needing a sparkling beverage to go with your popular Jack in the Box menu items, you can rest easy knowing you can do it without going into debt. When fast food and drinks are available at reasonable prices, it's worth circling a few blocks to find a Jack in the Box to serve you special stuff for less. You can add a few extra tacos to your order.
Least expensive: Raising Cane's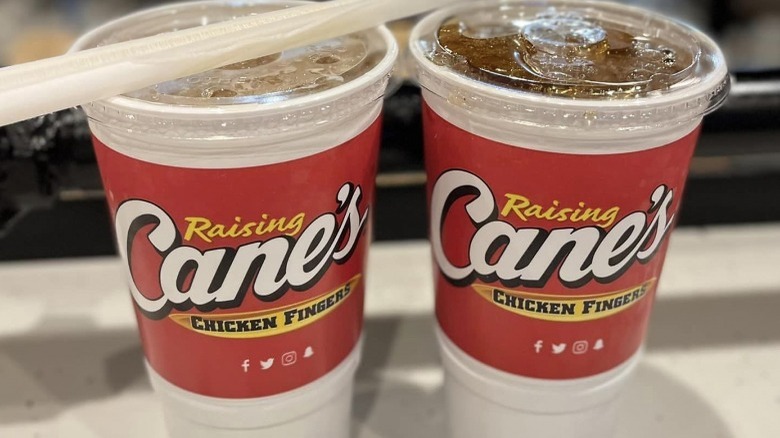 Facebook
Raising Cane's brings chicken strips to hungry customers in sandwich or free-standing form, adding new meaning to the term "stripped-down dining." Knowing this dining dynamo has some of the lower priced drinks on the scene is a comfort for those in need of a crisp cup of cola to wash down their dinner. The Raising Cane's drink menu includes a selection of premium drinks such as sweet tea and lemonade, so to keep the comparison fair and square, the focus here is on only the fountain-style soft drinks. In this arena, the options are plain and simple: a 22-ounce regular will run you $2.27, while a 32-ounce large ups the price to $2.59. These satisfying figures keep the cost for a drink well below $3, which is a common price for many fast food restaurants. Anything under that price point is a deal and a steal.
When it comes to drinks, Raising Cane's may strip back choices to keep selections as simple as the food options. But the prices that correspond with the cola collection make the minimalism a delicious decision. Raise a cup to Raising Cane's for being sensible with its soda prices.
Least expensive: Church's Chicken
In the world of affordable fast food drinks, Church's Chicken has prices worth praising. You can load up on a bunch of bubbly beverages to go with your bucket and sides without feeling as much of a pinch in your pocketbook as you would at other outlets. The Church's drink menu provides Coke, Dr Pepper, and Fanta for fans of fizzy drinks that pair well with Southern hospitality. The size options get right to the point, with a regular 22-ounce drink for $2.09 and a large 30-ounce option for $2.79. There's no fancy math needed to know that you can get plenty of sipping done for under $3. Being able to add drinks for the family becomes an easier option, with everyone free to choose their favorite carbonated pour to go with their meal. Affordable choices are always the tastiest of prospects.
In addition to fountain beverages, you can also find half-gallon drinks on the menu priced at $4.99, including sweet tea that completes the Southern flavor set. But when nothing but an ice-cold Coke will do, Church's comes through in a satisfying way that leaves a little cash rattling around in your piggy bank.
Least expensive: Chick-Fil-A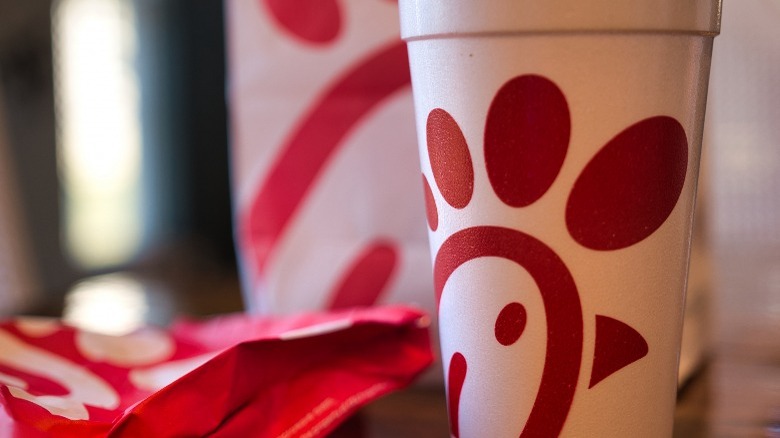 jmac23/Shutterstock
It's not just pickles that make Chick-Fil-A a favorable choice for fast food fanatics. The winged wonder of the fast food world also brings its customers reasonably priced fountain drinks. When ordering from the Chick-Fil-A drink menu, sippers can dip into the flow at just $1.99 for a 14-ounce small, while medium drinkers can get pouring at $2.49 for a 20-ounce cup, and big dippers can chug away with $2.89 spent on a 32-ounce drink. These prices cover Coke and Coke products, a huge relief for diners who could use something fizzy when enjoying their chicken sandwiches and waffle fries. For diners in search of a less carbonated experience, Chick-Fil-A also offers flavored teas at these prices.
These figures do not include Chick-Fil-A's specialty lemonade, which has its own price list. Lemonade prices are a bit steeper, at $2.39, $2.89, and $3.29. The fast food flyer also has gallon jugs of its teas and lemonade on its menu for moments when the whole group needs refreshment. The price for a gallon of lemonade is $12.25, while mint lemonade is $15.25 and mint tea by the gallon is $13.50. For premier offerings, these prices are as refreshing as the drinks.