Who Actually Sings The Iconic Dairy Queen Jingle?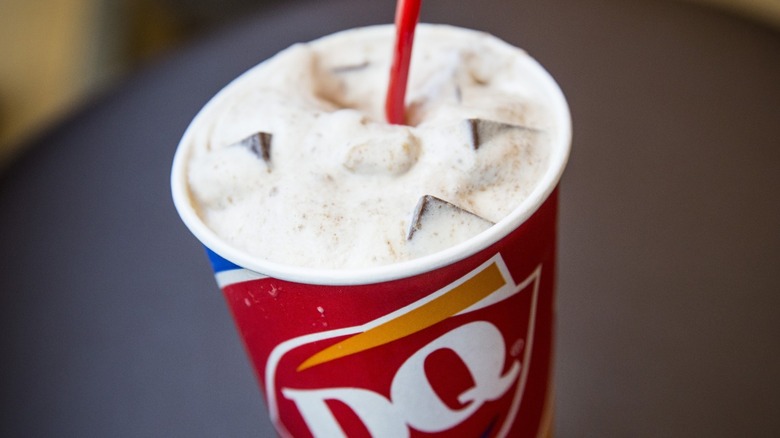 Andrew Burton/Getty
Chances are, if you're from Texas or have ever visited the Lone Star State, you've noticed something interesting about Texans and their relationships with their local Dairy Queens — aka DQs: They totally love the ice cream and fried food haven. In fact, according to the Loomis Agency, DQs are so prevalent and popular in Texas, 80% of people from the state believe DQ to be a Texas-based business model — the American headquarters is actually located in Minnesota (via Dairy Queen Headquarters Information).
The Loomis Agency took over DQ Texas' marketing campaign in 2002, instituting a slogan and a jingle: "DQ: That's What I Like About Texas." Today, DQ aficionados throughout Texas are familiar with the catchy one-line song. 
As of 2022, the jingle has gotten some new life thanks to country musician Josh Abbott, a singer DQ is calling "the new sound of DQ in Texas." Abbott is a Texas native who grew up in the town of Idalou where he and his friends and family frequented the local DQ. Abbott was excited when he heard he and his band had been chosen to remake the jingle, stating they were careful to stay "true to [the jingle's] roots, but also invoke the sound of our band. You will hear my voice as well as the banjo and fiddle in the new version" (via Business Wire).
Josh Abbott's Dairy Queen jingle is certainly a treat
Josh Abbott's take over of the iconic jingle comes on the heels of the 2022 marketing campaign called "No Place but Texas, Nobody But DQ" (via Business Wire). Abbott was the perfect singer to remake the DQ jingle, as his affinity for the brand was already well-established in his music. "I'll Sing About Mine," a song appearing on a 2012 album, mentioned DQ along with lyrics about enjoying burgers at "the same place / Where Mom and Dad went on their first date" (via Texas Monthly).
Abbott has his favorite go-to meal and ice cream selection when he goes to DQ: the steak finger country basket and an M&M or Butterfinger Blizzard (via DQ). He has certainly gotten into the spirit of the jingle, even singing along with a DQ drive-thru employee as featured in an Instagram reel.
Abbott's revamp of the "DQ: That's What I Like About Texas" jingle is sure to continue to remind Texans across the state of their passion for all things DQ, whether they're into Dilly bars or burgers. After all, when it comes to pride in their home state, for Texans, it's always go big or go home — or perhaps down to the local DQ.