TikTok Needs To Chill Out With The Trendy Water Recipes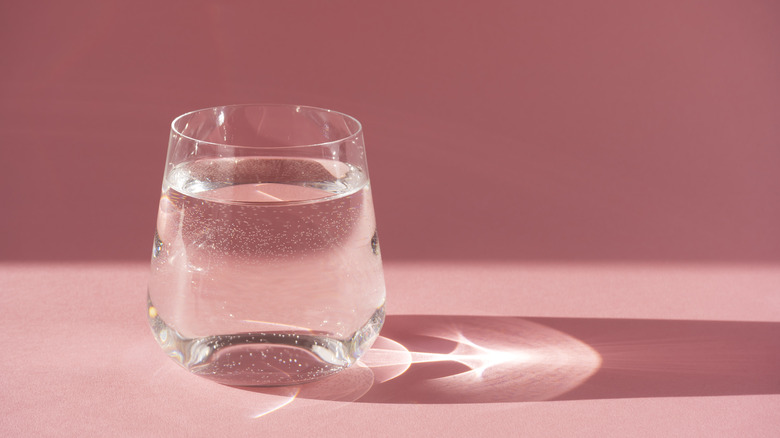 Irina Petrova /Getty Images
Quirky drinks typically go down well on TikTok. Whether it's a viral mocktail that will make you sleepy or a DIY bubble tea you can make with store-bought gummies, users on the app love sharing their tips for creating the zaniest drinks imaginable. There was even a Pepsi milk TikTok trend last year, which, while not particularly aesthetic, didn't taste as bad as you might imagine. 
However, it's a bit more rare that a beverage frenzy completely takes the platform by storm in the way that the latest drink-related fad has. If you're someone who enjoys soaking up viral TikTok trends, you've probably already heard of WaterTok, with the hashtag #watertok currently overflowing at an almost inconceivable 178 million views (and counting). What's gripping the world's attention? People are adding powder sachets and syrups to water to make everything from orange creamsicle water to banana split water — and countless other whimsically named creations.
What is Watertok?
One of WaterTok's top creators, Tonya of @takingmylifebackat42, has over 11 million likes across her "water of the day" videos. In a typical video, Tonya adds ice and water to a glass or Stanley tumbler (a staple of WaterTok) before sprinkling in a packet of flavoring — such as Margaritaville's pina colada drink mix. She then adds syrup, oftentimes from Jordan's Skinny Mixes brand, which sells sugar-free water additives in flavors ranging from strawberry to "mermaid." This process essentially creates a mocktail-style drink, but without sugar.
While "water girls" get plenty of comments from people on the snarky side — with critics saying they're essentially turning water into diet soda or artificial juice — others praise WaterTok creators for jazzing up ordinary H2O and, in turn, encouraging them to drink more water. "I just had my third shoulder surgery and in preparation I made a water station like you to lift my spirits!" one user commented on a recent Tonya video. "I placed my order for my syrup and thanks to you I'm more hydrated than ever. Thank you," added someone else. 
Other reactions hail from Australian and British TikTokers who don't understand WaterTok. "Does America not have squash?" one Brit asked, referring to the fruit-based concentrate that can be mixed with water. In these parts of the world, natural squash or cordial syrups are more common than drinks sachets, making the premise of aspartame-filled WaterTok recipes somewhat obsolete. 
Why is WaterTok controversial?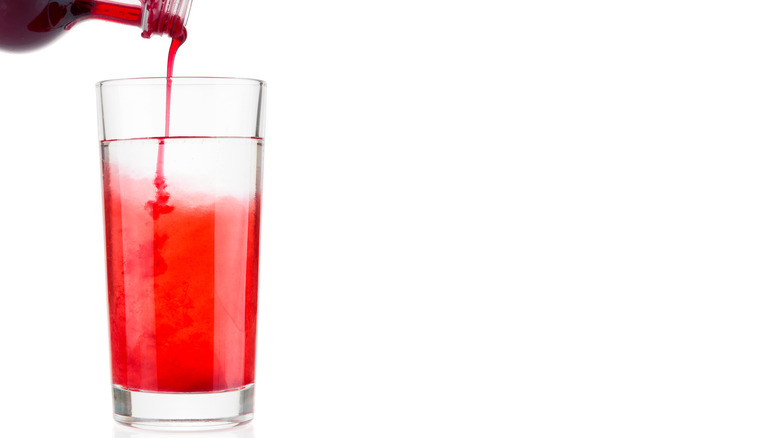 Unclepodger/Getty Images
WaterTok has also been making waves in the news for more controversial reasons. According to Eater, the trend's popularity can be attributed at least in some part to a larger culture of dieting and thinness — tying in with the rising use of drugs like Ozempic for weight loss. The fact that many WaterTok videos are captioned with #weightloss solidifies the idea that the trend of zero-calorie, sugar-free drink additives is connected with weight-loss culture.
While some self-proclaimed healthcare professionals defend WaterTok, saying they see the popular flavorings as an effective way to encourage patients to hydrate, other experts are concerned that the trend could spur disordered eating, which affects nearly 29 million Americans. "Anything that is egging us on to drink water to lose weight has the potential to take us out of being balanced and thoughtful in our pursuit of health, to doing things that become dangerous," Within Health CEO and chief medical officer Wendy Oliver-Pyatt told Rolling Stone. According to some professionals, while increasing water intake is important and in most cases harmless, people sensitive to weight-loss messaging may want to steer clear of WaterTok.
If you need help with an eating disorder, or know someone who is, help is available. Visit the National Eating Disorders Association website or contact NEDA's Live Helpline at 1-800-931-2237. You can also receive 24/7 Crisis Support via text (send NEDA to 741-741).