How Do Costco's Soup Dumplings Compare To Trader Joe's?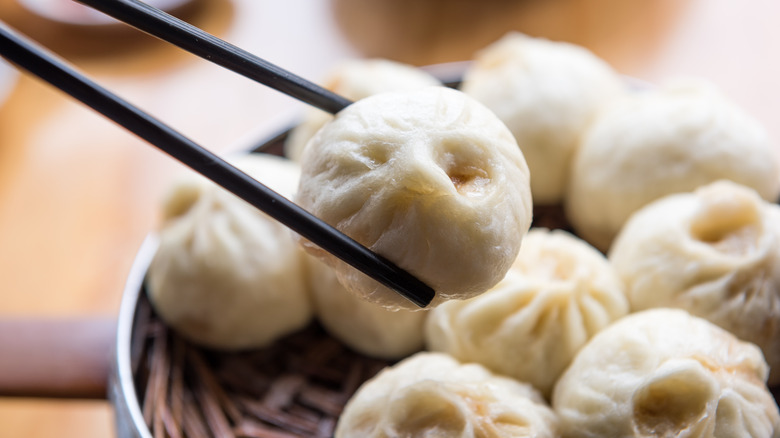 Ddukang/Getty Images
If you're a fan of dumplings, then chances are you hold xiao long bao, Chinese soup dumplings, in high esteem. Anthony Bourdain called them "pillows of happiness" on "Parts Unknown: Shanghai" (via YouTube). Between the thin, delicate skin, meaty filling, and burst of savory, juicy broth that fills your mouth when you take a bite, it's hard not to fall in love with xiao long bao. But if you don't have a dumpling spot nearby that sells them, you might be considering trying out the frozen versions offered at Costco and Trader Joe's, which are having a bit of a moment. Can a frozen soup dumpling really provide the kind of flavor people crave? Apparently, the answer is yes, because both stores' versions have their fans.
We looked at several reviews online to determine which soup dumpling reigns supreme, and though Trader Joe's makes a totally serviceable soup dumpling, many reviewers seem to prefer the Costco xiao long bao (made by Bibigo) for a few reasons. In a side-by-side review by Nourrtann on TikTok, she determined that "the Costco ones are way better" due to a few different factors, and it's not just because Costco's soup dumplings come with a sauce packet included.
Why a reviewer says Costco's soup dumplings are better
There are a few different reasons Costco's soup dumplings are better than Trader Joe's, according to a review. Though the dumplings look almost identical and have the same cooking instructions, "There's definitely more soup in the Costco ones ... the flavor is just a lot better. And I think they're a bit bigger actually," shared TikToker Nourrtann. She also said really enjoyed the sauce. That's something Trader Joe's doesn't include, leaving customers to their own devices (you can whip up an easy, traditional dumpling sauce recipe by combining Chinese black vinegar with julienned fresh ginger). She's not the only fan of Costco's soup dumplings. Another reviewer shared, "I could eat this every day ... that's dangerous."
It's worth noting that different options may be available depending on the location. The two TikTok reviewers got pork soup dumplings from Canadian Costcos while a U.S.-based commenter mentioned having access to a chicken and veggie version. But what if you don't have a Costco near you? The Trader Joe's version is "still really good," assured Nourrtann. And the TJ's dumplings have their own die-hard fans, too. Reviewer Mrs. Trader Joe's showed love to the chain's chicken variety, noting that they "burst in your mouth (because of the soup AND the flavor)," and one Redditor found Trader Joe's pork and ginger soup dumplings surprisingly good.