If You Love Dairy Queen's Ice Cream Cake, You'll Fall For The Cone Version Hack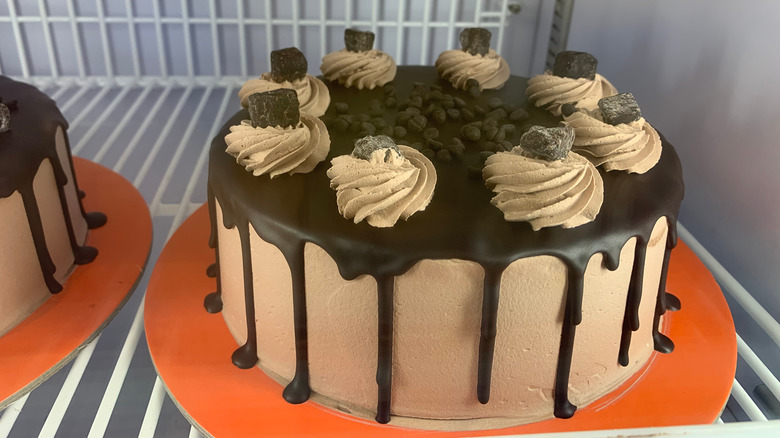 FoodToy/Shutterstock
No doubt about it, few ice cream cakes compare to the Dairy Queen ice cream cake. That being said, Dairy Queen's smallest ice cream cake is still 8 inches across and costs $25, so it's not exactly ideal for a late-night snack. However, one TikToker kindly shared her favorite way to replicate Dairy Queen's ice cream cake in a single-serving cone.
According to Alexa Santos' TikTok hack, the easiest way to enjoy Dairy Queen ice cream cake whenever you please is to order a chocolate sundae. Ask for your sundae to be topped with hot fudge and — most importantly — cake crunch. Some TikTokers commented that their local Dairy Queen doesn't allow cake crunch to be used as an ice cream topping, so be sure to keep that in mind if you try to order your own ice cream cake-in-a-cup. Others noted that not all DQ locations have chocolate ice cream to start with. So know that what you can work with may differ — but hopefully taste just as great.
Another way to get a single serving of Dairy Queen ice cream cake
As it turns out, there is indeed another way to order Dairy Queen ice cream cake for one, and it doesn't involve a TikTok hack. Unlike the aforementioned TikTok trick to order a customizable sundae — which is fine if your Dairy Queen is cool with it — most locations already have a menu item that will suit your needs.
Believe it or not, Dairy Queen has a menu item called the "cupcake," which is essentially a single serving of ice cream cake in a cup. Your order even comes with frosting and sprinkles, with the colors changing from season to season. Still skeptical? Dairy Queen itself has promoted its cupcakes on Facebook, saying they're "always available" to order. Again, these treats may not be at every Dairy Queen location, as franchisees can opt in or out of serving them, but it might be a better bet than trying to order a custom sundae with cake crunch. Plus, a Dairy Queen cupcake is only $2.99, so you can get exactly what you need for a bargain.