The Fluff Screamer Is The Burger That Deserves All The Attention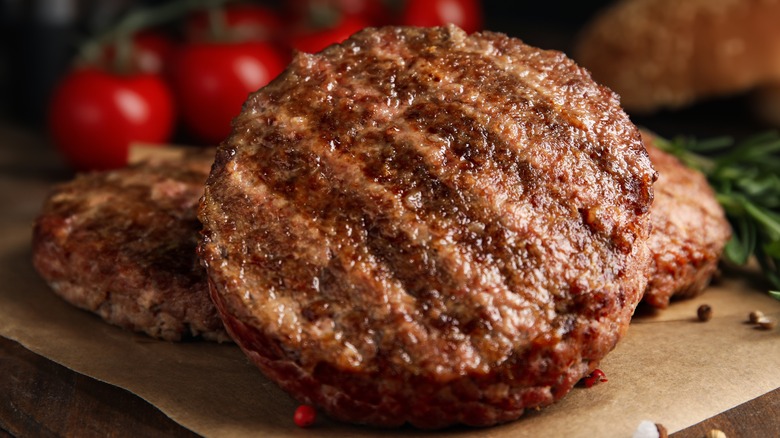 New Africa/Shutterstock
Girarardville, Pennsylvania, is home to one of the loudest, wackiest burgers in the country. You might not have heard of it, but the Fluff Screamer at Tony's Lunch is a greasy jewel of the Rust Belt state. The burger's ingredients list starts off normal enough: a juicy hamburger patty topped with raw onions, optional cheese, and (very) spicy chili sauce. You're not ready for the next ingredient, though — Fluff.
"Fluff" isn't a reference to fluffy mashed potatoes or a fluffy bun. It's the famously sweet, sticky, (and yes, fluffy) marshmallow cream that you can buy by the jar. Some might know it from the indulgent Fluffernutter Sandwich, which defined the childhoods of many New Englanders. Others might have tried Fluff in their desserts, though likely never on a beef patty.
At Tony's lunch, you can order your Screamer a few ways. A popular way is "quick cheese," where a slice of unmelted American cheese is added to the burger during assembly for maximum gooeyness. As if the Fluff weren't enough, the Fluff Screamer's typical final ingredient is the fatty cherry on top: a pat of butter. You can also order your Fluff Screamer "SOS," with hot chili sauce on both sides of the patty. As counterintuitive as it might sound, the concoction of marshmallow sweetness, heat, and saltiness has been pleasing taste buds for decades. It's recommended to wash down the burger with chocolate milk.
The secret sauce
The story goes back to the '70s, when a Tony's Lunch regular continuously requested Fluff on her Screamer burger, much to the horror of the restaurant's servers. Restaurant co-owner Claire Salukas explained to Saveur that the restaurant kept Fluff in their kitchen to use in hot chocolate. But the relentless teen was determined to experiment with the sweet stuff on her burger. After being denied several times, the previous owner's niece finally humored her. Now, the Fluff Screamer is the joint's claim to fame.
If you can't make it to Tony's Lunch, homemade recipes for the Fluff Screamer abound, as word of this notorious sandwich continues to spread. We've found no official recipe, but YouTuber @emmymade took a stab at recreating the iconic Tony's spicy chili sauce, which a Yelp reviewer called "black as the devil's soul." Her DIY Fluff Screamer recipe uses garlic, onion, ground beef, brown sugar, chili powder, cumin seed, Worcestershire sauce, tomato paste, canned tomatoes, and a full tablespoon of red chili flakes.
Just know, despite its name, Tony's isn't actually open for lunch, adding to its mystique with the exceptionally unusual hours of roughly 7:30 p.m. – 2 a.m. While it is best known for the Screamer (with or without Fluff), Tony's also offers such items as cheese steaks and a hot dog with the works called The Growler. However, many might agree that the salty-and-sweet sandwich is a plate of greasy Americana that needs to be tasted to be believed.