A Pad Of Butter Can Transform Your Homemade Burgers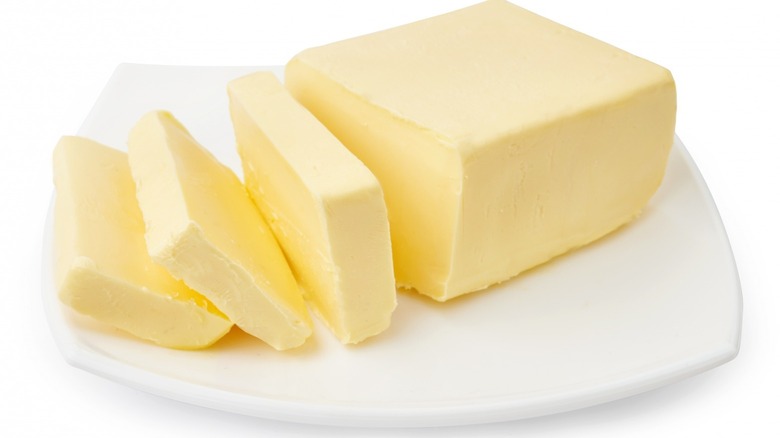 Tanya Sid/Shutterstock
The quest for flavorful and juicy home-cooked burgers seems neverending. At the start of each new grilling season, the Internet sees a fresh round of recipes, tips, and tricks to turn out the best-tasting burgers yet. Case in point: You can make burgers better with butter.
Weber Grills shared a burger hack on TikTok that promises to end dry, overcooked burgers. The trick? After setting the burger patties on the grill, make a small dent in the center of each patty before adding a pat of butter. Weber Grills says it melts over the top of the burger as it cooks, adding extra moisture and some buttery flavor, too. This is similar to the hack of setting an ice cube on a burger, although butter will melt much faster than ice. 
Some viewers were not convinced by this tip, with one commenter saying that a better burger strategy is to "grill to temp and don't overcook them." However, others claimed it's a good way for novice burger grillers to keep their patties from drying out. 
How two celebrity chefs make burgers with butter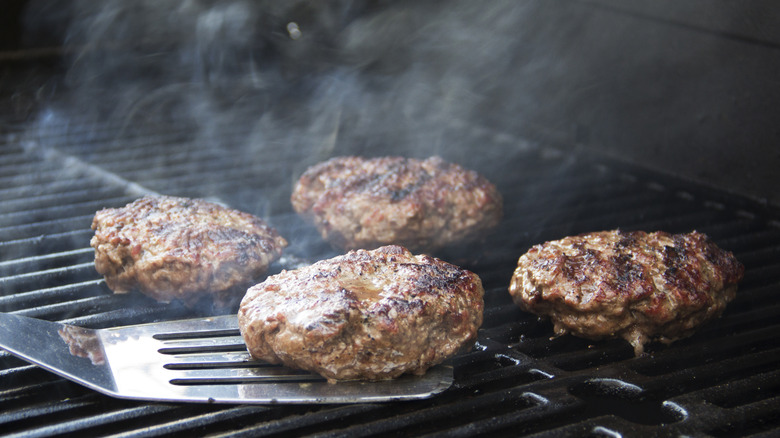 Waxman3d/Getty Images
In addition to viewer skepticism about the technique, there's an unfortunate side effect of Weber Grills' method: The flavorful, melted butter is lost to the coals when the burger is flipped. Luckily, there's more than one way to infuse a burger with butter.
Guy Fieri learned how to make the famous Butter Burger from the chefs at San Diego's Crest Cafe, featured on "Diners, Drive-Ins and Dives" – and burger fans can try it at home, too. First, butter is mashed with fresh herbs, garlic, and spices, then chilled until firm. A slice of this herby compound butter is folded into the center of a burger patty. When the burger finishes on the grill, another pat of herb butter goes on top, followed by melted cheese. 
Another chef who loves to butter his burgers is Gordon Ramsay. He shared his cheeseburger techniques with "Good Morning America," including generously brushing the burgers with butter while on the grill. Ramsay does this once the burgers have cooked on both sides before adding cheese slices. Undoubtedly, cheese helps hold the melted butter in place until it's transferred to the bun. On his YouTube channel, Ramsay shows that, when making burgers in a skillet, he adds butter to the pan near the end of cooking time, where it browns and bastes the patty. 
Melt it, stuff it, baste it — do whatever it takes to make your burgers juicy and flavorful with a bit of butter.