The State With The Most Jersey Mike's (And The States Without Them)
There are tons of sandwich shops out there. But few inspire such loyalty as Jersey Mike's. The chain, which started in a shore town in its namesake state more than six decades ago, is beloved for its tasty hot and cold subs. Unlike some other large chains, these sandwiches are carefully crafted with sliced-to-order meats and cheese and fresh toppings.
But while Jersey Mike's is still closely associated with the Garden State, those expecting New Jersey to have the most locations may be surprised. In fact, data from ScrapeHero shows California actually comes out on top, with more than 340 stores out of the nearly 2,500 total. This makes sense, as the nation's most populous state. Florida (206), Texas (200), and North Carolina (185) round out the top four. 
New Jersey ranks a respectable fifth, with 128 locations. However, that's roughly one store for roughly every 72,000 residents, meaning New Jerseyans will still have no trouble finding one to chow down at.
The unlucky few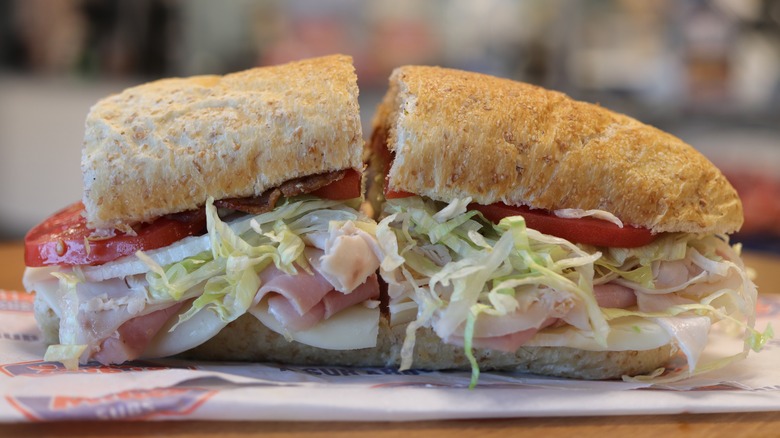 Deutschlandreform/Shutterstock
Unfortunately, Jersey Mike's isn't quite as ubiquitous as fast food spots like McDonald's. While 49 of the 50 states (along with DC) have a location, one does not. This unfortunate state is Alaska, which is often forced to do without some otherwise common brands due to the state's remoteness and relatively small, spread-out population (48th out of 50 states.) Those living in several U.S. territories are also out of luck, specifically Puerto Rico, Guam, the U.S. Virgin Islands, the Northern Mariana Islands, and American Samoa.
If you're craving a sub in these spots, you still have plenty of good and often familiar options. The world's largest sandwich chain, Subway, has more than 50 locations in Alaska, along with spots in Puerto Rico, the U.S. Virgin Islands, and the Northern Mariana Islands. Those far from a Jersey Mike's location domestically can also take advantage of alternatives like Jimmy John's or Arby's, both of which have more locations nationwide than Jersey Mike's, according to Restaurant Business Online.
However, it's clear that not every chain sandwich shop provides the same quality. Sometimes, only a Jersey Mike's will do — even if it requires a little travel.