Beef 'N' Bacon Calico Beans Recipe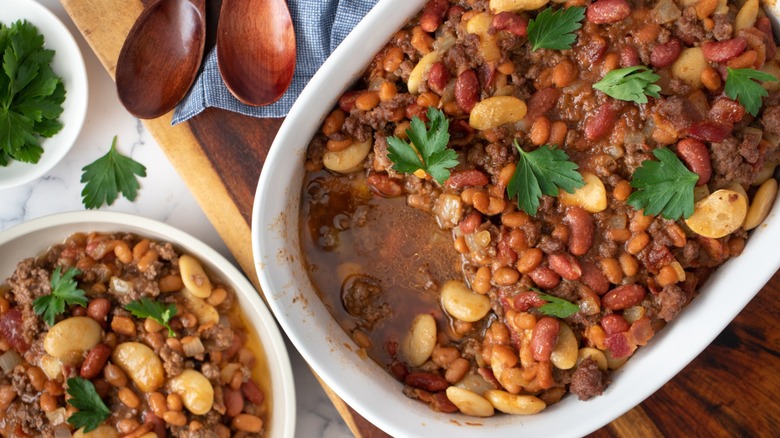 Patterson Watkins/Mashed
Beans are a versatile, convenient food, and there are so many types to choose from. Some people rely on beans for a solid dose of plant-based protein, but if you're looking for a dish that combines all types of beans with the savory, meaty heft of beef and bacon, look no further than Patterson Watkins' recipe for beef 'n' bacon calico beans. It's not just fun to say — it's a delightful, protein-packed medley of flavors. "I like to imagine a sweet little ol' southern cat lady who was inspired to create this dish by one of her calico kitties," Watkins quips.
"Each of these beans bring something a little different, culinarily speaking, to the casserole dish. The pork and beans add pops of tangy sweetness, the butter beans add a creamy richness, and the kidney beans add further meatiness. But! If you have a personal favorite (a BFF bean), substitute-on. Calico beans are for every bean," Watkins says. If you have about an hour of time and some canned beans, bacon, ground beef, and a few other pantry staples, you can easily whip this hearty casserole up — keep scrolling to learn how.
Get your calico bean ingredients ready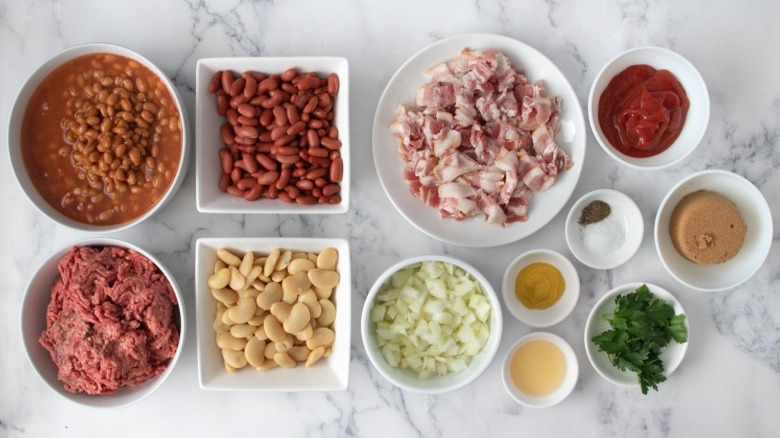 Patterson Watkins/Mashed
Beans are the foundation of this dish, of course: You'll need canned butter and kidney beans, as well as a couple cans of pork and beans, which Watkins says "uses navy beans as well as tomato sauce and little tasty bits of salt pork." Bacon and ground beef are the other proteins you'll need. Finally, diced onions, ketchup, mustard, apple cider vinegar, brown sugar, and salt and pepper help give everything a nice sweet and savory flavor, and parsley adds a fresh, green garnish.
Cook the bacon and onions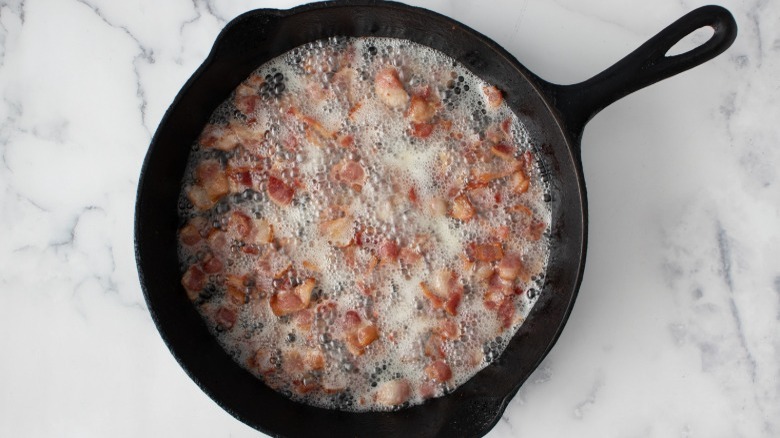 Patterson Watkins/Mashed
Start things off by preheating your oven to 325 F and heating a skillet over medium-high. Once that's nice and hot, add the bacon in an even layer and cook until it's adequately crisped. When it's done, take it out to drain, but keep the bacon fat in the pan. Heat the pan again, and cook the onions until they're nice and sauteed.
Add the beef and seasonings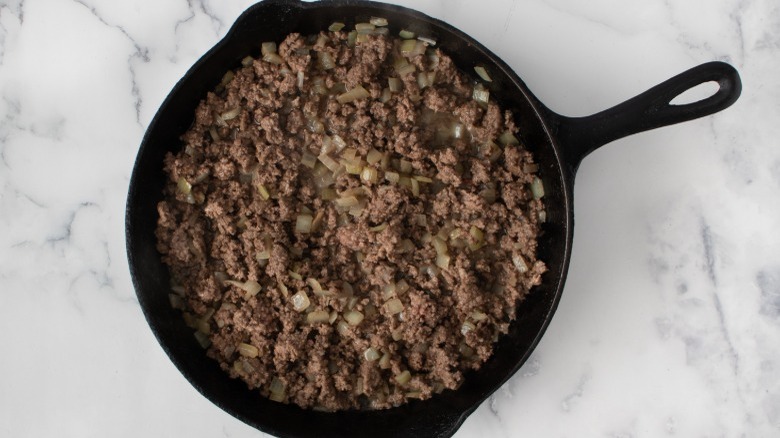 Patterson Watkins/Mashed
Once your onions are done, add the crumbled ground beef and cook until it's done (no, not medium rare). While that's happening, mix together the vinegar, ketchup, mustard, brown sugar, and salt and pepper. Then, put the beans, beef, bacon, and sauce in a bowl and mix it all together, then put it into a large baking dish.
Bake and serve your meaty calico beans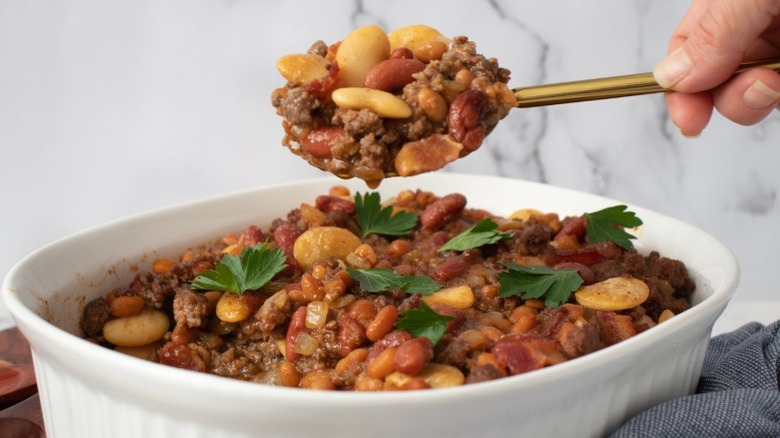 Patterson Watkins/Mashed
After your dish of meaty beans has spent a nice chunk of time in the oven, it's ready to be garnished and served. "If you've witnessed calico beans in the wild, it most likely was at a potluck," Watkins notes, adding that it's an "excellent option to serve to a group (keeps and reheats well), especially at a BBQ. For at-home eats, calico beans can be savored solo or served over some steamed rice. Or, you can enjoy like a favorite bowl of chili, topping with sour cream, cheese, scallions..."
This recipe makes 6-8 servings, so if you end up with leftovers, Watkins notes that you can reheat the dish in the oven, but cover it this time. "Or, portion into serving bowls and reheat in the microwave — I'd recommend covering the serving bowl with a paper towel," she says. "This dish is one of those that makes a lot of noise in the microwave; save yourself some cleanup."
Beef 'N' Bacon Calico Beans Recipe
This beef 'n' bacon calico beans recipe features a plethora of beans, all mixed together with both bacon and ground beef.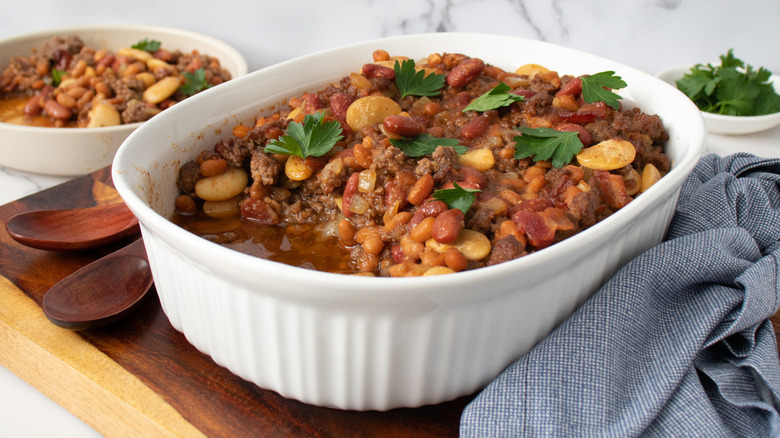 Ingredients
8 slices bacon, sliced
1 medium yellow onion, peeled and diced (about 1 cup)
1 pound ground beef
½ cup dark brown sugar
½ cup ketchup
1 tablespoon yellow mustard
1 tablespoon apple cider vinegar
1 teaspoon salt
¼ teaspoon black pepper
2 (15-ounce) cans pork and beans
1 (16-ounce) can butter beans, drained and rinsed
1 (15 ½-ounce) can kidney beans, drained and rinsed
2 tablespoons fresh parsley, for garnish
Directions
Preheat the oven to 325 F.
Preheat a large skillet over medium-high heat. Once the skillet is hot, add the bacon in an even layer. Cook the bacon for 4-5 minutes, stirring occasionally, until browned and crisp. Using a slotted spoon, remove the bacon from the skillet and set aside on a paper towel-lined plate, keeping as much of the bacon drippings in the skillet as possible.
Return the skillet to the heat and add the onion. Sauté for 3 minutes or until tender.
Once the onion is tender, crumble the ground beef into the skillet, and stir to combine with the onion. Cook, stirring occasionally, for 5-6 minutes or until the ground beef is thoroughly cooked.
While the beef is cooking, place the brown sugar, ketchup, mustard, vinegar, salt, and pepper in a medium bowl, whisk to combine, and set aside.
Once the ground beef has cooked, transfer it to a large bowl. Add the pork and beans, butter beans, kidney beans, cooked bacon, and sauce to the bowl and stir to combine.
Transfer the calico beans to a large, deep casserole dish, and place in the oven. You may want to put a lined baking sheet under your casserole dish to catch the bubbles and drips.
Bake for 30-40 minutes or until bubbly and hot throughout (internal temperature 165 F). Remove from the oven and garnish with fresh parsley before serving.
Nutrition
| | |
| --- | --- |
| Calories per Serving | 1,018 |
| Total Fat | 50.5 g |
| Saturated Fat | 17.2 g |
| Trans Fat | 0.9 g |
| Cholesterol | 185.5 mg |
| | |
| --- | --- |
| Total Carbohydrates | 77.2 g |
| Dietary Fiber | 14.3 g |
| Total Sugars | 20.3 g |
| Sodium | 1,422.8 mg |
| Protein | 65.3 g |