The Weeknd And Blue Bottle Collab Reveres Ethiopian Coffee Traditions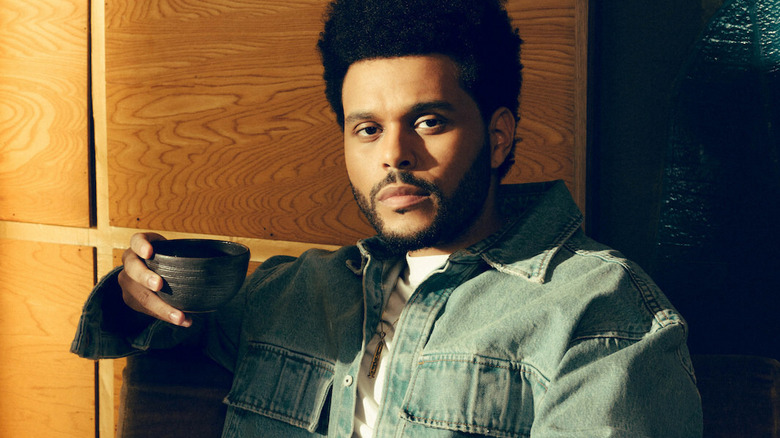 Blue Bottle Coffee
Music artist Abel Tesfaye, who performs under the name The Weeknd, and Blue Bottle Coffee are coming together to launch a new coffee project that's close to the singer's heart. Blue Bottle is known for creating limited-time coffees under its "Exceedingly Rare" banner such as the release of only 850 tins of coffee from a Colombian bean. Now, they're partnering with The Weeknd to highlight the artist's Ethiopian heritage. In a press release, Blue Bottle Coffee announced the product line, Samra Origins, named in honor of Tesfaye's mother.
The first product in the line will be the Exceedingly Rare Ethiopia Wolde Faye Koricha COE #7. Produced by Wolde Faye Koricha, this coffee is made in a traditional process where the beans are sun-dried and has the "classic notes of fresh fruit and bright florals" characteristic of this region. The 100-gram tins will be available online on May 9 for $65 each. Coffee enthusiasts can sign up ahead of time via a waitlist.
The collaboration isn't ending there, as The Weeknd plans to release another blend similar to what his mother might fix at home. For the first Samra Origins blend, the singer and his mother personally handpicked the brew. 
Here's why The Weeknd chose to collaborate with Blue Bottle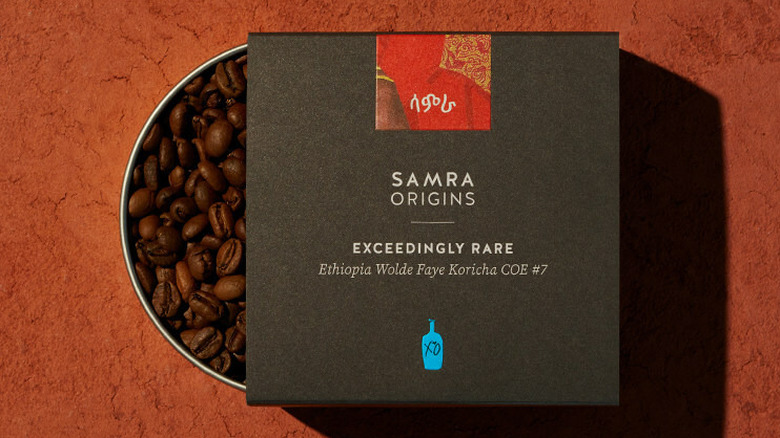 Blue Bottle Coffee
While he was born and raised in Canada, Abel "The Weeknd" Tesfaye said his Ethiopian heritage played a huge role in his life and music. In an interview with OkayAfrica, Tesfaye detailed listening to Ethiopian artists with his mother and relatives while growing up. He said, "The feeling in my music and in my voice is very Ethiopian and very African and much more powerful than anything, technically."
Regarding coffee, The Weeknd says he was inspired by the buna tetu ceremonies his mother would hold when he was a child. Buna tetu translates to "come drink coffee." In Ethiopia, families send the children to the houses of their neighbors to invite them over to drink coffee. Unlike your typical morning cup of joe, buna tetu is more of an experience. The matriarch prepares and roasts coffee from raw beans, and everyone gathers in a room cleansed by incense and fresh grass. 
In the press release, Tesfaye said of the buna tetu that "this sensory experience helped shape my understanding of community," and he hopes that Samra Origins will "will inspire curiosity and encourage support for Ethiopia's people." A portion of proceeds from the Samra Origins line will be donated to the XO Humanitarian Fund, a project of the World Food Program USA.