Tupelo Honey Cafe: The New Southern Comfort Food Spot You Have To Try
If you live near or have ever visited Asheville, North Carolina, chances are that you are already acquainted with one of the region's top breakfast and brunch restaurants, Tupelo Honey Cafe. The original location of this authentic contemporary Southern cuisine restaurant chain that was born in the Paris of the South holds an impressive four and a half out of five star rating on Tripadvisor. In 2022, it was given a Travelers' Choice mark, and while the line to get in is often long, more than one reviewer said the experience was more than worth the wait.
Executive Chef Eric Gabrynowicz really knows his stuff, and you will find all kinds of Southern delights in the menu. Indulge your taste buds with buttermilk biscuits, fried green tomatoes, collard greens and bacon, chicken and waffles, shrimp and grits, and so much more.
Although it can be fun to see where a popular business began (who doesn't enjoy a good humble beginnings story, after all?), you don't need to travel to Asheville to enjoy Tupelo Honey Cafe's brand of Southern comfort. There might be a location closer to you than you realize. Whether you are new to Tupelo Honey Cafe or an old fan, read on to learn a few things about what makes this celebrated Carolina Mountains-based eatery so special.
Founder Sharon Schott was a self-starter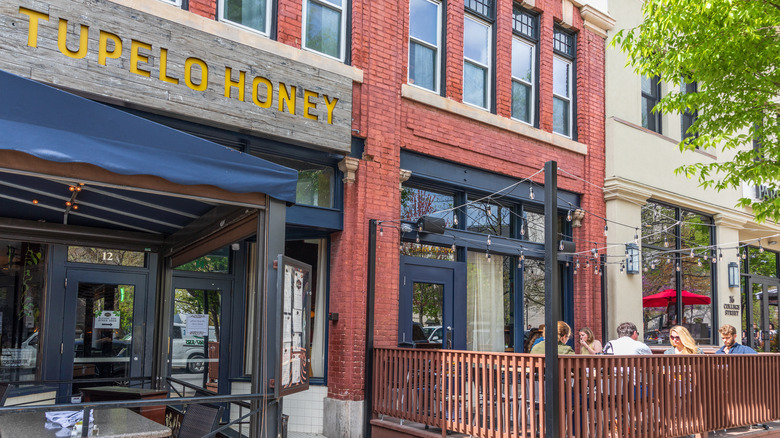 Nolichuckyjake/Shutterstock
Entrepreneur Sharon Schott opened the first Tupelo Honey Cafe, located in downtown Asheville, in 2000. It would prove to be a fortunate way to begin the new millennium. Schott had both a degree in Hotel Restaurant Management and experience working in the restaurant industry. She also taught herself how to do her own accounting and bookkeeping for the cafe.
When Schott sold the business to current owner Steve Frabitore in 2008, Tupelo Honey had already expanded to two locations. However, this did not spell the end of Schott's relationship with the restaurant industry. She decided to take what she had learned as Tupelo Honey's owner and advise other small business owners on the ins and outs of doing their own accounting and bookkeeping. At first she did so in Saint John, U.S. Virgin Islands, where she moved after selling her restaurants. Later, she moved back to Asheville, where she continued on this path.
She now makes her living as a consultant, teaching people — whose shoes she used to be in — financial competency, and finding joy in empowering them to become better small business owners.
Tupelo Honey Cafe was once a hidden gem
As we said, Tupelo Honey Cafe had only two locations after eight years of being in business. It was a business unique to Asheville, and people loved it.
Former executive chef Brian Sonoskus told Explore Asheville that Tupelo Honey was the kind of place that chefs and other folks in the local restaurant industry would gather when they were off the clock, which is high praise indeed. Any restaurant that is beloved by chefs is definitely the place to eat! Said Sonoskus, "It was a place that every night at two o'clock in the morning there was a line out the door. As soon as the bars closed, everyone just flocked to Tupelo Honey."
But, as often happens with such places, Tupelo Honey's reputation spread and its fan base grew. It first snagged the attention of local newspapers such as the Mountain Xpress, where it has repeatedly come out on top in multiple categories of the paper's Best of Western North Carolina poll. Then Tupelo Honey caught the eyes of both Southern Living and the New York Times.
It's little wonder that Tupelo Honey's second owner, Steve Frabitore, saw the potential for the restaurant's growth. He knew he had taken control of a true Southern gem, and he did not squander his opportunity.
Everything is made from scratch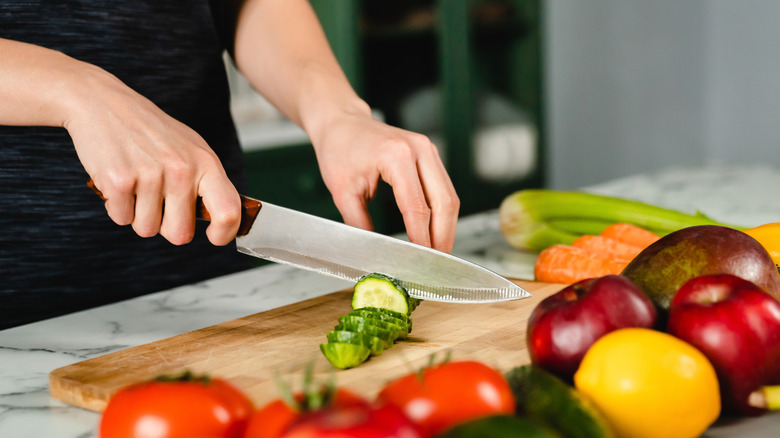 Inside Creative House/Shutterstock
You would be justified in thinking that when a restaurant grows from just a couple of locations to a multi-state wide chain that it would start to cut a few corners. But that is not the case with Tupelo Honey. After over 20 years, the company still promises food made freshly from scratch at each of its locations.
The chicken in the honey-dusted fried chicken is brined for a minimum of 18 hours before being battered, cooked, and brought to the table. Tupelo Honey mixes its own garlic buttermilk ranch that is poured over freshly made chicken and waffles. Every cocktail is handmade. Even the honey liqueur used in the Peach Don't Kill My Vibe sangria is made in-house.
In order to maintain this guarantee, Tupelo Honey forges solid partnerships with individual farmers, bakers, and other suppliers. This also helps to ensure that what it prepares is unique and made just for them. Vice president of purchasing and facilities Caitlin McMahon said on YouTube, "We get to work creatively with one another. We're able to call [our vendors] and say, we're thinking about some sort of brioche-y bun for a new breakfast sandwich, and could you make it a little more dense, or could you make it a little smaller?"
This versatility gives them an edge over competitors that may be using the same items from the same industrial food facility.
An early farm-to-table restaurant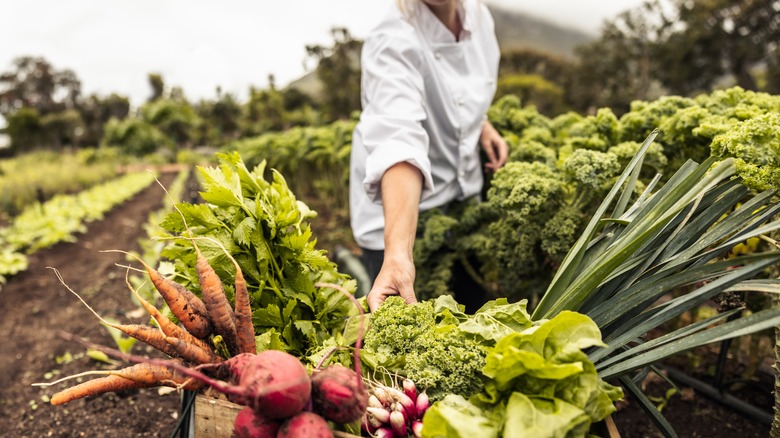 Jacob Lund/Shutterstock
The close relationship that Tupelo Honey has with its vendors described above also means that the people who run it are believers in, as well as practitioners of, sourcing food sustainably, raising farm animals humanely, and the farm-to-table social movement.
Alice Waters is one of the pioneers who blazed the farm-to-table trail in 1971 with her wildly successful California restaurant Chez Panisse. Former Tupelo Honey executive chef Brian Sonoskus was more than happy to take the challenge on himself in North Carolina. During his time, Sonoskus got about 20 percent of the restaurant's ingredients from his own organic farm.
Caitlin McMahon, Tupelo Honey's vice president of purchasing and facilities, said on YouTube, "I think what makes Tupelo Honey special and really sets it apart is we're very thoughtful about where and why we purchase things." Before beginning a relationship with a new supplier, McMahon personally visits the facilities. She wants to know "where products are processed, how they're shipped, and are they kept safe throughout the whole process." Going that extra distance means that Tupelo Honey can be proud of offering the products they do.
One of those vendors is livestock farm Hickory Nut Gap in Fairview, North Carolina, which practices regenerative agriculture. Artisan bread is supplied by Annie's Bakery, which is located right in Asheville and was founded by a fourth-generation Italian baker.
A chain that strives to be unique to each location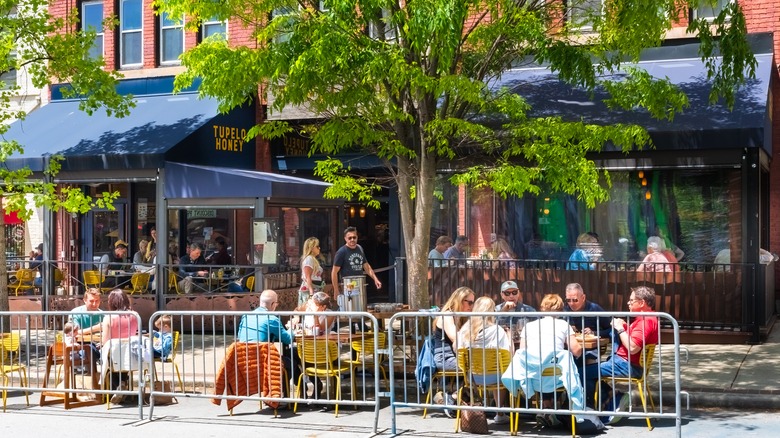 Nolichuckyjake/Shutterstock
Tupelo Honey Cafe is proud of its Western North Carolina roots. But people who don't live in Asheville are probably more concerned with their own towns and not Asheville, especially if they are located several states away from North Carolina. So how does Tupelo Honey translate that homey, welcoming culture to other regions? By making each restaurant unique to its location, of course.
Before opening a Tupelo Honey in Chattanooga, Tennessee, director of marketing, Elizabeth Sims told Mountain Xpress, "We don't want to open in Chattanooga and be known as the Asheville restaurant. We want to be Chattanooga's Tupelo Honey."
When opening its 18th location in Grand Rapids, Michigan, Christin Prince, senior vice president of marketing, told Crain's Grand Rapids Business that the "art and craft beer focus" of the city was reminiscent of Asheville. "We're excited to be a part of Grand Rapids' vibrant culinary community," she said.
So while Asheville will forever be Asheville, that same unique vibe can resonate with other cities.
There are three Tupelo Honey cookbooks
In 2011, the aforementioned Elizabeth Sims and chef Brian Sonoskus partnered on a way to bring the taste of Tupelo Honey Cafe to home kitchens. The cookbook "Tupelo Honey Cafe: Spirited Recipes from Asheville's New South Kitchen" contains over 125 traditional Southern recipes with a Tupelo Honey spin, as well as photographs of the restaurant, its food, ​​the city of Asheville throughout history, Asheville locals, farmers' markets, and farms.
Some of these elevated recipes include Goat Cheese Grits, Nutty Fried Chicken with Mashed Sweet Potatoes, Eggs with Homemade Crab Cakes, and Lemon Hollandaise Sauce. Their second book, "Tupelo Honey Cafe: New Southern Flavors from the Blue Ridge Mountains," published in 2014, includes recipes for Appalachian Egg Rolls With Smoked Jalapeño Sauce, Acorn Squash Stuffed with Bacon Bread Pudding, and Maple Sweet Potato Bread Pudding.
Both books have more than four stars out of five on Goodreads, as does Tupelo Honey's third book, which was put together by Sims, executive chef Eric Gabrynowicz, and vice president of operations E. Tyler Alford. "Tupelo Honey Southern Spirits and Small Plates" was published in 2017 and includes recipes for 70 cocktails and 30 small plate dishes. Naturally each bears a Southern influence, such as the drinks Tar Heel Gin Fiz and Violet Beaureguard, as well as Goat Cheese Deviled Eggs with Country Ham Prosciutto and Don't Judge My Okra Obsession.
It was featured on Rachael Ray's $40 a Day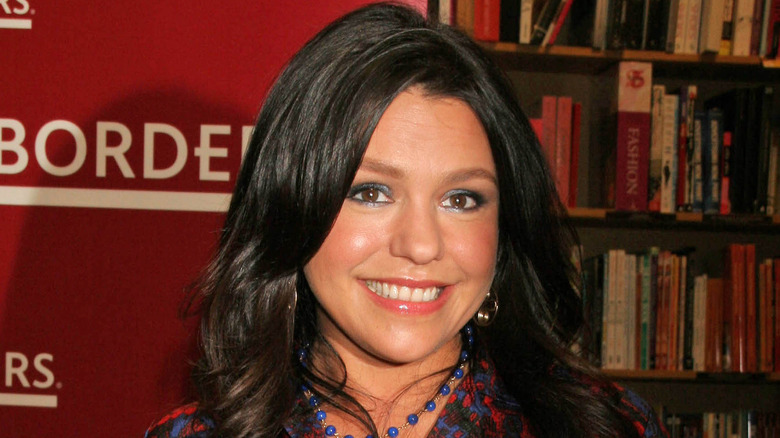 s_bukley/Shutterstock
Tupelo Honey Cafe caught national attention when it was featured in the 9th episode of the first season of Food Network's "$40 A Day," hosted by celebrity chef and author Rachael Ray. It appeared alongside other distinguished Asheville locations such as the Biltmore Estate, which is the largest privately owned home in the U.S. The premise of the program is to show how a person can eat three meals in one day for only $40. Tupelo Honey is given two dollar signs on Yelp and Facebook, meaning a person can expect to spend between $10 and $25 on their meal.
More than one customer was introduced to Tupelo Honey by the show and left a satisfied review on Tripadvisor, rating the restaurant a five out of five. A handful of other reviewers were not so pleased with the honor, lamenting that because of the increased patronage, the quality of the food went down after Tupelo Honey appeared on the show.
Biscuits for a Cause supports employees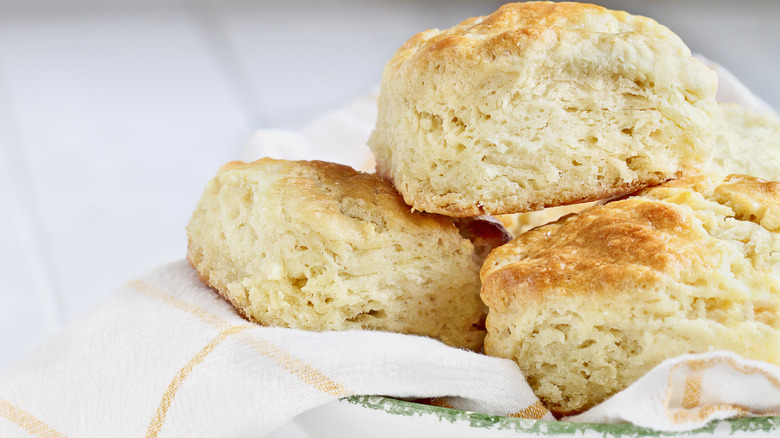 Stephanie Frey/Shutterstock
Taking a peek at Tupelo Honey Cafe's menu, you will notice at the top of the snack options something called Biscuits for a Cause. Your server may even recommend them. The biscuits are buttermilk and served with blueberry jam and whipped butter. The cause is Tupelo Honey's tax-free Employee Relief Fund 501(c)(3), which supports employees who find themselves in sudden financial need.
Since its founding at the beginning of the Covid-19 pandemic, the fund has helped both full and part time employees pay medical bills, avoid eviction, and supported them through other personal catastrophes. As of November 2022, $525,000 in grants have been given out. Employees apply through the Human Resources department.
Tupelo Honey's chief operating officer, Caroline Skinner, told the Citizen-Times, "This program will continue to grow and have the ability to support hundreds of our teammates across the country. It is now an important part of our culture and an amazing testament of our guest's commitment of support and kindness for others – truly Southern hospitality."
As part of their employment, employees also receive paid time off, medical and dental insurance, tuition reimbursement, and other benefits. Not bad for a growing chain of restaurants.
Project ASPIRE seeks to lift BIPOC and women in management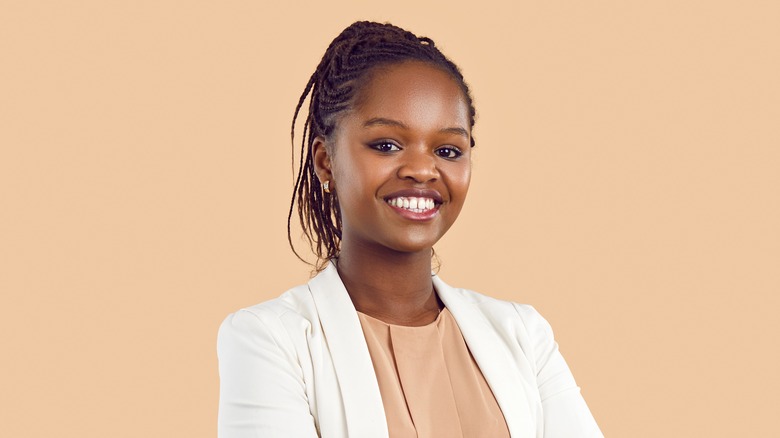 Studio Romantic/Shutterstock
Speaking of a career with Tupelo Honey Cafe, one of its other unique employee programs is Project ASPIRE. Similar to the Employee Relief Fund, Project ASPIRE was formed during the Covid-19 pandemic, in the fall of 2020. It was designed to advance Black, Indigenous, and People of Color (BIPOC) and female members of Tupelo Honey's management team.
Throughout the year, these team members receive an additional 30 or more hours of management training as well as participate in panel discussions about their individual experience working for the restaurant chain. Tupelo Honey uses what is brought to light from these discussions to uphold a more inclusive working environment for all.
Owner Steve Frabitore told FSR Magazine, "I think we've always been very, very focused in this area, and we usually have a great HR team, great operational people." Carolyn Skinner said in a different interview with FSR Magazine that Tupelo Honey prized experience as a core company value. Amidst persistent labor shortages in the restaurant industry, Skinner said that Tupelo Honey is "going to put it all on the line and say we want great people, and we're going to invest to have those great people, because great people execute great food."
Tupelo Honey brings authentic Southern hospitality to other states
As we've already mentioned, Tupelo Honey Cafe has moved well beyond its original location in downtown Asheville, North Carolina. In just over 20 years, the chain now spans 17 states, from Idaho to Pennsylvania and Texas to Michigan. Through its menu and dining room atmosphere, Tupelo Honey remains true to its North Carolina roots while simultaneously remaining innovative and continuing to expand. It isn't looking to impress so much as make everyone feel at home.
Steve Frabitore shared with FSR Magazine just how much thought went into this growth process. He and his team worked on solidifying Tupelo Honey's infrastructure so they could be certain to support the opening of new locations. "We've always put the horses in front of the cart so we have very dynamic headquarters full of smart people," he said. This has allowed Tupelo Honey to avoid a lot of pitfalls that other growing businesses have suffered. Frabitore went on to say, "We're very thoughtful and careful about expanding to make sure that we don't outstrip either our resources or our infrastructure and damage our company."
Tupelo Honey also wants to be sure it is a good fit with its new community but also stands out a little. Frabitore gave the example of Boise, Idaho, saying, "No one does Southern food the way that we do there." He added, "We become part of a community and that's meaningful."
Tupelo honey is a song as well as a unique food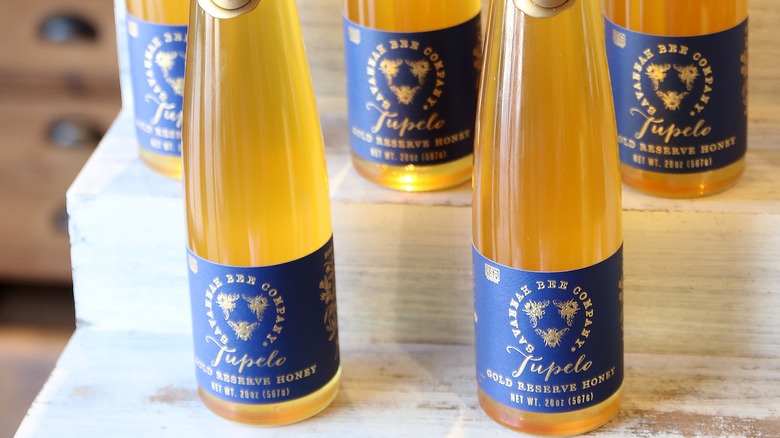 Eric Glenn/Shutterstock
Did you know that tupelo honey is more than a restaurant name? We don't know what influenced Sharon Schott to choose tupelo honey as the name for her business, but we can say that tupelo honey the food is a unique and delicious type of honey.
Tupelo honey is made solely from the nectar of tupelo trees, which are deciduous trees native to swamplands of the southeastern United States. It is thought that the word tupelo comes from the Creek words for tree and swamp. The purest tupelo honey is harvested along Florida's Apalachicola River, and the harvest season can last only a few weeks. Because of the swampy growing area, beekeepers often operate from boats. This means that collecting the nectar can be quite labor-intensive and difficult.
Being high in fructose and low in sucrose, tupelo honey can take years to crystalize, meaning it stays liquid for longer than other kinds of honey. And its low glycemic index makes it suitable for diabetics and others who follow a low-glycemic diet.
Known for its rarity and sweet, delicate flavor, it's no wonder then that tupelo honey served as inspiration for a song by Northern Irish singer-songwriter Van Morrison. "Tupelo Honey" appeared on the album of the same name that was produced in 1971.