A Customer Actually Cooked Popeyes After Waiting Too Long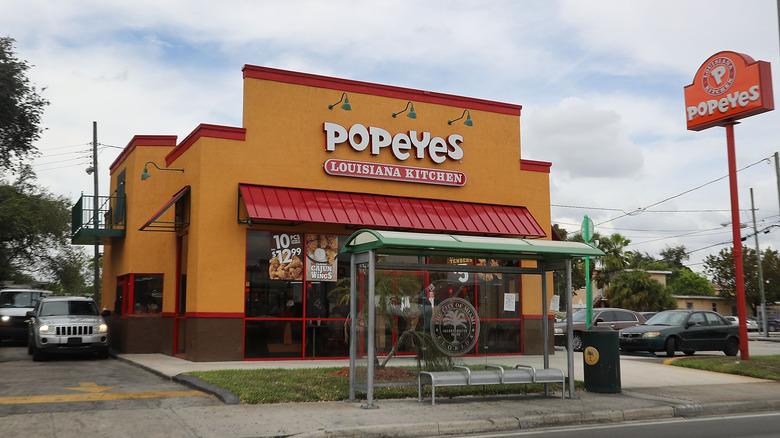 Joe Raedle/Getty Images
Fast food was obviously designed to be speedy; the clue is in the name, after all. Sometimes though, things take a little longer — whether that's due to busy crowds, understaffing as a result of poor wages across the fast-food industry, or unreliable machines that keep breaking down (McDonald's ice cream machine, we're looking at you). Recently, one Popeyes customer took this problem into their own hands — literally — in a bid to avoid long waiting times at the restaurant. 
In the viral video posted to TikTok, which has over 2.1 million views and 252,000 likes, user @babyyk.1k aka GKira Walker explains how she went to Popeyes, only to be confronted with a long wait time for the chain's signature cinnamon apple pie. Instead, she documents herself taking the frozen pie home and deep frying it in oil, before coating it in the cinnamon seasoning. "Popeyes told me it was going to be a long wait to drop more pies," the in-video text reads. "So I told them I'll fry it myself."
Many people in the comments section praised @babyyk.1k for taking pressure off workers at the chain and suggested that this could even be a business venture — with some tagging Popeyes in the comments. "They need to sell them in stores immediately and definitely give you a percentage!" one person commented. "We love customers like you," someone else added. "No complaints...nothing. Just accepting things as they are and adjusting lol."
Make your own apple pies at home
Other ex-workers complained about the cooking time of the pies. "I do not miss working at Popeyes like it's really 8 minutes to cook that little thing," one user commented. Although there is little information online about Popeyes' cooking methods, their pies do seem to be deep-fried. This is notably different from competitor Mcdonald's, who switched from frying to baking their pies several years ago in a practice that proved so controversial it spawned petitions. Fast food items that take longer than average to cook don't typically manage to stay on the menu long, either — who can forget the ill-fated McPizza, which was cut from the menu for many reasons, including its extensive eleven-minute cooking time.
Unfortunately, it looks like Popeyes isn't selling frozen pies or other fried desserts to customers yet — although who knows what could happen in the future. In the meantime, if you want to make turnover-style pies at home, mix up a filling made from apples, unsalted butter, raw cane sugar, pumpkin spice, and cornstarch and cook on the stove for 5 minutes to soften. Then, pack into pies made from ready-to-roll pastry, and fry until golden brown and crispy. Similarly, if you manage to grab a frozen pie to take home from Popeyes, you can reheat it as follows. Place the pie on a lightly greased baking tray at 350 degrees F and bake for two to three minutes, before flipping and repeating for the same time.