Popeyes Fans Need To Know About Its Sweet New Fried Pie Flavor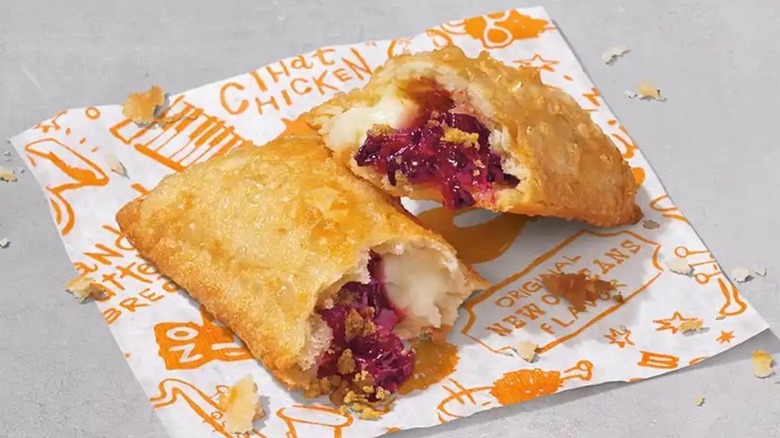 Popeyes
While it may be Popeyes' fried chicken that keeps its customers coming back, the restaurant chain's dessert offerings are also are nothing to scoff at. After all, true fans of the fast food establishment know that the best way to follow up a meal of a Popeyes chicken sandwich or popcorn chicken is with a sweet and tasty strawberry cheesecake cup or cinnamon apple pie.
And now, Popeyes has just announced it will be expanding its dessert menu with the release of a new blackberry cheesecake fried pie, according to the Fast Food Post. This crispy and gooey dessert will feature rich blackberry pie filling, crumbly pieces of graham crackers, and creamy cheesecake tucked inside a flaky, deep-fried, turnover-style crust. While the item hasn't been on menus for long, it has already received some positive reviews from those who have tried it. Here's the fan verdict on Popeyes' newest dessert.
Popeyes' new Blackberry Cheese Cake Fried Pie will only be available for a limited time
This isn't the first time that Popeyes has dabbled in the fried desserts category. The chain has also had success with turnovers featuring tasty seasonal fillings in the past. The new blackberry cheesecake fried pie comes on the heels of the limited-edition blueberry lemon cream cheese pie from April of 2020, followed by the raspberry cheesecake pie from last fall, according to Delish. There was an even more similar blackberry and cream cheese pie in 2013, reported Brand Eating, so it's safe to say that Popeyes knows its fruity desserts.
Like its successful predecessors, the new blackberry pie is a seasonal offering that will only be available at Popeyes locations nationwide for a limited time, says Chew Boom. Melz&Chris food reviewers, who found the fast food pies for $1.50 each, tried and rated the snack in a recent YouTube video. Their rating? It's sweet, has "a good blackberry flavor," and can't be beat considering the price.