Harry Potter Alumni Emma Watson Joins The Realm Of Celebrity Liquor Brands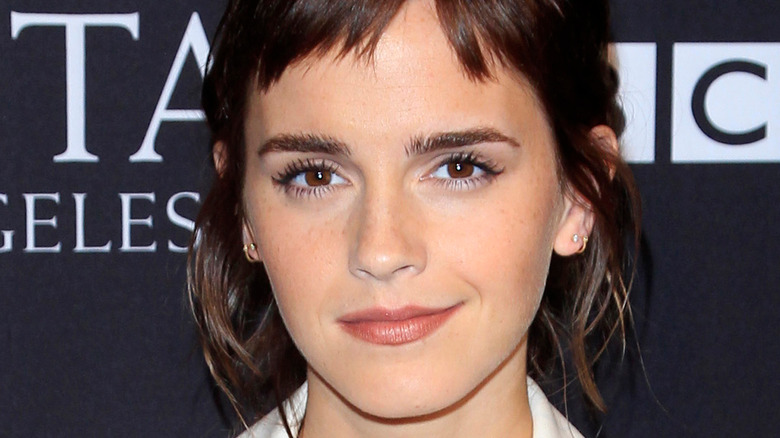 Kathy Hutchins/Shutterstock
Actor Emma Watson is probably best known for her role as Hermione Granger in the "Harry Potter" films, but she has also been an outspoken activist and advocate for feminist efforts and gender equality around the world. Now, Watson is making her foray into an entirely different field, that of liquor production. She joins the likes of other celebrities who partner with liquor production companies to create their own unique brands, including Kendall Jenner's 818 Tequila, Vera Wang's Party Prosecco, Dwayne "The Rock" Johnson's Teremana Tequila, and Snoop Dogg's Indoggo gin.
Watson is partnering with her brother Alex, who has experience working in the industry, to produce a unique kind of gin made from a grape spirit base that they are calling Renais Gin. The siblings' gin company comes on the heels of their father's success in the wine industry. He planted and opened the Domaine Watson vineyards where he grows an award-winning Chablis.
The whole idea behind the gin is that rather than grain, it is made from French grape skins and lees, and mixed with linden flowers, cubeb berries, acacia honey, and juniper. "It certainly isn't the easiest way to go about making a gin. I wanted to do something that no one had ever done," said Alex (via Decanter).
Renais Gin is a new sustainable product
Not only is Emma Watson's new liquor, Renais Gin, unique in that it is made from wine grapes, it is also a sustainable product. It's made using solar-powered stills and comes bottled in mushroom packaging that is biodegradable. "I'm particularly proud of upcycling grapes from vineyards — including my dad's — to reduce waste and create something new," said Emma (via Decanter).
Emma and Alex have even taken to brainstorming new and unique ways to make drinks made with their new gin that further links it to wine. The Renais Gin website  features an original cocktail recipe called a "Terroir Martini" made from Renais Gin, Chablis, and lemon bitters.
The siblings are certainly excited about the launch of their new gin."Renais Gin is our love letter to Chablis; a carbon-neutral product, lovingly made from cycled wine grapes," Emma wrote in an Instagram post announcing the launch of the new gin. The post has over 1.7 million likes, and Instagrammers also offered their best wishes to the pair, such as one user who wrote, "Wow! Congratulations to your family business," followed by clapping and a red heart emoji.
Renais Gin is available to order off the company's website for £45 and can be shipped to the UK and countries in the EU .