Fast Food Menu Items That Have Been Around Longer Than You Realize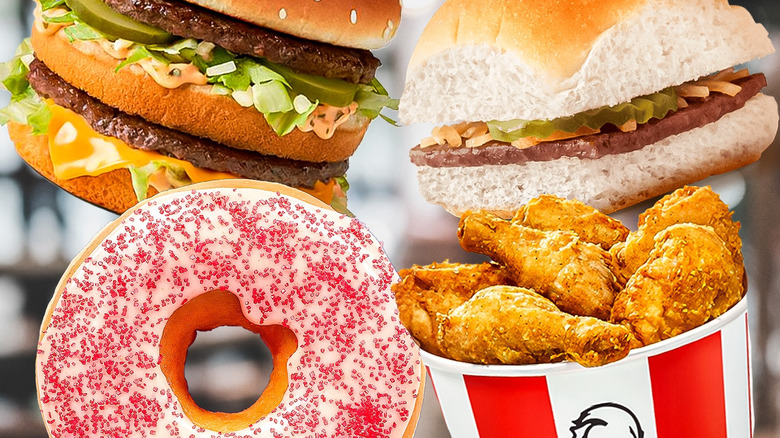 Static Media/Shutterstock
It's easy to think that we understand all there is to know about our favorite fast food items. After all, we've indulged in them countless times and might even know fun tidbits about their preparation process and nutritional content (or lack thereof). Nevertheless, many of us remain unaware of the history behind some of America's most iconic fast food menu items. This shouldn't come as a surprise since the world of fast food has a long and storied history, despite how contemporary and streamlined it might appear today.
Every successful modern-day fast food mega-chain had to start somewhere. Most companies began their entrepreneurial journeys small and certainly didn't achieve their current status as global conglomerates overnight. Despite their current prominence, almost every major fast food brand began with just one location or food stand, serving up a limited number of signature items to a handful of customers. 
It's often thanks to these flagship dishes that many franchises have outlasted the competition. Eager to discover the backstory behind some of the most iconic and surprisingly historic fast food items? Keep reading!
KFC fried chicken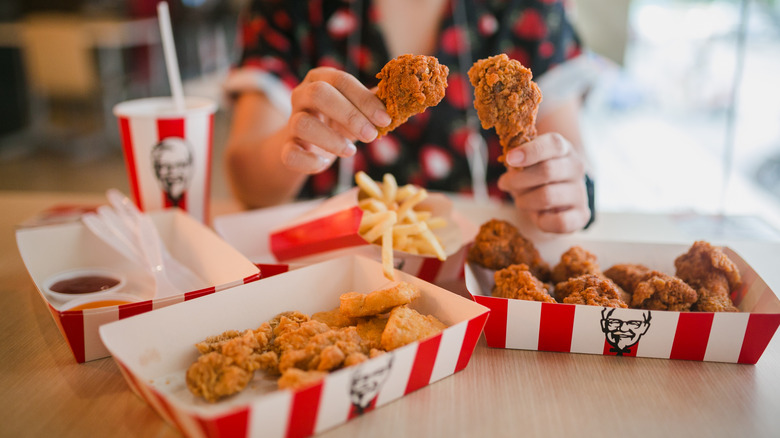 WUTTISAK PROMCHOO/Shutterstock
There's a lot that goes into Kentucky Fried Chicken's "finger-lickin' good" original fried chicken. Each piece of chicken is coated in the chain's secret seasoning before it's pressure-cooked. Though it's very popular, KFC's original recipe is by no means a recent invention.
Developed by Colonel Harland Sanders in 1939 at his Sanders Cafe in North Corbin, Kentucky, the proprietary recipe is only known by a select few. The list of the original 11 herbs and spices that make KFC's fried chicken so delicious is stored in a vault at the chain's headquarters in Louisville. To further ensure secrecy, KFC partners with several companies to obtain different components of the recipe. Even KFC's suppliers don't know exactly what goes into the chain's seasoning.
KFC's secret recipe might have been given away in 2016 when the Chicago Tribune reported that Sanders's nephew, Joe Ledington, had shown the recipe to one of its journalists. Ledington claimed that he found the handwritten note in a scrapbook. According to the note, KFC's chicken seasoning contains salt, celery salt, garlic salt, white pepper, black pepper, thyme, paprika, basil, oregano, dried mustard, and ground ginger. Unsurprisingly, KFC was quick to refute the note's authenticity.
White Castle sliders
While this might be hard to imagine as you tuck into one of White Castle's sliders, the truth is that these square bites of goodness have been satisfying fast food lovers for over a century. First invented by Billy Ingram and debuted at the chain's inaugural restaurant in Wichita, Kansas in 1921, the slider has proven seriously influential, to the point where it may have laid the foundation for the widespread popularity of the American burger.
Founded on just $700 and a lot of dedication, today White Castle has more than 300 locations across the States. Just as when it first opened its doors, the chain remains a family-run operation. Ingram's great-granddaughter Lisa Ingram is currently White Castle's acting president and CEO. 
While White Castle sliders might no longer cost 5 cents, they're still made with 100% beef patties, onions, and pickles. In addition, today the humble slider comes in more than a dozen variations, including a bacon and cheese slider, a crispy chicken breast slider, and even a plant-based slider.
Burger King Whopper
The Whopper has been satisfying taste buds and filling stomachs for more than 60 years. That's six decades of flame-grilled beef patty, tomatoes, lettuce, onion, pickles, mayo, and ketchup — all nestled between two halves of a sesame seed bun. Today, the burger is so synonymous with Burger King that the fast food chain markets itself as the "Home of the Whopper."
The Whopper has remained true to its roots, with ingredients mirroring the original 1957 recipe developed at the franchise's inaugural restaurant in Miami. The Whopper was invented by Burger King co-founder Jim McLamore to help the chain compete with restaurants that were offering bigger burgers. "I suggested that we call our product a Whopper, knowing that this would convey imagery of something big," McLamore wrote in his autobiography, "The Burger King" (via The Washington Post).
While the Whopper hasn't changed much over the years, Burger King periodically comes up with tweaked versions of the fast food staple. According to Burger King's vice president of market intelligence and global innovation, Eric Hirschhor, "The Whopper is always a focus for our innovation team, who looks ahead to what's coming, experiments with flavorful combinations and follows current trends to produce delicious limited-time offerings" (via Nation's Restaurant News). One of the more interesting iterations of the burger has been the California Whopper, released in 2011, which came with Swiss cheese, guacamole, and smoked bacon.
Nathan's Famous hot dogs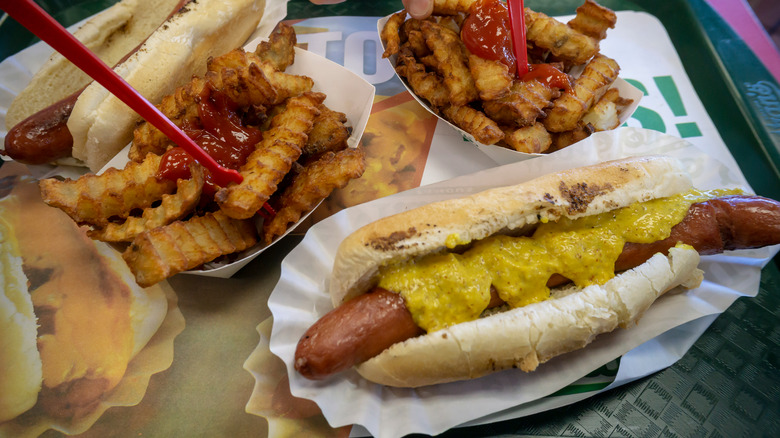 rblfmr/Shutterstock
Nathan's Famous may not have the same level of renown as fast food giants like McDonald's or KFC, but it is widely acknowledged as the first fast food chain in the States. The brainchild of Polish immigrant Nathan Handwerker, it began as a humble hot dog stand on Coney Island way back in 1916. Handwerker put $300 into his new enterprise and charged 5 cents per hot dog, which, even at the time, was an absolute bargain.
While the Nathan's Famous menu was given a makeover in 2019, it still offers hot dogs alongside burgers, sandwiches, fried chicken, and sides. The beef hot dogs — all prepared with the chain's secret spice recipe — include three options: standard, chili cheese, and New York cheesesteak. The list of fans of Nathan's Famous offerings includes the notorious gangster Al Capone and first lady Jacqueline Kennedy.
Fast food enthusiasts can still sample Nathan's Famous hot dogs at the chain's original location on Coney Island, which also hosts an annual Hot Dog Eating Contest every 4th of July. The current world record holder, Joey Chestnut, solidified his title by devouring an astonishing 63 hot dogs in 2022.
McDonald's Big Mac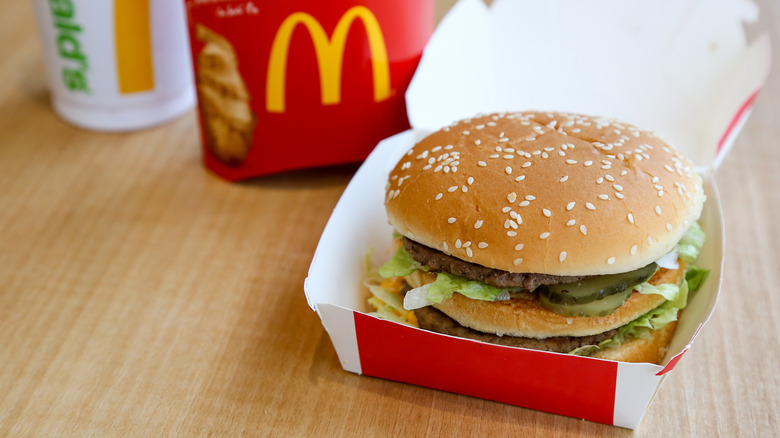 URAIWONS/Shutterstock
The next time you sink your teeth into a Big Mac, take a moment to appreciate the rich history this iconic fast food staple represents. The Big Mac is more than just a burger — it's a cultural phenomenon that has transcended borders and influenced the fast food industry worldwide. Today, McDonald's boasts more than 40,000 restaurants across the globe that serve over 69 million people each day — just imagine how many Big Macs they sell.
But the Big Mac wasn't McDonald's' first dish. Instead, the triple-decker burger was created in 1967— over a decade after the chain first opened its doors — by franchisee Jim Delligatti who wanted to appeal to adult patrons. Consisting of two beef patties, lettuce, cheese, onion, and pickles, as well as a special sauce, the Big Mac was a huge success. The 45-cent burger was rolled out to other McDonald's outlets across the U.S. just a year later.
When the Big Mac first made its debut, the chain considered naming it either the Aristocrat or the Blue Ribbon Burger. But it was 21-year-old advertising secretary Esther Glickstein Rose who ultimately came up with the winning Big Mac name.
Chick-fil-A chicken sandwich
Chick-fil-A's iconic chicken sandwich has been a staple of the fast food chain's menu since 1964 and remains a customer favorite. Known for its crispy chicken filet, zesty dill pickle slices, and buttered buns, the simple sandwich also comes with an interesting background story. The snack was invented by S. Truett Cathy at Atlanta's The Dwarf Grill, since renamed The Dwarf House, to help a supplier get rid of excess chicken breasts. The pieces were rejected by an airline company as they were the wrong size for their inflight meals.
Today, Chick-fil-A's chicken sandwiches are still prepared the same way they were decades ago — in a pressure cooker using peanut oil. The recipe for the seasoning, which is made with a blend of 20 spices, is locked away in a vault at the Chick-fil-A Corporate Support Center in Atlanta. Chick-fil-A's patrons can also now enjoy new takes on the old favorite, including the grilled chicken club sandwich with cheese and bacon.
Arby's roast beef sandwich
As simple as it is irresistible, the Arby's roast beef sandwich consists of thinly-sliced roast beef nestled between two halves of a sesame bun. Invented by brothers Forrest and Leroy Raffel in 1964, the roast beef sandwich was an instant hit, even though at 69 cents a pop it wasn't cheap (McDonald's burgers cost 15 cents). The duo selected roast beef as the main ingredient because they believed that it would fetch a higher price than different types of fast food.
In 2014, Leroy told the Metro Monthly that the brothers decided the Arby's building had to reflect the same level of quality as its product. "It had a natural sandstone wall in the back, a curved ceiling with recessed lights. There was piped-in music. There was a glass-enclosed rotisserie with a beautiful roast revolving," he explained.
The roast sandwich was such a success that, before the '70s rolled around, Arby's had over 300 outlets across America. By the time the brothers retired in 1979, this stood at 800 outlets. Today, Arby's boasts over 3,400 restaurants in the U.S. While the original roast beef sandwich remains on the chain's menu, it now comes in a variety of sizes, including double roast beef and the humongous half-pound roast beef. For those who like to throw caution to the wind, there's also a calorie-ridden half-pound beef and cheddar.
Dunkin' donuts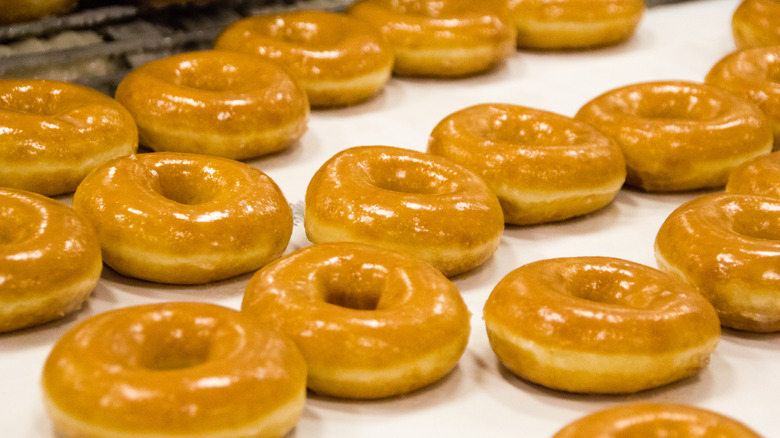 Little Adventures/Shutterstock
Dunkin' wasn't always Dunkin' Donuts. The restaurant debuted as Open Kettle in Quincy, Massachusetts in 1948. While its name may have been different, the outlet offered the same coffee and donuts it sells today. Soon after opening, restaurant founder William Rosenberg noticed that customers were dipping their donuts in coffee, prompting him to limit the menu and rename the business Dunkin' Donuts (it became the simpler Dunkin' in January 2019). It also didn't hurt that coffee and donuts accounted for 40% of the restaurant's earnings at the time.
Today, Dunkin' boasts over 12,500 outlets in 46 countries. Aside from its original glazed donuts, locations in different countries offer unique donuts in a nod to regional tastes and customs. In 1973, Dunkin' also began to offer Munchkins, the chain's version of donut holes. Today, the fast food chain sells around 2.9 billion donuts and Munchkins annually, even though coffee brings the most profit. Dunkin' is also the most popular donut brand in the U.S., ahead of Krispy Kreme.
Carvel soft serve ice cream
Did you know that soft serve as we know it today was first served by Tom Carvel by pure accident? Carvel sold his first soft serve in 1934 after his ice cream truck got a flat tire in Hartsdale, New York. Left with melting ice cream, Carvel decided to make the most of a bad situation and sell the confection to passers-by from the side of the road. To Carvel's surprise, the customers loved the smooth and creamy texture of the softened ice cream.
Technically soft serve was first invented by British chemists who found a way to inject air into the treat, but it was Carvel who perfected the design. Along with his brother, Bruce, Carvel came up with a freezer that could dispense limited quantities of softened ice cream. He sold his first franchise in 1947 and opened the Carvel College of Ice Cream Knowledge (informally known as Sundae School) to train franchisees how to use his equipment.
Over the years, Carvel has grown into a highly recognizable brand renowned for its soft serve and iconic ice cream cakes. Today, the chain sells 10 different soft serve flavors and styles, including chocolate hazelnut, strawberry, and black raspberry.
Taco Bell crunchy taco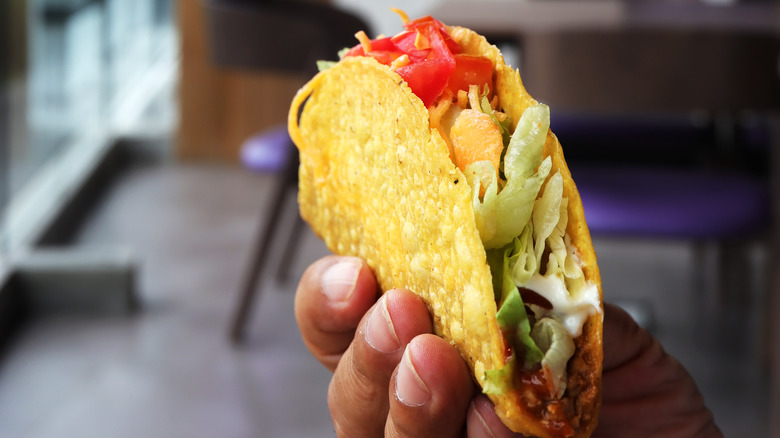 Yuphayao Pooh's/Shutterstock
When Taco Bell was first introduced to Downey, California, by Glen Bell in 1962, the restaurant only served five items. These Mexican staples included frijoles, burritos, tostadas, chili burgers, and, of course, crunchy tacos. Despite Taco Bell's claims that the hard shell taco was invented by its founder, credit may belong to the Mitla Cafe, which could have been the first establishment to serve hard shell tacos in the U.S. Since Bell once ran a hamburger and hot dog stand across the street from the cafe, it would have been easy for him to copy the concept.
When Taco Bell started serving the snack, crunchy tacos were so foreign to the U.S. fast food market that the restaurant's customers would call them "tay-kohs". While the word taco might have been tricky for patrons to pronounce, the fact that all the items were just 19 cents each no doubt made up for the confusion.
Since its humble beginnings, Taco Bell has grown from strength to strength, hitting its 100th location in 1967. By 2019, the chain had more than 7,000 outlets around the globe, serving two billion hungry fast food lovers annually. While the franchise's menu has changed over the years, the hard shell taco has remained a star attraction, with both beef and chicken crunchy taco options.
A&W root beer
The story of root beer is intertwined with that of Charles Elmer Hires, who first introduced the drink to the commercial market in 1876. Hires is said to have gotten the idea for his Hires' Root Tea soda from a farmwife who served him the drink while he was honeymooning near Morristown, New Jersey.
A&W's take on the carbonated drink was born in 1919 with the launch of a root beer stand in Lodi, California. In 1922, Roy W. Allen struck a deal with Frank Wright that resulted in the establishment of the iconic brand name, A&W. It wasn't long before the duo started leasing root beer stands to other entrepreneurs. By 1933, A&W had more than 170 franchises in the U.S., with the chain selling its root beer concentrate to ensure uniformity at all locations.
To this day, root beer remains A&W's signature item. It continues to be made fresh at each location from a unique blend of herbs, spices, bark, and berries, along with real cane sugar for a truly authentic experience. Starting in 1971, A&W's root beer was sold in bottles and cans at grocery stores, allowing fans of the delicious beverage to enjoy it at home.
Wendy's Frosty
Creamier and thicker than traditional soft serve ice cream, the Wendy's Frosty is a popular dessert known for its smooth, rich texture. The Frosty was one of the five original menu items available when the first Wendy's restaurant opened in 1969. Along with hamburgers, french fries, chili, and beverages, the Frosty was a key part of founder Dave Thomas' strategy, wherein he hoped to set Wendy's apart from other chains. Unlike franchises that have discontinued some — if not all — of their first foods, Wendy's still serves all five original menu items. Today, the franchise sells around 300 million chocolate and vanilla Frosty desserts every year.
The Frosty hasn't changed much over the past five decades and still contains milk, cream, sugar, corn syrup, and artificial flavoring. The only notable change to the dessert's recipe has been a reduction in butterfat. Whatever the exact Frosty recipe, it's a decent choice for those who are watching their weight (well, maybe) since it has fewer calories than Sonic and Dairy Queen's chocolate shakes.