Burger King Is Turning Its Whopper Red In Honor Of Spider-Man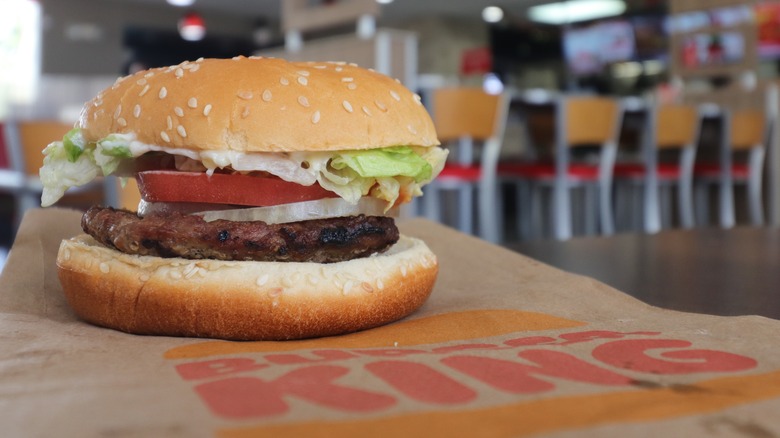 Deutschlandreform/Shutterstock
Burger King sells about 2.1 billion Whoppers — the chain's top-selling, most recognizable item by far — each year, per Zippia. Although the flame-grilled burger has been around for over six decades, that doesn't mean it hasn't gotten any updates. The last 20 years alone have seen a barbecue-flavored Texas Whopper, a meat-free Impossible Whopper, and even a Halloween Whopper with a pitch-black bun. Now, there's a new themed burger coming to the menu to promote a certain friendly neighborhood hero.
"Spider-Man: Across The Spider-Verse" is hitting theaters this summer, and Burger King is marking its release by turning its Whopper buns red and speckling them with black sesame seeds (the colors of Miles Morales' Spider-Man suit) for a limited time. Named the "Spider-Verse" Whopper, according to a press release, the burger will have Swiss cheese, white onions, lettuce, pickles, ketchup, mayonnaise, and tomatoes, with customizations available upon request. The themed Whoppers will be served at participating Burger King locations across the U.S. from May 15 through June 21.
The new Whopper is part of a wider Burger King marketing effort
These colorful burgers aren't the only part of Burger King's promotion for the web slinger's new film. A "Spider-Verse" sundae will also be available — naturally, with red and black candy toppings — and there will also be some Spider-Man-related paraphernalia inside certain Burger King locations.
The new Whopper release comes on the heels of Burger King's massive store closure, which will see around 400 locations close before the end of the year. After falling behind competitors' sales during the pandemic (and amid several Burger King franchises filing for bankruptcy in recent months), the chain has begun investing millions into marketing for the Whopper. The burger, as the chairman of Burger King's parent company said to CNN, is key to the chain's brand and its edge over competitors like McDonald's. Burger King's sales rose nearly 9% in the first quarter of 2023, so it remains to be seen whether these continued Whopper marketing efforts will help its remaining locations boost their performance.