What A Typical Breakfast Looks Like In Myanmar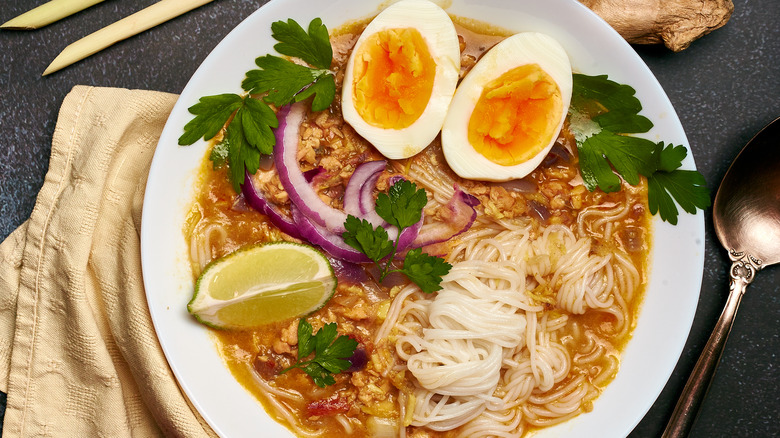 Kravtzov/Shutterstock
Myanmar has a distinct culinary landscape coming from a rich combination of traditions from the more than 135 ethnic groups and the influence of the nearby countries — China, Thailand, Laos, India, and Bangladesh. Dishes are full of punchy flavors from herbs, vegetables, and fermented products, and most dishes are served with a simple consomme on the side. These iconic street foods are popular for breakfast, but can be eaten for lunch or dinner, as well.
Breakfasts in Myanmar often include noodles, one of the well-known dishes being mohinga. A bold fish broth flavored with garlic, ginger, chilies, lemongrass, and turmeric is thickened with chickpea flour and served over rice noodles. Mohinga can be finished with a variety of toppings including boiled egg, vegetable fritters, chickpeas, lime juice, fresh cilantro, fried garlic, fish cakes, or even fried Chinese donuts.
Nan gyi thoke is a chewy rice noodle salad served with dry chicken curry. When the salad is tossed together, the round noodles are coated in the richly flavored oil from the curry. Nan gyi thoke can be topped with boiled egg, fresh cilantro, lime, fritters, fried noodles, and toasted chickpea flour. Shan rice noodles can be served wet or dry with a chicken or pork paste and tomato. This dish takes cues from Thai and Chinese flavors with a sweet chili sauce and spices like Chinese five spice, anise, and Szechuan peppercorn.
Typical breakfast in Myanmar can also include rice or salad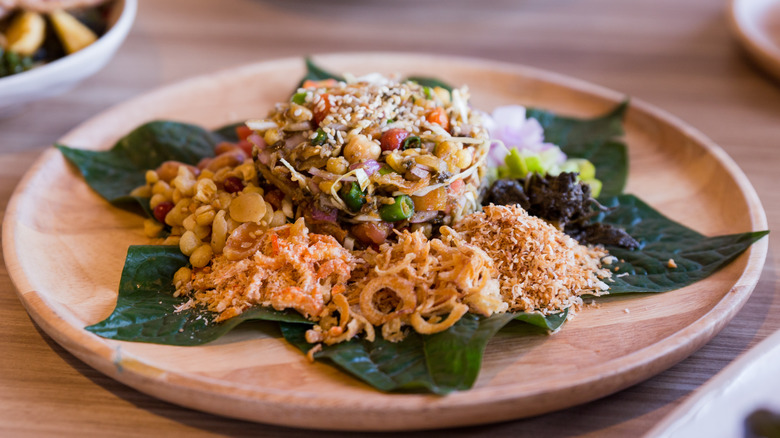 Artit_wongpradu/Getty Images
Yes, salad ... but salads in Myanmar are far from ordinary. Take laphet thoke, or tea leaf salad, for example. It layers pickled tea leaves with vegetables like tomatoes, cabbage, and onion, and includes crunchy components like fried peas, sesame seeds, dried shrimp, and peanuts. Dressed with fish sauce, chilies, ginger, and lime, this salad is bright, textured, and bold. Samosa thoke, similar to an Indian-style chaat, is another hit. This salad uses chopped-up samosas as the base. The crispy bites are topped with fresh vegetables, tender herbs like mint and cilantro, and tamarind chutney.
As far as rice goes, a classic curry and rice combination never disappoints. This meal includes a big plate of steamed white rice that is served with an array of small portions of spicy curries. The assortment can include dry or saucy curries, made with chicken, fish, shrimp, pork, various legumes, or vegetables. Typically, this spread also includes the traditional consomme, a fermented fish paste called ngapi yay, and pickled tea leaves with palm sugar for dessert.
There are so many more dishes coming from this deep culinary culture, but any of these breakfasts are a great way to start. So as those from Myanmar would say, "sa ba!" Eat please!