12 Foods At Costco That Are Kosher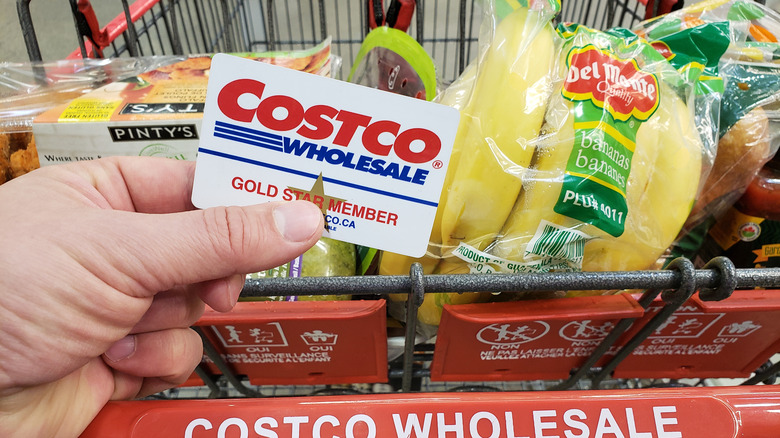 dennizn/Shutterstock
There are plenty of different reasons people abide by dietary guidelines. Some people have celiac disease and therefore avoid gluten so they don't damage the inside of their intestines. Other people avoid sugar and carbs for the simple reason they're trying to get that swimming suit from the previous summer to fit again. But there are also many people who follow strict religious rules that guide their diets. For example, some Jewish people adhere to a strict eating regimen and only allow themselves to consume kosher foods.
What does it mean when a food is deemed kosher? It means that the food falls within the strict dietary laws of Judaism. Kosher laws indicate which foods are okay to consume and which are not. If you don't grow up following a strict kosher diet, it can be a bit overwhelming trying to learn every minute detail of the rules. Luckily, for those who do abide by kosher eating practices, it's not too difficult to find foods that fit into their diet, especially at big superstores like Costco. In fact, Costco offers a whole bunch of kosher items, which makes the hunt for kosher ingredients super convenient. If you or anyone you know are seeking a place to snag some kosher food, Costco has you covered.
1. Hebrew National Beef Franks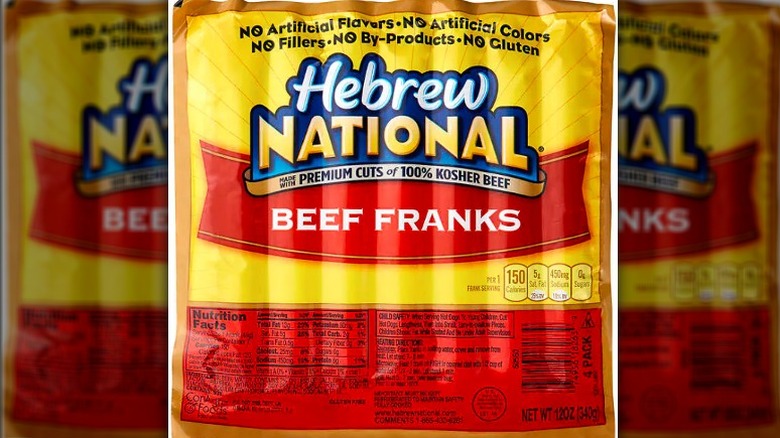 Hebrew National
When the summer sun is shining bright and the warm temperatures are calling your name to spend time outside, there's only one thing you should be thinking about: a backyard barbecue. Firing up the grill and having friends and family gather on a hot afternoon is one of the best things about summer. Burgers and hot dogs start flying off the grill and everyone piles their plates high with sides like baked beans and coleslaw. If you need something kosher at the party, Costco has you covered with Hebrew National Beef Franks.
The packs of Hebrew National Beef Franks all come fully cooked and they're made without artificial coloring or flavoring, so you know you're getting that pure beef flavor you want stuffed in a bun. The beef is all 100% Kosher, so it works for anyone following that dietary restriction. The flavor is fantastic. They have a soft texture and they're the perfect thickness. You're not getting an overwhelming amount of beef in every bite, but you're still getting a blast of great hot dog taste.
2. Hoody's Harvest Grove Trail Mix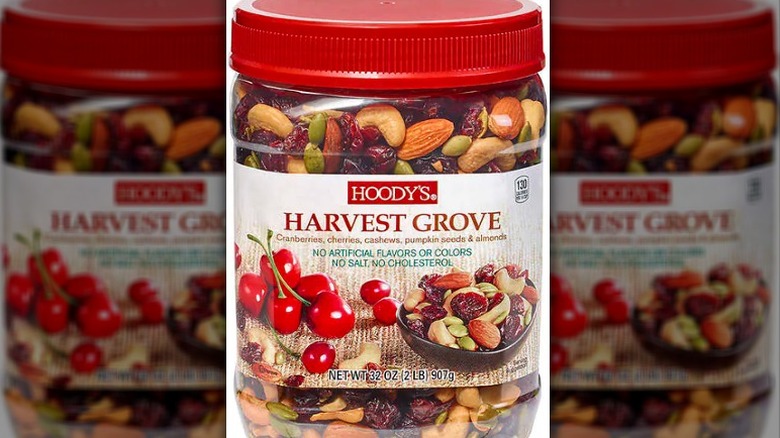 Hoody's
Whether you're about to head into nature on a long hike or you're just sitting in front of the television binging your favorite show, a tub of trail mix always hits the spot. Trail mix offers a great blend of flavors. You get a little something salty, a little something sweet, and usually some healthy stuff is mixed in so it all balances out to a great snack. If you happen to be looking for a kosher trail mix option, look no further than Hoody's Harvest Grove Trail Mix at Costco.
The mix contains cranberries, Montmorency tart cherries, cashews, pumpkin seeds, and almonds. It's a great combination of textures and flavors. It also makes for a great gift, as one customer pointed out, saying, "These nuts are great. Some of the freshest nuts I've ever had. There are a lot of cranberries and cherries per portion, but I just save those and use them in my chicken salad, salads, cereal, and nut and fruit breads. I purchase this product frequently and have found the freshness consistent. I buy for neighbors and as gifts... Enjoy!"
3. Pressed 3-Day Cleanse Bundle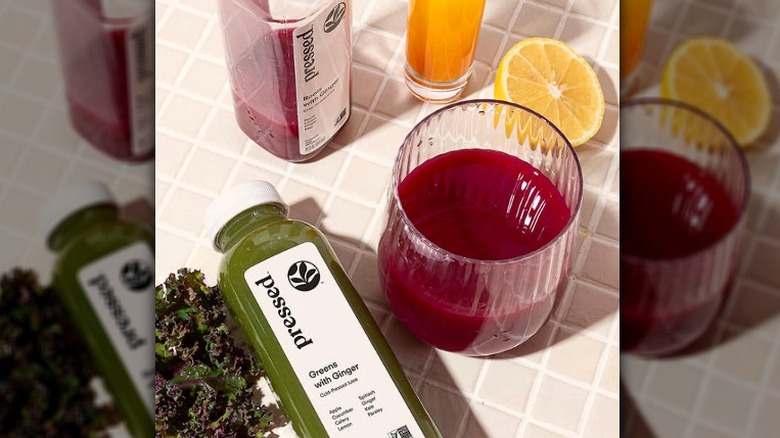 Pressed
Juice cleanses are all the rage now. With people trying so many different ways to lose weight, tossing back a drink chock-full of vitamins and nutrients is a super convenient method to ensure your body receives all that healthy stuff that can be difficult to come by in a big cooked meal. For those who are really serious about their juice cleanses but are also looking for a kosher way to get them, Costco offers customers a Pressed 3-Day Cleanse Bundle with all sorts of great flavored drinks that'll swoop into your body and give the bad stuff a boot out the door.
The pack comes with 24 bottles of cold-pressed juice. The flavors are green with ginger, orange turmeric, roots with ginger, sweet citrus, and avocado greens smoothie, and you also get a handful of wellness and vitality shots, as well. These shots are smaller bottles with a dense kick of ingredients like cayenne, ginger, and turmeric for an all-around health boost. A lot of customers had success with this purchase, with one saying, "This juice cleanse was great! No prep work, it tells you what to drink in what order without the hassle of buying everything and pressing yourself... I would recommend this to everyone needing a little kickstart to their life."
4. Vacaville Fruit Company Dried Fruit & Nut Wooden Gift Tray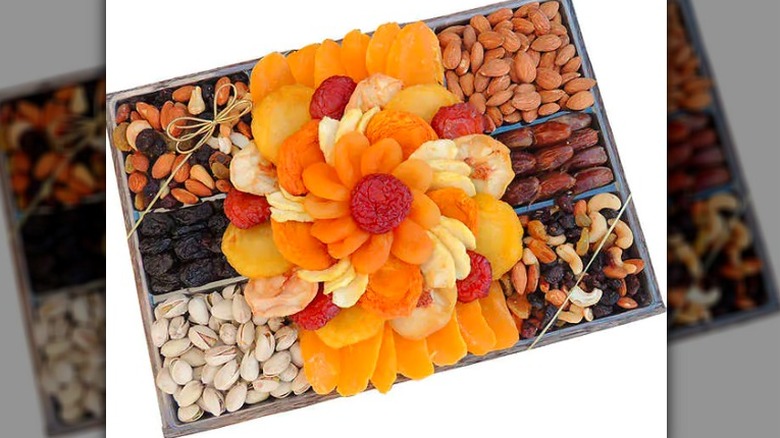 Vacaville Fruit Company
It's not always easy to plan the food to serve at a party. You often have no idea what kind of dietary restrictions will walk through your door, or if you'll be faced with some super picky eaters. But a fruit and nut spread always seems to be a crowd-pleaser, especially if you have a wide variety of both. The sweet and salty combination is exactly what the palate craves, and neither is overly rich and heavy. At Costco, you can purchase the Vacaville Fruit Company Dried Fruit & Nut Wooden Gift Tray,. This epic spread will definitely be a hit at your next party.
This variety box is kosher and comes with an array of ingredients like mango slices, dates, apple wedges, apricots, almonds, pistachios, and cashews, among several other goodies. This is also the kind of item that makes for a great gift. One customer purchased it just in time for their friend's birthday, and the friend loved it. The customer wrote, "I purchased this fruit tray to send to a friend for his birthday... My friend was very impressed with the variety of items included on the tray and the excellent quality of fruits and nuts... The arrangement was really nice... This fruit tray made everyone happy."
5. Namaste Gluten-Free Classic Baking Mixes Variety pack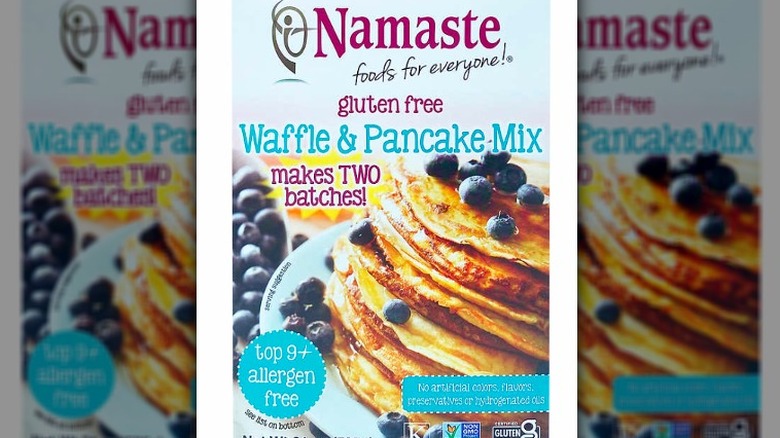 Namaste
Not everyone that enjoys cooking has the same passion about baking. The great part of cooking is that you can experiment with different ingredients, mixing and matching different flavor profiles until you concoct a dish that's to your liking. When it comes to baking, however, everything has to follow very precise measurements or you'll end up with a disastrous result. This precision leads a lot of people away from baking, but it doesn't have to if you have the right products. That's what makes the Namaste Gluten-Free Classic baking Mixes at Costco a must-have for your kitchen cabinets. An ultimate breakfast is just a box away.
This kosher and gluten-free variety pack includes waffle and pancake mix, muffin and scone mix, and dark chocolate brownie mix. Before you know it you'll be sending an audition tape to "The Great British Baking Show." If you're feeling a bit hesitant because you've had bad experiences with the flavor and texture of gluten-free baking mixes in the past, one satisfied customer said, "I bought the eight-pack of GF brownie mixes and my family cannot tell the difference. They are so moist and better than you can find in a GF bakery... Never been happier. Have paid much more for similar mixes only to have the baked goods come out of the oven dry and crumbling. THESE are excellent and highly recommended."
6. Foppen Norwegian Smoked Salmon Slices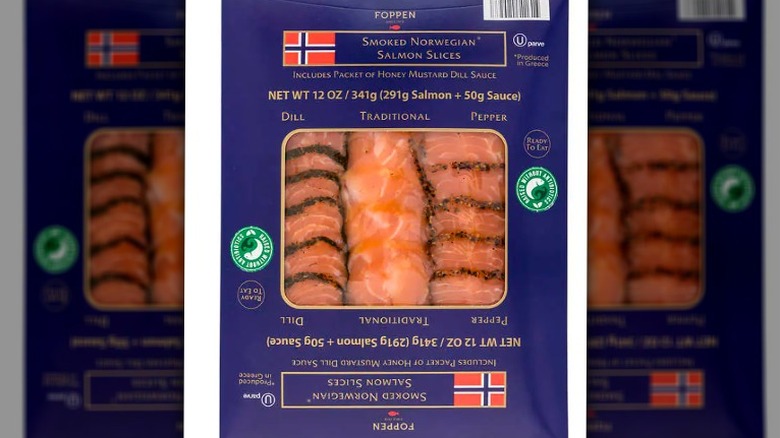 Foppen
A morning bagel with a smear of cream cheese is a great way to kick off the day. But if you're looking to really enhance the flavor of your morning meal, add a few pieces of soaked salmon to that cream cheese and you have yourself a creamy, salty handheld vessel of delight that'll have your stomach smiling for the rest of the day. Smoked salmon has a wonderful salty flavor that pairs so well with cream cheese, but you can also enjoy it on its own, as well. This is why any fish enthusiast who's also looking for something kosher needs to get their hands on the Foppen Norwegian Smoked Salmon Slices at Costco.
This 12-ounce package of ready-to-eat salmon comes in three different flavors, which makes an even better bang for your buck. You get the traditional flavor, and then you're also treated to dill and pepper. The fish is sliced super thin and melts right on your tongue, coating your palate with a vibrant salty-ocean flavor that really hits home. The package also comes with a packet of honey mustard dill sauce so you can really combine flavor profiles for one heck of a tasty omega-3-packed meal. When it comes to the morning — or really any time of day — a few slices of smoked salmon does a great job of offering you something quick and easy that also tastes awesome.
7. Azuma Gourmet Seaweed Salad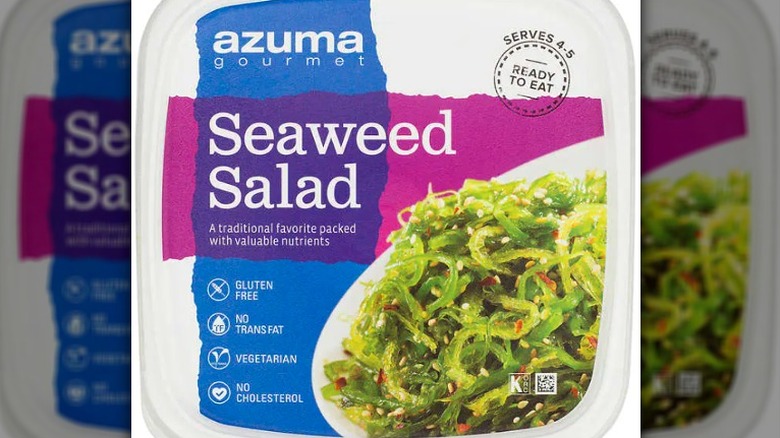 Azuma Gourmet
It's important to get some greens in your diet, even though salad isn't necessarily the most appealing option a lot of the time. Those greasy bacon cheeseburgers always seems to call your name, and while they're absolutely delicious, they're also not exactly kind to your waistline. So, do your body a favor and pile that plate of veggies high and get your nutrients on. Salad comes in all forms, and if you're looking for something a bit different frorm your usual iceberg lettuce variety, check out the Azuma Gourmet Seaweed Salad at Costco. It's a deliciously unique way to get a dose of greens in your diet.
We know the image that the word "seaweed" conjures up in your mind likely isn't a tasty one. You think of those green mushy ocean strands that certainly don't scream out "Eat me!" as they sway with the current. But, this stuff is awesome. It's kosher, gluten-free, vegetarian, and doesn't have any cholesterol or trans fats. It has a lovely crunch and a great delicate texture. You'd never know something that looked so unappealing in the ocean could taste so great on a plate.
8. David's Cookies Rainbow Cake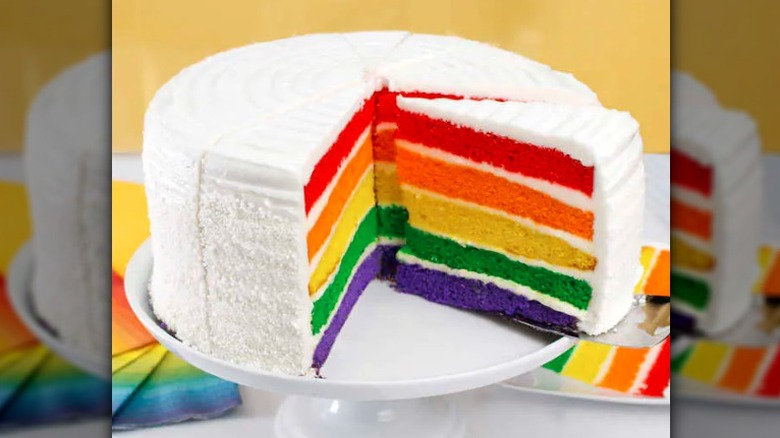 David's Cookies
Eating dessert should feel fun. It's the prize at the end of a meal, and you always want a prize that offers a "wow" factor. You ate all your Brussels sprouts and maneuvered your way through mom's meatloaf, and now it's time for the playful part of the meal. Look no further than David's Cookies Rainbow Cake at Costco for a sweet post-dinner treat that'll dazzle you with its aesthetics. Every slice is a blast of sugary vibrance that totally embodies the definition of a fun dessert.
The outside of this kosher cake is covered in white vanilla frosting and it just looks like a regular vanilla cake at first. But, as soon as you cut into it and yank that first slice out, your eyes are slammed with five bright rainbow colors that get you super amped to take that first bite. Purple, green, yellow, orange, and red layers all call out to that sweet tooth. This is a perfect item to bring to a birthday party. One customer who threw a unicorn-themed party for her twin daughters could not have been happier. They said, "EVERYONE LOVED THE CAKE!!! I LOVED THE CAKE!! MOIST AND CREAM CHEESE FROSTING WAS DELICIOUS!!! MANY COMPLIMENTS AND WHAT'S BETTER IS THAT THE KIDS LOVED THE COLORS. Matched the unicorn rainbow theme perfectly!!!"
9. Pirate's Booty Aged White Cheddar Snack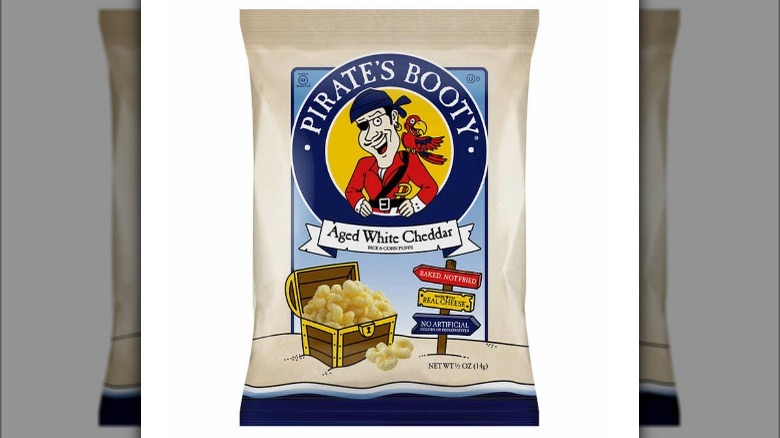 Pirate's Booty
If there's one thing pirates can't do very well, it's keep track of their booty. They always seem to find themselves on the hunt for buried treasure. Doesn't exactly seem like the most enjoyable existence. But at Costco, you don't have to join the ranks of the pirates in order to enjoy some delicious bagged booty. Snag yourself the Pirate's Booty Aged White Cheddar Snacks; while it isn't actual treasure, it's delicious enough to hoard all to yourself.
The booty here is baked rice and corn puffs covered in a dusting of white cheddar cheese. They're super light, which means you can shovel in handful after handful without ever feeling like your stomach has an anvil sitting in it afterward. There's a perfect amount of white cheddar dust on them, which is a relief since so many other snacks out there skimp on that awesome flavor. The puffs have a great mouthfeel, also. Some are a little crispy and some are really soft, and both textures contrast each other really well. If you're looking for a white cheddar snack that won't overwhelm your stomach, this booty has your name all over it. Just don't let the pirates find out you have some.
10. Kind Mini Bars Variety Pack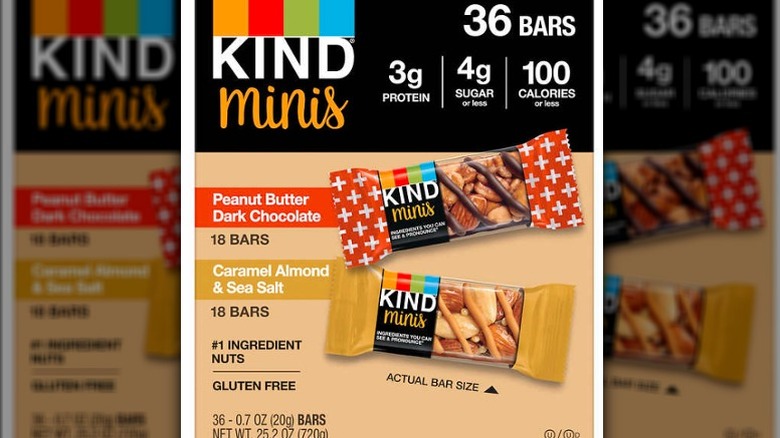 Kind
If you're someone who keeps a busy schedule, it's important to have an on-the-go snack for those times when it's just not possible to eat a meal. A great snack can hold you over until you do finally have a moment to sit and actually enjoy your food. But you also want to make sure you're not shoveling garbage into your body either. Nobody's body runs like a well-oiled machine after an influx of sugar and fat. So if you need something quick that also doesn't pack you with calories and sugar, the Kind Mini Bars variety pack at Costco is a solid option.
These gluten-free and kosher miniature bars only contain 3 grams of sugar and 100 calories, which is plenty healthier than other options. You get two different flavors in this variety pack: peanut butter dark chocolate and caramel almond & sea salt. Both pack a ton of great flavor, especially the sweet and salty taste of the latter. The bars have a great crunch to them that doesn't require immense jaw strength like some other brands. Convenient and tasty are two words that describe these bars, and in today's busy world, that's really all you need.
11. Gardetto's Snack Mix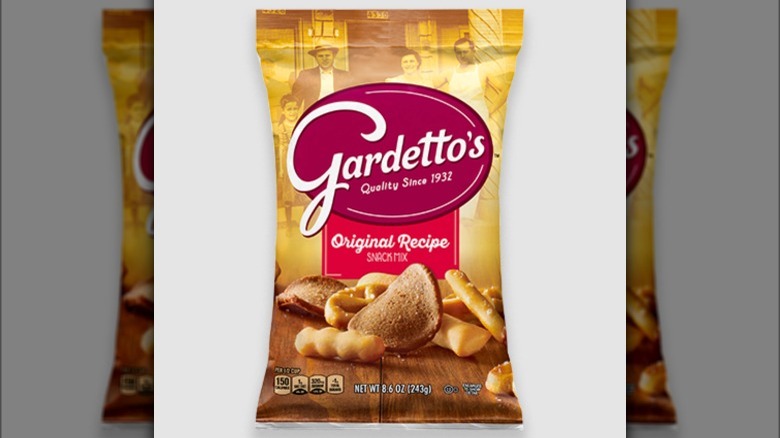 Gardetto's
When you find the right combination of ingredients to make an epic snack mix, you want to scream it out to the world. You finally hacked the snacking landscape with the perfect concoction of flavors that hits the spot any time of day. It's not always easy finding a product that really hits home, but one great option is Gardetto's Snack Mix at Costco. This combination of goodies is kosher, ready to eat, and perfect for all hours of the day.
The snack mix is a combination of mini breadsticks, pretzels, and double-roasted rye chips. The three flavors all work really well together to create a robust mix that you just want to keep shoveling into your mouth. This is an ideal product if you're throwing a party at home, you need to bring something into the office to munch on in the break room, or you're just vegging out in front of the tube all afternoon. Gardetto's has you covered with its trifecta of tasty goodies.
12. Nutella Hazelnut Spread
There aren't that many ways to make a morning waffle or a stack of pancakes astoundingly tastier. A little butter and syrup is really all you need to complete a slam-dunk breakfast. But that doesn't mean you shouldn't at least try to find another ingredient that'll send your taste buds into overdrive. That little mystery ingredient is Nutella. A hefty smear of Nutella on just about anything makes it infinitely better, which is why the Nutella Hazelnut Spread at Costco should absolutely find its way into your cabinets at home.
Nutella is one of those ingredients that's supposed to pair with something else, but it's so darn delicious that you might find yourself eating spoonful after spoonful of it right out of the far. It has a super creamy texture that coats your palate in a rich, chocolate-hazelnut flavor. According to the packaging, there are over 100 hazelnuts per jar, so you don't have to worry about the chocolate overpowering the nutty flavor. Add this stuff to your next peanut butter and jelly sandwich for a knock-your-socks-off lunch. Or toss a little marshmallow fluff in the mix as well and have yourself one heck of a mouth fiesta.