Switching Up Your Croque Madame Means Using A Once-Stale Baked Good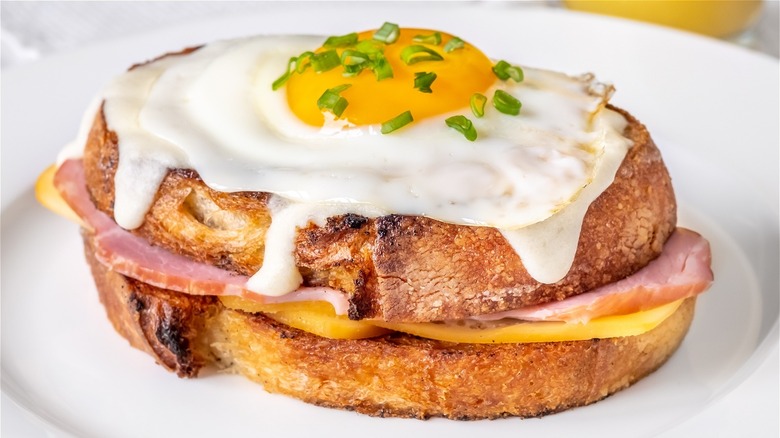 MIA Studio/Shutterstock
Everyone loves a buttery, flaky croissant, but let's be honest — they seem to go stale in a matter of hours. If you're buying croissants in bulk, like in those giant clamshells filled to the brim at Costco, chances are more than a few will get dry and stale before you get to them. We've got an easy trick to refresh stale croissants, but perhaps you want to do something a bit more imaginative with your day-old baked goods. 
Tiktoker @alexawhatsfordinner recently shared an ingenious tip that combines stale croissants with another beloved French food, the Croque Madame. In her video, she takes a croissant and rolls it thin with a rolling pin. She then slathers it in butter and a bit of honey and sears it on both sides until it's crunchy. She tops that flattened, sweetened, pan-fried croissant with ham and Gruyere cheese and bakes it until the cheese is melted and bubbly. To that she adds béchamel sauce and a runny fried egg. It's like a Croque Madame meets a tostada, with the crispy croissant taking the place of a crispy tortilla.
You can Madame or Monsieur with your Croissant Croque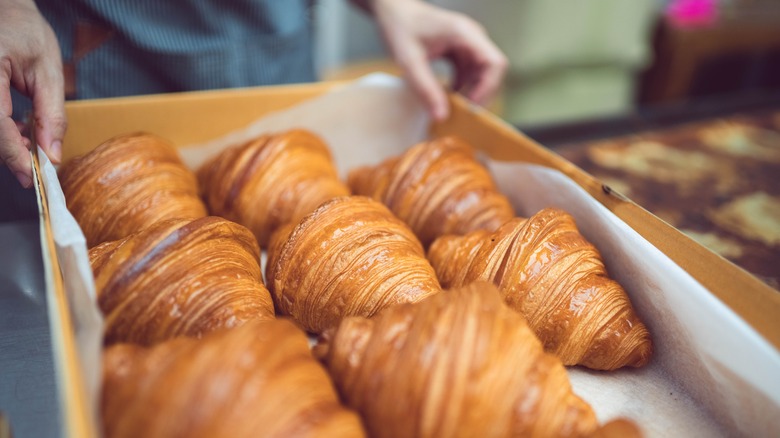 MIA Studio/Shutterstock
When you think about it the combination of a sweet, toasty croissant with the savory ham and cheese of a Croque Madame is kind of genius. After all, there is honey-baked ham, so why not ham on a honeyed croissant?
@tasty

🍴@alexawhatsfordinner says if your croissants are stale or otherwise not very good, this is a great way to salvage them!? The viral candied croissant hack makes a perfect sweet and crunchy base for a rich & creamy croque madame? Croque madame is a traditional French sandwich featuring ham, Gruyère, béchamel sauce, and a fried egg. Recipe below‼️ Ingredients (for 2 servings) -2 croissants -1½ Tbsp unsalted butter, divided -1 Tbsp honey -4 slices deli ham -4 oz Gruyère cheese, shaved -½ Tbsp all-purpose flour -½ cup whole milk -2 large eggs, fried sunny-side up -Kosher salt, to taste -Freshly ground black pepper, to taste -Thinly sliced chives, for garnish Preparation -Preheat the oven to 400°F (200°C). Line a baking sheet with parchment paper. -Using a rolling pin, roll the croissants out until flattened and thin. Evenly spread ¼ tablespoon of butter on each side of both croissants. -Heat a large pan over medium-high heat. Add the croissants to the pan and cook for about 5 minutes, or until golden on one side. Flip the croissants and drizzle the honey evenly over the tops. Once the other side is golden brown, about 5 minutes, flip again so the side with the honey is face-down. Cook until deep golden brown and caramelized, about 3 minutes. -Place the candied croissants on the prepared baking sheet, honey-side up. Top each croissant with 2 slices of ham and 2 ounces of Gruyère. -Bake the croissants for about 10 minutes, until the cheese is melted and gooey. -Meanwhile, make the béchamel: Melt the remaining ½ tablespoon of butter in a small pan over medium-low heat. Whisk in the flour and cook for about 1 minute, until fully combined and fragrant. Slowly whisk in the milk and cook, stirring frequently, for about 8 minutes, until the sauce is thick and creamy. -Spoon the béchamel over each croissant, then top with the sunny-side up eggs. Season with salt and pepper and garnish with chives. -Enjoy! #candied #croissant #breakfast #croque #croquemadame
Now, this version is a little different from a traditional Croque Madame sandwich recipe, which would see the ham and cheese in between two pieces of bread rather than on top. Theoretically, you could roll out two stale croissants and achieve a more true-to-form Croque Madame. You could even use the flat croissant method to make a Croque Monsieur instead of a Madame. In the Madame, the egg is fried or poached and placed atop the sandwich. For a Monsieur, the entire sandwich is dipped into an egg batter and pan-fried, much like French toast. So to Monsieur your croissant Madame, just roll out and toast the croissants as in the video, then assemble the sandwich using the croissants as the bread. Dip the sandwich in a bowl containing a few eggs you've scrambled up and then cook on a skillet or a griddle, flipping once until both sides are cooked through.
Whether you go Madame or Monsieur, swapping out the bread for sweet, pan-fried croissants is an unexpected twist that not only seems fancy, but also helps cut down on waste. Win, win, oui oui!