US Costco Fans Are Feeling Major FOMO Over The UK's Bakery Section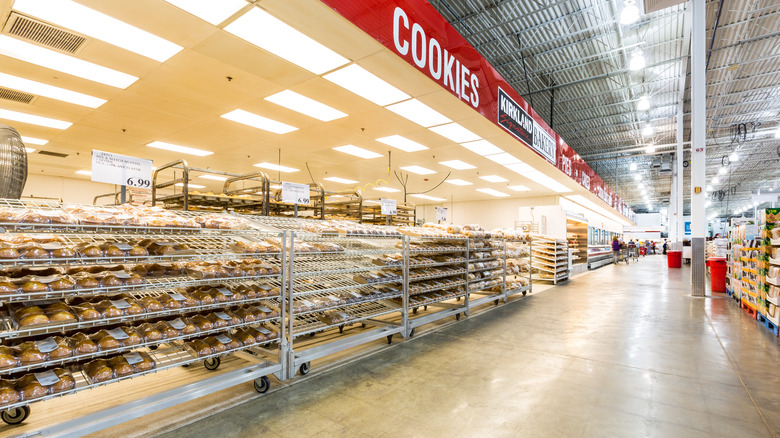 Mihai_Andritoiu/Shutterstock
Just a short time ago, the internet was drooling over the U.K.'s Costco cafes, dreaming of the Korean barbecue beef bakes, jacket potatoes, and mango smoothies across the pond. Now, Costco fans outside of the U.K. are once again jealous of their distant neighbors, because @costcofans just offered a glimpse at the latest additions to the bakery section at a location in Bristol, England.
Costco may be the only store where you can buy your groceries, a sauna, a casket, and a slice of pizza on your way out, all under one roof. But judging from the reaction on Instagram, all American Costco members really want is a box of profiteroles and some Belgian chocolate shortbread — and maybe a plane ticket to England to raid the bakery section.
The store's mini chocolate hazelnut beignets, which come in a box of 24 for the equivalent of about $10, seem to be a particularly popular addition. TikTok user @official_usmanxs described the "mini donuts" as being crispy on the outside and fluffy on the inside — although he felt they could have done with more chocolate, an opinion we would struggle to disagree with no matter the context. Overall, @costcofans' original question, "Which of these 7 would you like to try?" could be summed up by one user's comment: "We need them all!"
American customers are missing out on more than just beignets
What else can customers find at the U.K. Costco bakery? The post about new additions also covered an assortment of filled mini pastries, red velvet cake, and two types of Victoria sponge sandwich cakes. When reviewing the mini Victoria sandwiches on TikTok, @official_usmanxs called them one of his favorite Costco desserts, with a harmony of tart raspberry jam, sweet and fluffy cake, and mild whipped cream.
International Costco stores tend to maintain a similar layout and style to U.S. locations. In fact, regional variations are especially evident away from the aisles, where you'll learn that Costco food courts in other countries serve very different items — from ham and cheese croquettes in Spain to Hokkaido soft cream in Japan.
So, U.S. consumers may be justified in feeling the FOMO, as bakery beignets aren't the only thing they're missing out on from England. There, the Costco food court's comfort food star is an Aberdeen Angus cottage pie, filled with beef and topped with mashed potatoes.