What A Typical Breakfast Looks Like In Costa Rica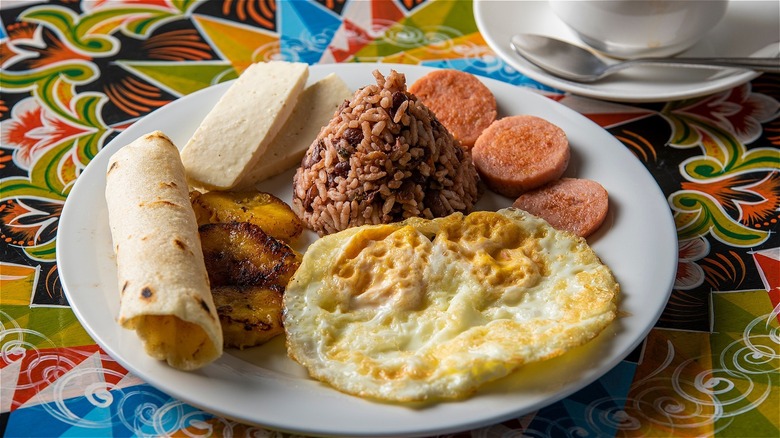 lborgephoto123/Shutterstock
An adventurous day exploring Costa Rica's sunny shores has to start off right. This means feasting on an array of traditional dishes and colorful tropical fruits that will keep your energy levels high throughout the day. Spanish-style breakfasts are commonly eaten here, where rice and bean recipes are a consistent staple and savory flavors are king. Of course, no Costa Rican breakfast is complete without a strong cup of coffee, which is one of the country's most well-known exports due to its high-quality beans. If you're not a coffee fan, you can sip on freshly squeezed, homemade fruit juices made from mangos and pineapples. Other beverage options include a refreshing horchata or a light breakfast smoothie, known as a batido.
Costa Ricans do enjoy familiar breakfast favorites like jam and toast or fried eggs, but for the most part, they load up on starch and protein to start their day. Typical baked goods eaten at breakfast time include candied Caribbean bread called pan bon, sweet empanadas filled with jams or honey, and baked buttermilk tamales known as tamal de masa. There are two must-have foods that are hard to imagine missing from this meal — homemade corn tortillas for scooping, and pan-fried, caramelized plantains. Savory meats like spicy chorizo and links of slightly crispy salchichón sausages are some of the top side dishes. Additional sides you might find on your breakfast platter could involve more exotic local fruits, such as peach palm fruit, jocote, and star fruit. Out of all these mouthwatering possibilities, a Costa Rican breakfast just isn't complete without gallo pinto.
Gallo pinto is considered the national dish of Costa Rica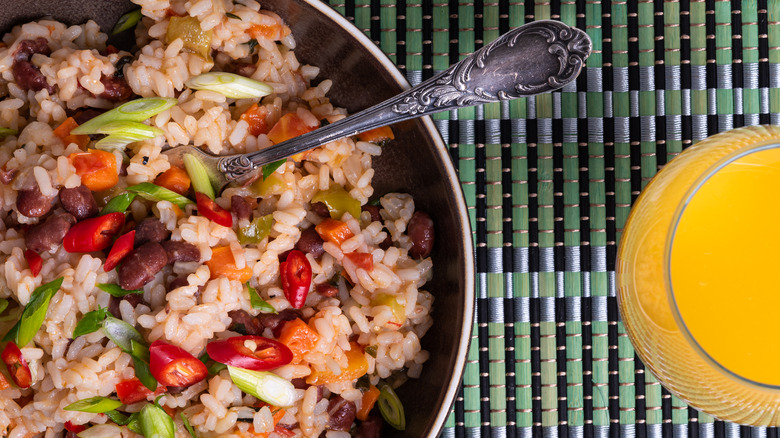 Stanislav Ostranitsa/Getty Images
With a name meaning "spotted rooster," it's easy to associate the country's national dish of rice and beans with something you'd chow down on when the rooster crows at dawn. Traditionally made with red or black beans and day-old brown rice, this iconic Costa Rican staple is usually mixed with onions, bell peppers, garlic, and cilantro to add a healthy (and gluten-free) blend of veggies. The most authentic gallo pinto will include the nation's favorite condiment, salsa lizano, which has a taste comparable to the sweet and smoky kick of Worcestershire sauce and a bit of tanginess like that of ketchup.
If you'd rather not mix your rice and beans, your gallo pinto can be served casado-style, which just means the rice and beans are plated next to each other instead. Other potential add-ons include fresh avocado and natilla (sour cream). When all these flavorful ingredients are mixed together, it becomes the most divine breakfast bowl your taste buds could fathom. 
Gallo pinto is the true star of any Costa Rican meal, and if eaten alongside some of the other savory dishes we've mentioned, you've got yourself a deliciously filling breakfast. Ready to hit the waves?