Roasted Tomato Caprese Salad Recipe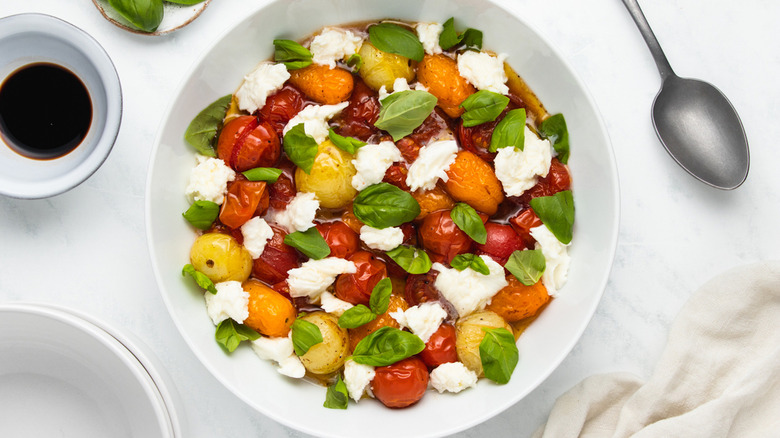 Catherine Brookes/Mashed
There are seemingly endless types of salad out there, but few speak to cool afternoons in the Mediterranean countryside like the caprese. Following developer Catherine Brookes' recipe, you can bring a bit of Italy to your dining room, with the perfect blend of roasted tomatoes, basil, mozzarella, and olive oil. "The process of roasting the tomatoes rather than simply serving raw is what makes this dish special," explains Brookes. "When tomatoes are cooked they develop a much sweeter and deeper flavor."
While salads in general are pretty refreshing, the dynamic flavors and oily juices in this roasted tomato caprese lift it above your typical veggie medleys. For a salad that delivers just as much savory freshness as a home-cooked Italian meal, this is a recipe you want to master. You can easily enjoy this roasted tomato caprese salad on its own, as an appetizer or side salad, or you could pair it with a protein to round out the meal.
Gather the roasted tomato caprese ingredients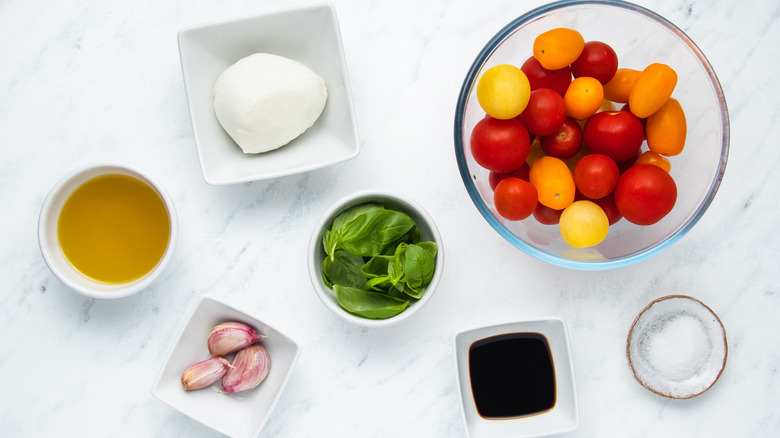 Catherine Brookes/Mashed
Start in the vegetable aisle with a garlic bulb, a bunch of basil, and a pound of mixed tomatoes. "I used a mixture of cherry, plum, and golden tomatoes," suggests Brookes, and you really can new have too many tomatoes. You'll also need balsamic vinegar, extra virgin olive oil, fresh mozzarella, a bit of sugar, salt, and pepper.
Prep the tomatoes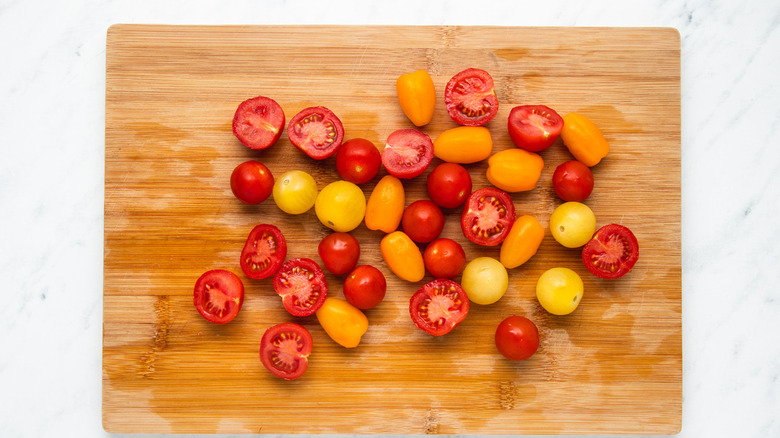 Catherine Brookes/Mashed
Preheat the oven to 350 F and while it heats, you can start your tomato prep. Prick the smaller tomatoes with a knife so that they don't explode in the oven. Then slice the larger tomatoes in half, as they're going to serve as the main body of the salad.  
Mix your salad together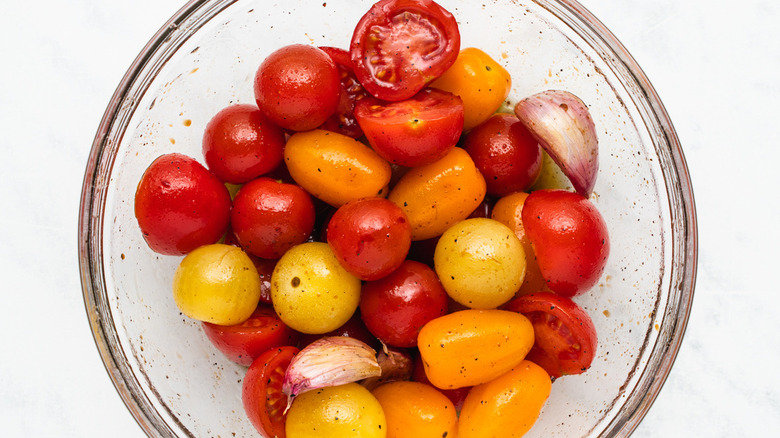 Catherine Brookes/Mashed
One big difference between a Caprese salad and a standard one is that there is no lettuce, so the tomatoes will make up the bulk of this recipe. Throw them in a bowl along with the garlic. "The garlic cloves are added whole with the skin on," says Brookes. "They are there to add flavor to the roasting juices but can be removed at the end and used in another dish if desired."
Pour the olive oil and vinegar on top and sprinkle it with the sugar, the salt, and the pepper. Finally toss this all well, like you would any other salad.
Bake and spoon the juices over your tomatoes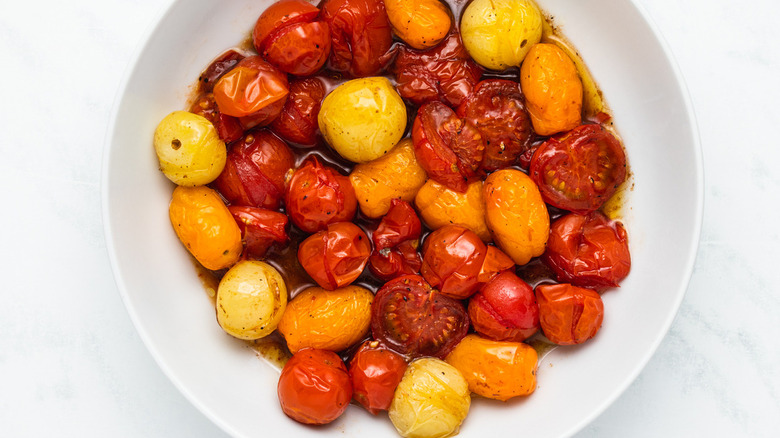 Catherine Brookes/Mashed
Pour your bowl of tomatoes, garlic, oil, vinegar and spices onto a roasting tray. Put the tray into your preheated oven and bake for 30 minutes. "The tomatoes are ready once their skins are wrinkled and they have started to lose their shape a little," explains Brookes.
When done, transfer the tomatoes to a serving bowl. There will be some juices left in the baking tray. Spoon those over the mixed salad in the bowl. "The juices are a delicious combination of sweet and tangy," describes Brookes, "with a richness from the olive oil and a subtle garlic taste too."
Finish and serve your salad
Catherine Brookes/Mashed
Finally layer the fresh ingredients, that being your mozzarella and your basil leaves, on top. "I tend to simply tear the mozzarella into chunks with [my] hands," adds Brookes, "but you can cut it into neater slices if preferred." 
Now, portion the salad out into individual bowls and dive in. As Brookes reminds us, "The salad can be served both warm or cool depending on your preference." Either way, expect a distinct Italian veggie treat.‌
Roasted Tomato Caprese Salad Recipe
This roasted tomato caprese salad features all of the classic salad ingredients like tomatoes, basil, and fresh mozzarella, but with a roasted tomato twist.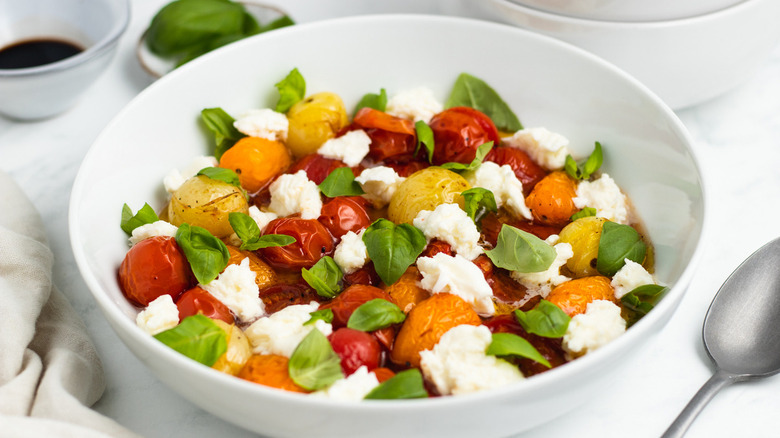 Ingredients
1 pound mixed mini tomatoes
1 tablespoon balsamic vinegar
¼ cup extra virgin olive oil
3 cloves garlic, skin on
1 teaspoon sugar
salt, to taste
pepper, to taste
1 (4-ounce) ball fresh mozzarella
¼ cup fresh basil leaves
Directions
Preheat the oven to 350 F.
Slice any larger tomatoes into halves and prick the rest with a knife to stop them from exploding in the oven.
Add the tomatoes and garlic to a bowl and pour over the olive oil and vinegar. Sprinkle with the sugar and some salt and pepper to taste, then toss well to combine.
Transfer the tomato mixture to a roasting tray and bake for 30 minutes.
Once soft and tender, transfer the roasted tomatoes to your serving bowl of choice and spoon over some of the cooking juices.
Tear up the mozzarella and basil and scatter over the top, then serve.
Nutrition
| | |
| --- | --- |
| Calories per Serving | 237 |
| Total Fat | 20.0 g |
| Saturated Fat | 5.8 g |
| Trans Fat | 0.0 g |
| Cholesterol | 22.4 mg |
| | |
| --- | --- |
| Total Carbohydrates | 7.9 g |
| Dietary Fiber | 1.6 g |
| Total Sugars | 4.7 g |
| Sodium | 382.6 mg |
| Protein | 7.6 g |