The Story Behind Las Vegas Becoming The Buffet Capital Of America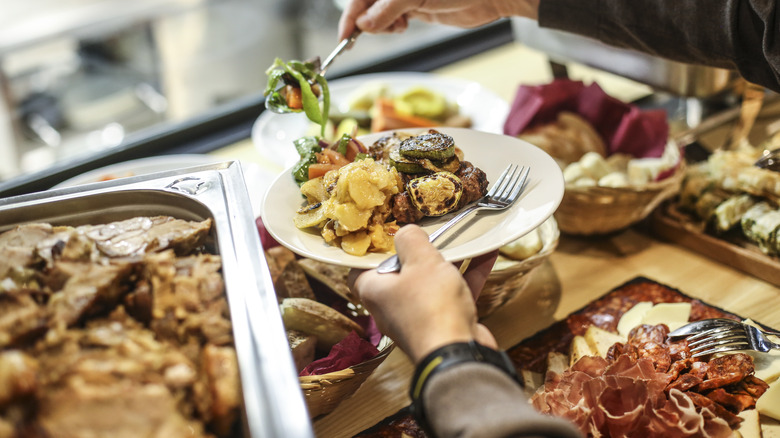 Goodlifestudio/Getty Images
If you ever find yourself on the I-15 freeway heading into Vegas, you'll undoubtedly see dozens if not hundreds of billboards with enticing all-you-can-eat buffet offers — surf and turf for just $12.99 or bottomless bloody marys for a dollar. These have become the culinary mark of the sin city for decades now, but where did it all start, and why?
Just like all things when it comes to Vegas casinos — it always comes back to gambling and keeping people in the casinos for as long as possible. When people get hungry, they stop playing the slots and have to find somewhere to eat; if that took you out to a restaurant or cafe down the road, that was bad for business. The casino financier Beldon Katleman decided to entice gamblers to stay a while longer by providing late-night eats, mostly cold cut deli meats, and the odd hot dish. And, once this style of dining proved to keep patrons happy, well-fed, and gambling, the other casinos followed suit. 
What does a Vegas buffet look like now?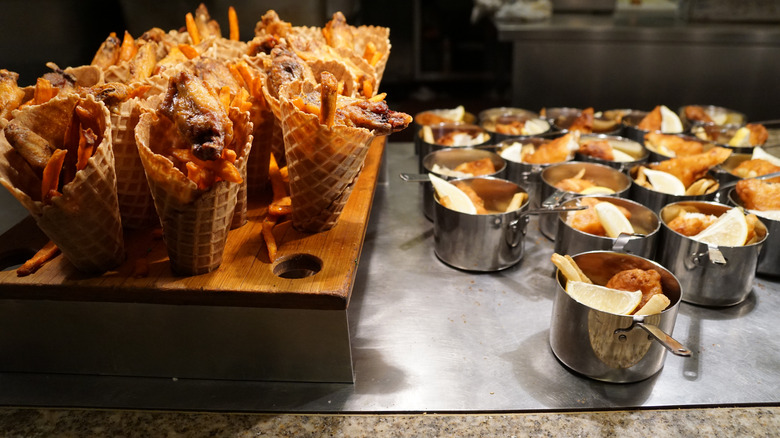 Ritu Manoj Jethani/Shutterstock
It should come as no surprise that once buffets became a thing, each casino tried to put its own spin on it, either by offering bargain basement value or high-end haute cuisine. And that tradition stuck around; even The Cosmopolitan, a ritzy 5-star hotel and casino on the Las Vegas Strip touts a gourmet all-you-can-eat buffet bar called The Wicked Spoon that offers brunch buffets each day of the week, but an especially elaborate (and more expensive) spread on Saturdays and Sundays. And for just $24, you can enjoy your meal with bottomless champagne. 
Unlike the late-night eats and 24-hour buffets that were once popular, brunch encourages you to start your drinking and indulging early on. Then once you're done with your meal, and hopefully pleasantly inebriated, you can make your way down to their casino while you attempt to walk off the enormous brunch you just ate. Buffets remain a staple both on and off of Vegas's strip, and aren't likely to go anywhere anytime soon.