Regional Grocery Chains We'd Love To See Everywhere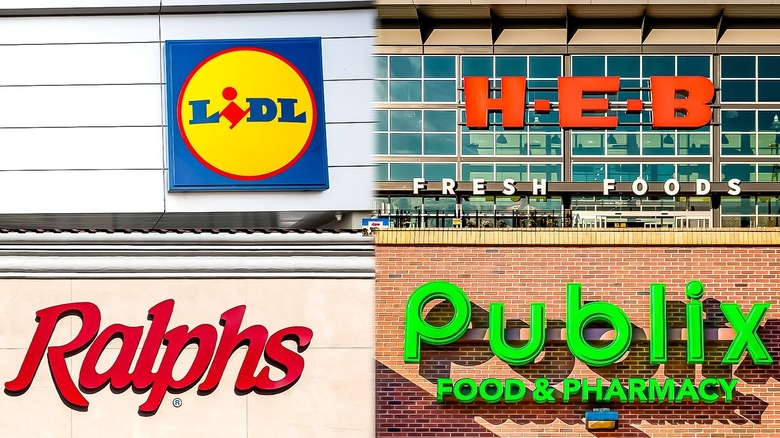 Static Media/Getty/Shutterstock
Going to the grocery store can be either the most stressful part of your week or one of the most enjoyable, depending on several factors. But if you shop at a clean, organized, well-priced, and well-stocked store, those kinds of details can make all the difference. At the right place, grocery shopping can go from a dreaded chore to a task you look forward to completing. And, for many shoppers, the best grocery stores are smaller regional chains.
While it's likely that the reason those stores are so fun to shop has to do with their smaller size, there's no denying the fact that we'd love to see those regional stores spread more widely. Imagine getting to go to your favorite hometown grocery store while you're away at college, on vacation, or when you've just moved to a new town where nothing else feels familiar. If you get used to a local store and then have to move, wouldn't it be nice if that store could come with you? 
All told, there are quite a few regional grocery chains out there that would probably do extremely well if they branched out. Read on to see which ones we'd love to see more of across the country.
H-E-B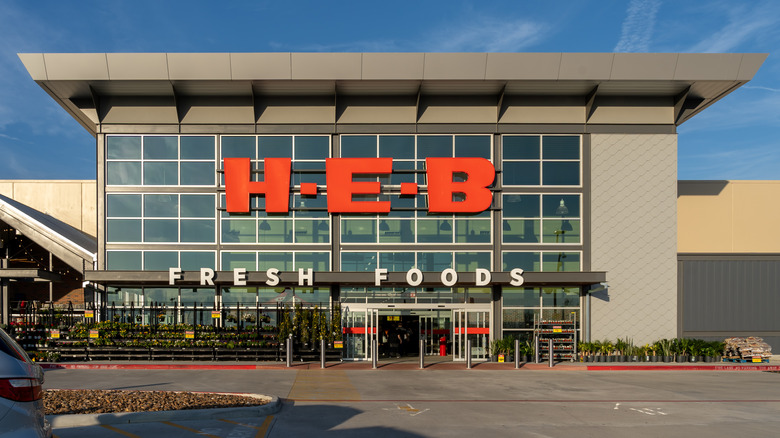 Jhvephoto/Getty Images
Just about every Texan knows that H-E-B is the state's unofficial grocery store. The chain is only located throughout the Lone Star State, but there are many reasons why it's so popular there and could stand to go nationwide. First, pretty much everything H-E-B sells is priced extremely well, and, with how expensive groceries have been, that can never be a bad thing. Second, H-E-B sources its meat and produce from as many local farms as possible. It also makes it a point to sell other favorite Texas brands such as Whataburger sauces, eggs from local farms, and so much more.
H-E-B also sells specific Texas-themed items like tortilla chips in the shape of the state, while many individual H-E-B stores also feature a coffee shop, BBQ restaurant, and cooking classes. Then, there are the many free samples at several locations. It's no wonder H-E-B is so loved by shoppers. If you aren't lucky enough to live near an H-E-B, then there's no doubt that you'd enjoy the store if it miraculously opened near you.
Wegmans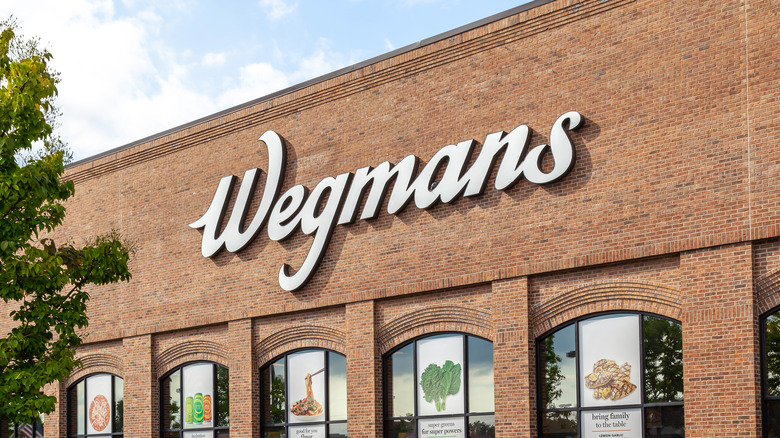 JHVEPhoto/Shutterstock
To go grocery shopping at Wegmans is an experience. This East Coast chain gives customers truly remarkable shopping opportunities. The stores are stocked with your average grocery finds, as well as the chain's store-brand food items that are seriously impressive, well-priced, and some might even say better than their name-brand competitors. And have you had the mac and cheese from the hot bar? To die for. 
Not only is Wegmans consistently well-organized and clean, and boasts an incredibly fresh produce section that any farmer would weep tears of joy to behold, but it also tops the charts. Literally. Wegmans has beaten brands like Amazon, UPS, and even Disney as the most visible brand in America when it comes to reputation, according to the Axio Harris Poll 100 (via Stacker). Customers are seriously loyal to the store brand, which emphasizes healthy foods, locally-sourced produce, and a uniquely calming shopping experience. Not only that, but Wegmans also beats the competition for customer experience in just about every category. 
Its 110 stores are so incredibly popular that the chain says it receives thousands of requests for new locations every year. While Wegmans may only be regional for now, we can all hope and dream that one day it will be as widespread as grocery giants like Walmart.
Central Market
If you've ever wanted to feel like a true foodie while grocery shopping, then Central Market is the place for you. The grocery chain is local to Texas but isn't as widespread as its parent company, H-E-B, with only 10 locations throughout the state. But if you can find one, go in. Central Market is essentially a more gourmet version of H-E-B that prides itself on specialty foods, as well as cooking classes and wine education.
To some, Central Market may just be the best grocery store in Texas, despite the small number of locations. So what sets Central Market apart from the rest? Well, it may carry many of the same stuff as H-E-B, but it sells more unique items such as imported produce and specialty pantry items like blue grits and squid ink pasta. And of course, you can't forget that Central Market locations are widely known for being nearly always clean and organized. You can be sure that you will have a seriously pleasant shopping trip if you have one nearby.
Publix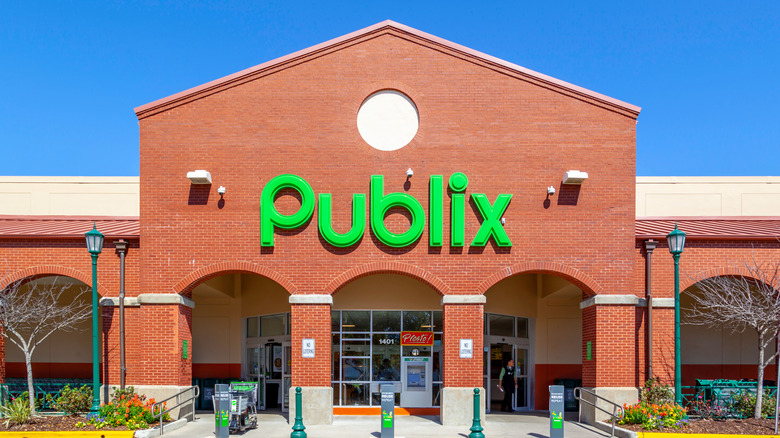 JHVEPhoto/Shutterstock
If you or someone you know has ever traveled to the southern U.S., then you've likely heard of Publix. The regional grocery chain is beloved by loyal customers and anyone who has ever stepped foot in one. 
There's a good chance that even if you weren't aware that Publix was a regional grocery chain, you've heard of its iconic "pub sub." Though it sounds like just a sandwich, for anyone who has had it, it's so much more. The bread is made fresh in each store's bakery, and you can easily customize it with a variety of meats, cheese, veggies, and more (many people prefer the chain's almost equally-famous chicken tenders). Customers at some locations can also take part in cooking classes via the Publix Aprons Cooking School and even have telehealth appointments with licensed providers at select Publix pharmacies.
Between those delicious sandwiches, clean and organized stores, and friendly customer service, it's no wonder Publix does so well. It has even ranked among Fortune's 100 Best Companies to Work for many years. So, if you ever find yourself near a Publix, definitely check it out, and grab as many pub subs as you can.
Lidl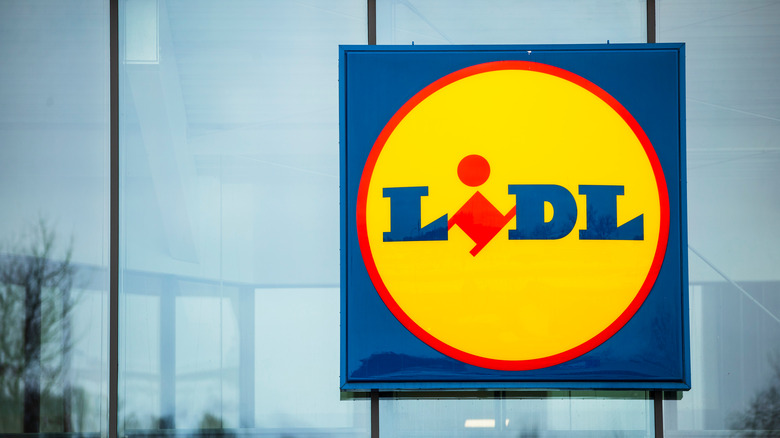 Karolis Kavolelis/Shutterstock
Pretty much everyone and their grandma has heard of Aldi, the discount grocery store known for keeping prices low and shopping experiences stressful (assuming you don't like messing with those shipping boxes instead of shelves). But there's a new discount grocery on the scene that might just give Aldi customers a new option. Lidl is a grocery store that, like Aldi, also hails from Germany. Though Lidl has a few similarities with Aldi, it boasts a few key differences, including locations.
With locations currently only on the East Coast from Connecticut to Georgia, Lidl is clearly still a regional chain, but it's garnered plenty of loyal customers. Additionally, Lidl stores are often a lot bigger than Aldi's, making them less packed and arguably a lot less stressful to shop in. At Lidl, there's no digging in your pocket to find a quarter to rent a shopping cart, either, though you do still need to pack your bags at the checkout. While there's no word on whether or not Lidl will be expanding, we can all agree that it would be nice to have a bigger version of Aldi.
Stew Leonard's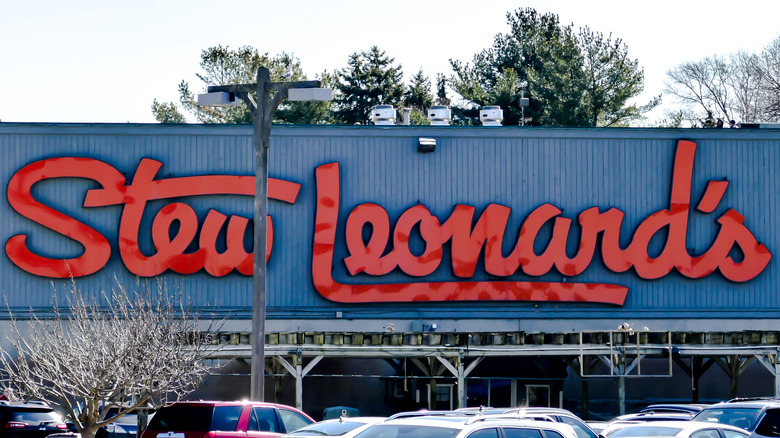 Miro Vrlik Photography/Shutterstock
If you want a regional grocery chain that feels incredibly exclusive without being expensive, then allow us to introduce you to Stew Leonard's. The chain only has seven locations in New York, Connecticut, and New Jersey, but this store is so good it's sure to garner a fanbase all over the country if given the chance.
Why is it so beloved? For one, Stew Leonard's makes customer experience its top priority and promises that the customer is always right. The chain began as a small dairy store in 1969 and has been expanding ever since, but remains a family business. It's gained quite a bit of attention for the unique shopping experience inside many locations, where customers might come across animatronic characters, employees dressed in eye-catching costumes, and even a petting zoo.
Additionally, Stew Leonard's has a unique philosophy towards management that supports its employees in a bid to keep them and, therefore, customers happy. It's no wonder people love working there and shopping there, too. The groceries are fresh, the store is clean and organized, and the people are nice. What's not to love?
Piggly Wiggly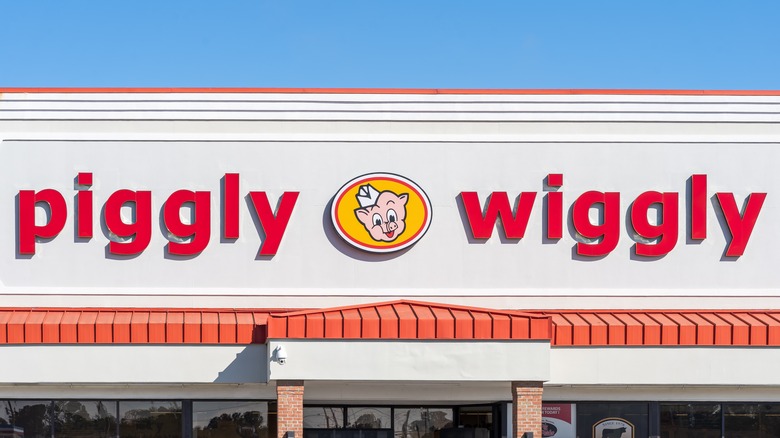 Red Lemon/Shutterstock
A store called Piggly Wiggly might sound like something out of a Southern sitcom, but it's very real and extremely beloved by customers. Piggy Wiggly is based in the South, with more than 500 locations in 18 states. It's a pretty safe bet that, if it expanded, the unique store would still do extremely well. After all, thanks to great prices, a memorable name, and a unique history, Piggly Wiggly is truly a one-of-a-kind store.
So what, exactly, makes Piggly Wiggly so special? It sources local produce and sells southern favorites like barbecue sauce, pimento cheese, and pickles, and its deli is seriously delicious (and affordable). It also has a large fanbase thanks to its craft beer selection, and is so popular shoppers can even buy Piggly Wiggly merch! Piggly Wiggly also has a cool history of being the first self-serve grocery store, compared to an older shopping style where grocery store clerks assembled orders for shoppers. All in all, Piggly Wiggly is a unique, beloved store that we'd love to see all over.
Meijer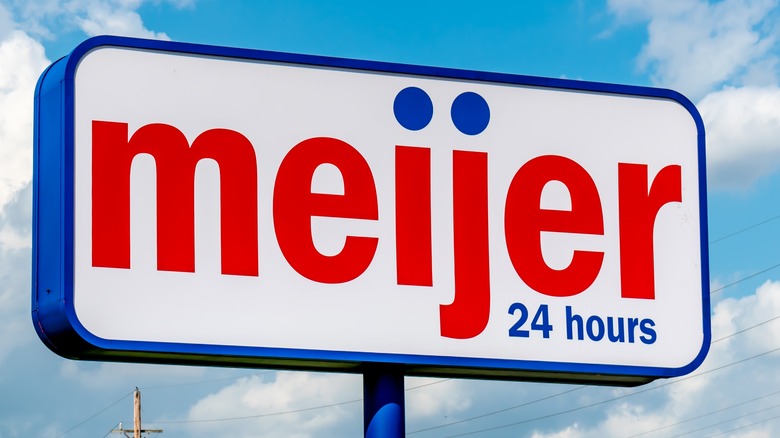 Bruce VanLoon/Shutterstock
Midwestern grocery chain Meijer may not be well-known beyond the Midwest and Kentucky, but for states that have one, it's pretty beloved. The chain would do well to consider expanding everywhere.
The values of Meijer stem from founder Fred Meijer's personal and professional philosophy. As he said, "I want to leave the world in a little better shape than when I entered it." That's exactly what the grocery store chain aims to do with its high-quality customer service, low prices, attention to cleanliness, and the freshness of its produce and other food items. 
Many shoppers have found that Meijer has superior produce compared to other groceries, even though it has a more casual vibe than high-end stores. Along with fresh food, you can also find a variety of other goods at Meijer, like home goods and clothes. Meijer could give Walmart a run for its money, and customers would seriously love for it to be in more states. Who wouldn't love a better alternative to Walmart? 
Heinen's
Heinen's is a smaller grocery store native to the Cleveland area but with Illinois locations as well. Despite its small size, the store is still a majorly impressive chain that does many things well. Heinen's was founded in 1929 by Joe Heinen as a butcher shop. The store has blossomed much since then, but it's clear that the chain sticks to his idea that "You have to find the best to sell the best."
Heinen's is still pretty local to the Cleveland area, but its impact is huge. Not only do customers love it, but Consumer Reports even ranked the store in the top three grocery stores in America, which is seriously impressive for a store with so few locations compared to other chains. Its downtown Cleveland store is housed in a gorgeous historic building that welcomes customers via a grand rotunda complete with a stained glass dome.
This regional grocery is popular because of its outstanding customer service, store cleanliness, and the quality of everything it sells, from produce to meat to packaged goods. All told, people rarely have a problem with what they buy from Heinen's.
Hy-Vee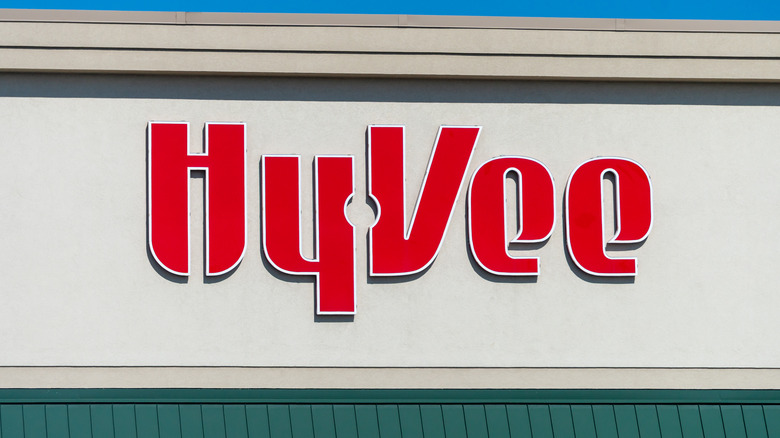 Ken Wolter/Shutterstock
Hy-Vee is a Midwestern grocery chain that, going by the reports of its dedicated customers, is incredibly impressive. Located in just eight different states, it's clear that Hy-Vee is not as widespread or well-known as other grocery chains. Yet those who shop there are pretty loyal to the chain, and for good reason. Hy-Vee was ranked as the second-best grocery store in America in 2021 by USA Today, underlining its commitment to providing a great experience for shoppers and employees alike.
Not only is Hy-Vee dedicated to serving its community through charitable donations and college scholarships, but its in-store experience makes the store a true standout in the grocery world. It sources as much produce as it can from local farmers, while its products have gained a reputation for high quality at low prices. Hy-Vee feels like a smaller chain because of that quality and atmosphere, but it operates more than 285 stores across the nation. As of 2022, it was also set to expand into Indiana, Tennessee, Alabama, and Kentucky, so you may find one close to you sooner than you think.
Stater Bros.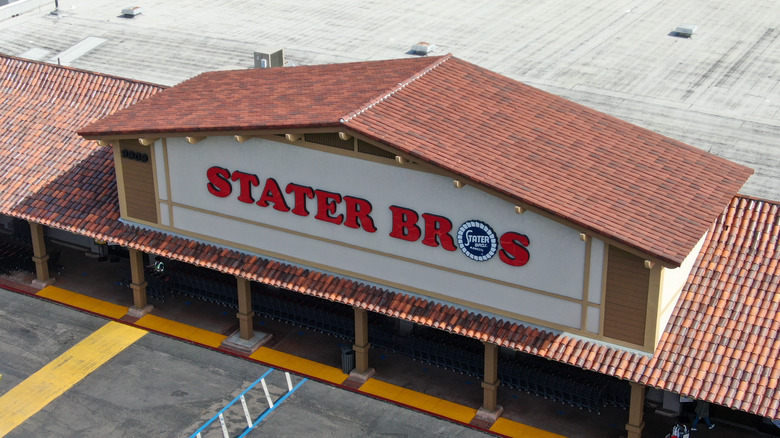 Thomas De Wever/Getty Images
Serving Southern California and spicing up the competition is Stater Bros., another regional grocery store that knows what it's doing. Stater Bros. was one of the top 10 grocery stores in America in 2017 according to Consumer Reports (via The Sun). That's impressive considering it's a smaller chain. But then again, staying small might be why Stater Bros. does what it does so well. Customers appreciate the chain's emphasis on sourcing fresh meat and produce, while the stores are known for being kept incredibly clean and organized by some of the nicest employees around. 
Stater Bros. was founded by twin brothers, Leo and Cleo Stater, who were WWII veterans and who opened the store in 1936 with just a $600 down payment. Now that's quite a legacy and part of what makes Stater Bros. such a great grocery store. After all, humble beginnings make for some of the most fun success stories. Though it seems Stater Bros. will be staying loyal to its Southern California roots, we can still dream of shopping those perfectly-curated aisles.
Ralphs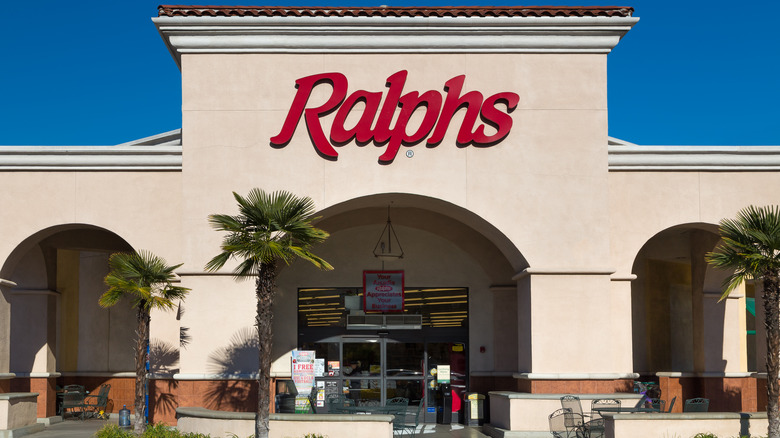 Wolterk/Getty Images
Because it's owned by a larger grocery chain (Kroger), you might have heard of Ralphs. Also serving Southern California like Stater Bros., Ralphs is somewhat more of an institution in the area than other grocery stores. Ralphs is one of the oldest grocery chains in the state and is practically the unofficial state grocery store of California.
Ralphs is a breeze to shop at because the entire store is so well-organized and clean, and the chain also offers impressive weekly deals to help you save money. They focus a lot on in-season produce and their store brands are also pretty popular. In addition to its own label, Ralphs also sells its parent company's Kroger brand food items in-store. This means that the selection at Ralphs is quite large for whatever it is you need to buy. Ralphs has the feel of a smaller, local chain, but with all the advantages and comforts of larger chains.
Harris Teeter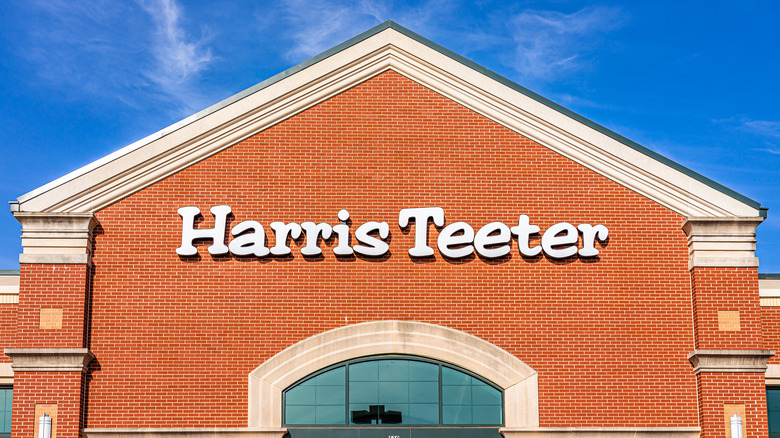 Kristi Blokhin/Shutterstock
Located along the East Coast, Harris Teeter has plenty of locations, though only in a few states. Those would be Virginia, North Carolina, South Carolina, Maryland, Georgia, Florida, Delaware, and one store in Washington, D.C. Still, the regional chain has quite a shining reputation, especially in small southern towns.
Founded in 1960, Harris Teeter has since managed to find the perfect balance between feeling like a small store and a large chain all at once. It regularly sells local specialties while still offering all of the standard grocery store items that you need. Harris Teeter is priced well, too, and offers regular weekly deals and coupons. It even has a membership program, HTPlus, which offers free grocery delivery, fuel points, and extra savings. Some even consider Harris Teeter to be the best grocery store in the country and would no doubt love to see locations all over the country.
Raley's
In Northern California and Nevada, there's one regional grocery chain that stands out: Raley's. This pretty spectacular grocery store was first opened in 1935 by Tom Raley. While its area of service is pretty small, it's still popular, and for good reason. Not only does Raley's offer the standard grocery store fare, but it does so in a beautiful manner that includes fresh produce, a delicious deli and bakery, and a floral department. 
Customers of Raley's make it sound like much more than just your typical grocery store. "My local Raley's is beautiful," one online reviewer said. "The deli counter offerings are great. Lots of choices throughout the store." And while we may not see a Raley's beyond California and Nevada soon, it's still nice to dream about having one nearby. After all, with its private label, amazing savings, and so much more, Raley's is a destination.