AI Is Blowing Our Minds With How Fast Drive Thru Orders Could Be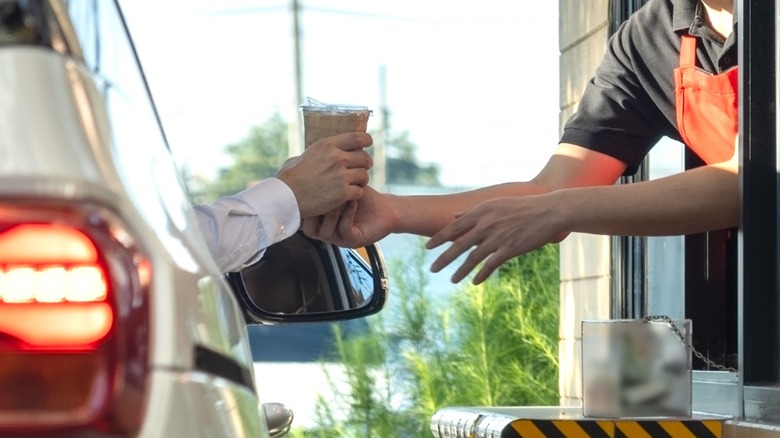 Suwan Banjongpian/Shutterstock
In today's tech-savvy world, fast food robots are slowly moving into more behind-the-scenes roles in an effort to improve efficiency levels. In recent years, however, AI advancements have made it possible for these automated helpers to emerge from the background and complete tasks at the front lines of the fast food industry. SoundHound, a California-based AI platform, is spearheading this endeavor with advanced voice assistant technology that restaurants can use to take customer orders. This integration, which records naturally-spoken orders and can make quick changes upon request, is already being used by tech companies like Vivint and Toast to manage inbound restaurant calls.
If robots can make fried chicken and hungry patrons can place their own orders using a kiosk, then surely AI voice recognition can do some good in the fast food space too. The program, called SoundHound Dynamic Interaction, is designed to process several orders at once, displays items for accuracy, and can be touch-enabled. With AI at the forefront of the tedious order-taking process, fast food employees can focus on interacting with people. They also won't have to choose between listening to orders on a headset or attending to an in-store customer. Additionally, voice recognition AI could improve the flow of long drive-thru lines at peak lunch and dinner rushes and improve overall order accuracy, which should keep customers happy. However, this is a new technology, and things might not always work perfectly.
Background noise could be a concern for order-taking AI
SoundHound posted a demo of its restaurant ordering technology on TikTok, where you can see it working in real time. The speaker made sure to throw the program enough curveballs to show how even the most indecisive, complicated order can be completed quickly. You can see the program switching things up with lightning-fast speed, without lagging or hitting the user with even one "Could you repeat that for me?"
The video's comments present some valid concerns. What about slow orders filled with "ums" and lengthy pauses? If the program doesn't timeout and restart the process altogether, what if the AI picks up background noises while listening to an order? This might pose a problem when a car pulls up and is full of small children who can't help but vocalize their burning passion for McDonald's Chicken McNuggets in the loudest way possible. Nearby construction or passing traffic could be just loud enough to muffle even the most articulate request. And then there's the issue of whether or not the AI can piece together orders placed with heavy accents.
One commenter noted that the speaker asked the AI to add avocado to everything, but it was only added to the food — "I want my avocado Sprite," they quipped. The top comment asks, "Do you just hard code it to say the ice cream machine broke?" Regardless, this controlled test alone shows that AI could be a promising solution for the future of fast food.