Canned Cake Vending Machines Have Us Feeling A Certain Way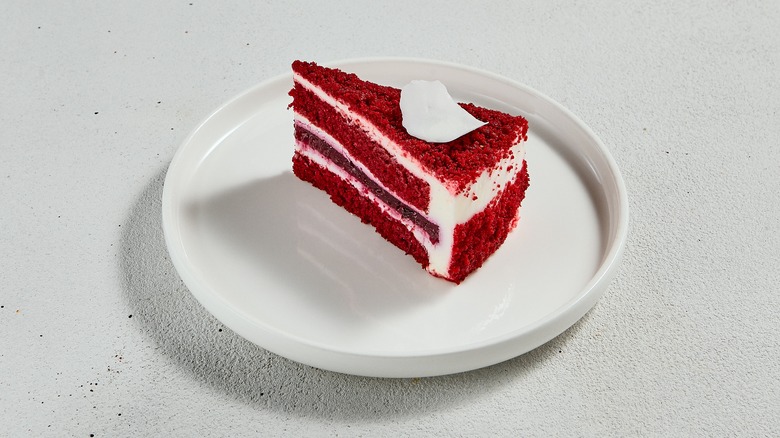 Ryzhkov Photography/Shutterstock
Nothing marks an occasion like a delicious slice of cake, whether you're celebrating a birthday or a major life event. However, sometimes you get a craving for cake on a regular day and just want a single piece of your preferred flavor to enjoy. In situations like that, you've traditionally been limited to bakeries or cafes that sell cake by the slice.
However, that just might be changing. A TikTok user recently shared a video in which they found an unusual vending machine at their local mall in Las Cruces, New Mexico. Rather than dispensing the traditional candy and chocolate bars, the vending machine sold cans of cake in a variety of flavors.
The canned product was created by an El Paso-based business, as the label proclaimed, and though you might assume a canned cake would have to contain tons of preservatives, the ingredients list only included the basics you'd find in any cake; consequently, the products presumably aren't hanging out in the vending machine for too long, lest they spoil. 
The TikTok creator opted to try a strawberry version of the business's canned treats, pulling the tab and peeling off the metal lid to reveal a sprinkle-topped dollop of icing. The cake came with a plastic spork attached for eating on the go, and while the creator didn't seem to have particularly high hopes, they sampled it right at the mall before declaring the product "lowkey bussin." We're not quite as positive about what we've seen though. 
Other machines selling cake to go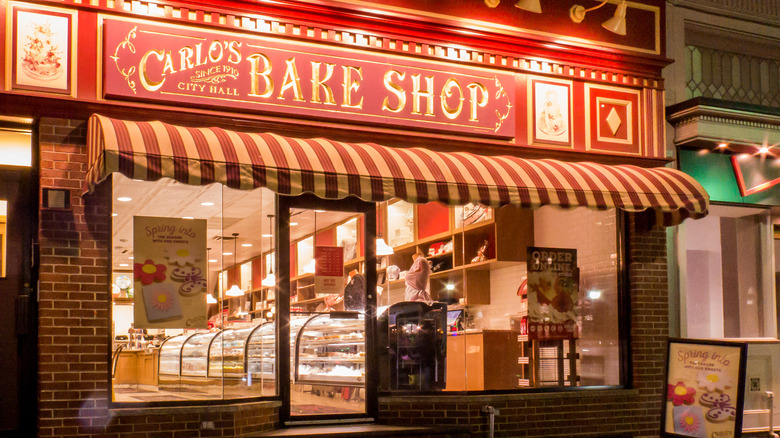 Brian Logan Photography/Shutterstock
The unique packaging of the canned cake dispensed from the vending machine caught the eye of many cake lovers on the social media platform, and the simple post received over 492,000 likes and 1,795 comments. In the comments section, many expressed how they were eager to try the product. But we're wondering if it's really any good. This isn't the first time someone's tried to sell cake from a vending machine (with so-so results) though, so our skepticism is a little founded. 
If you don't have a canned cake vending machine in your area, you just might have another popular machine selling cake to go — a Carlo's Bakery Shop Cake ATM — near you. Carlo's Bakery has been serving up sweet treats since 1910 and is run by Buddy Valastro, who many will know from the show "Cake Boss." In addition to several Carlo's Bakery locations across the country, Valastro has also set up vibrant red Cake ATMs across the United States and Canada.
However, you may not want to get your hopes up that you can get the exact same quality of product from a vending machine as you would fresh from a bakery. Narcity Toronto did a side-by-side taste test sampling slices of Carlo's Bakery's rainbow cake, trying one that came from a bakery location and another that came from the Cake ATM. Though she didn't deem the latter inedible, she did flag that there was a clear difference between the two, with the bakery slice faring as the superior product. 
Valatro's cake-to-go ATM machines deliver on convenience, but it may not be the most ideal flavor-wise. It doesn't give us much hope for the viral canned cake vending machine either.