The Yellowstone Drinking Game To Celebrate Part 2 Of Season 5
After four successful seasons, "Yellowstone" producers announced that Season 5 would be the show's last. Following countless deaths, endless fights, gallons of booze chugged by the Dutton family, and a never-ending quest to protect their sacred ranch, "Yellowstone" will come to a dramatic conclusion in November of 2023. 
In the first half of the final season, fans got a healthy dose of family trauma, fist fights, and firing rifles as the Dutton family continued their mission to preserve their roots on the ranch while navigating romance, politics, and of course, murder. Although "Yellowstone" enthusiasts can enjoy the show's spinoff mini-series "1883", "1923" and other likely upcoming sequels, per Deadline, fans will certainly miss the Dutton family as we know it.
Although the neo-western series is coming to a close, there's one way we can honor the Dutton family — drinking. Whether your spirit character is John, Rip, or Beth, there's one common denominator that unites them all — beer and bourbon. In order to make the upcoming Season 5 finale count, we've created a "Yellowstone" drinking game that will have you drunker than Beth after storming away from Gator's dinner table. 
Drink like a real "Yellowstone" character by rounding up a rodeo's worth of the show's official boozy beverages with a six-pack of Coors Banquet, a fifth of Buffalo Trace Bourbon, and a group of your grittiest cowboy friends and send this steel-hearted series off in style.
Take a sip of beer whenever...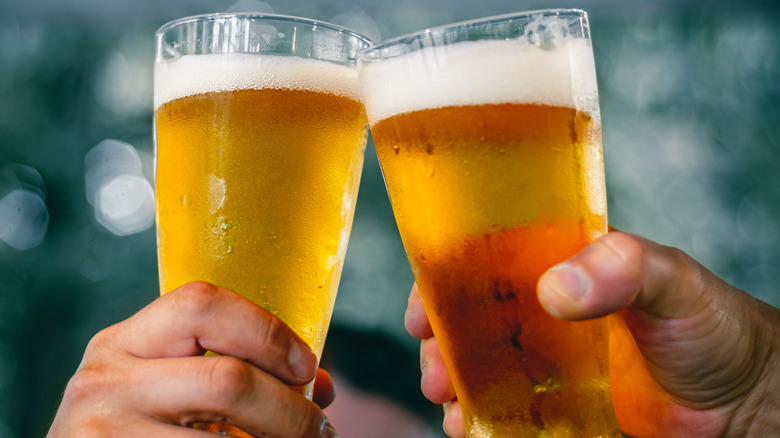 siamionau pavel/Shutterstock
The rules are simple, drink whenever your favorite (or least favorite) "Yellowstone" character exhibits their most prototypical behavior. Because seriously, how many times is Beth going to storm away from that dinner table?! We've also included a few rules on some of the all-too-common "Yellowstone" plot tropes — drunken fight in the bunkhouse, anyone? Careful though, knowing how buck wild things can get on the Yellowstone Ranch, you might want to pace yourself.
Beth drinks.
Someone says "The ranch" or "This ranch."
Someone menacingly mentions the Duttons.
Anytime someone refers to themselves as a cowboy.
Beth says "My father."
Beth or Rip insult Carter.
There's a fistfight in the bunkhouse.
Beth storms off from a family meal.
Kayce ropes something or someone.
John references his ancestors.
Take a shot of bourbon whenever...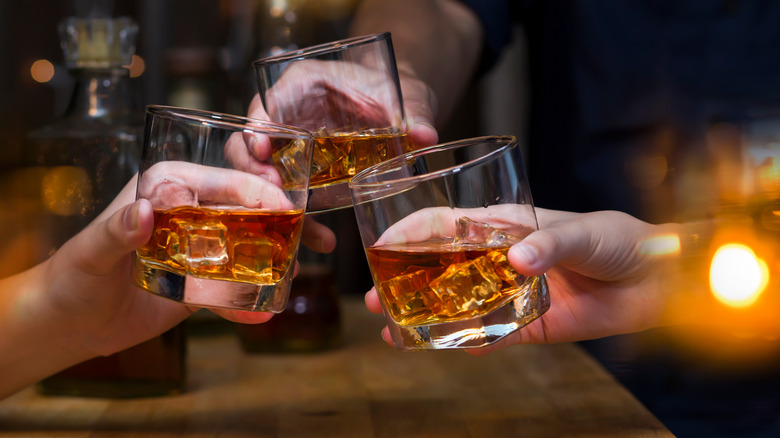 maeching chaiwongwatthana/Shutterstock
John stands by himself and looks off into the distance.
John refers to Tate as "Grandson."
A ranch hand shows their brand.
John mentions progress.
Beth says something that embarrasses her father.
Chief Rainwater vows revenge for his people.
Someone recklessly drives away.
Someone suggests calling the Sheriff.
Rip refers to John as "Sir."
Teeter says something unintelligible.
Long live the Dutton family — bottoms up! Oh, and unlike Beth, please drink responsibly.