The Viral TikTok Spicy Bowls Are Cardi B Approved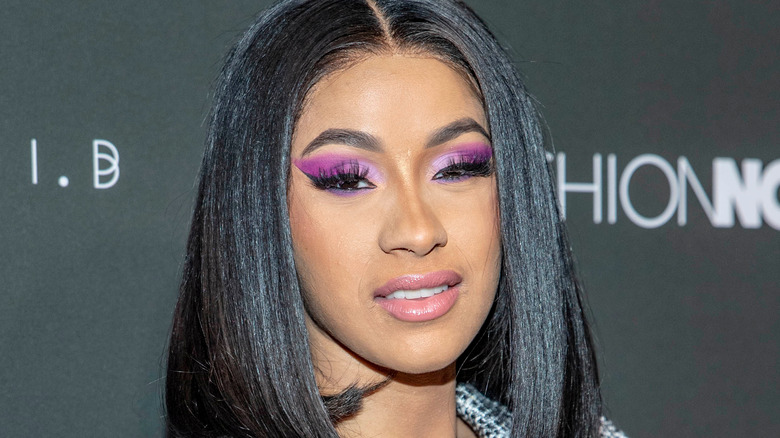 Eugene Powers/Shutterstock
A lot of TikTok food hacks go viral, but how many of them catch the attention of a celebrity? One such dish is a fiery meat and pickle combination made by user @angelshomebakery. They shared a video demonstrating the making of these spicy bowls: They added sausages and a variety of pickles, seasonings, and sauces to a counter-full of takeout containers. They've garnered mass praise for the recipe and the results. "Please do a pop-up shop in Atlanta," one user commented while another asked if they ship. 
The bowls have also attracted the attention of one musical artist and cultural icon, Cardi B. The "WAP" singer posted a video on TikTok in which she makes her own version of the spicy bowls. She uses sausages from a convenience store, jalapeño peppers, pepperoncini peppers, chopped pickles, hard-boiled eggs, hot sauce, and quite a lot of pickle juices. Not to mention a plethora of spices. Throughout the video, Cardi B's distinct voice adds a bit of fun to the proceedings. Her husband Offset, with whom she has two children, seems hesitant while she's compiling the ingredients but quickly nods his approval after a few bites of the finished product.
Cardi TikTok cooking videos are so wholesome
Users on TikTok seemed to enjoy the playfulness of the video and the interaction between Cardi and her husband and children, who are dancing around the kitchen while she's preparing the very spicy dish. "Cardi B on TikTok is all I need in my life," said one commenter. Multiple users honed in on Offset's reaction to eating the spicy bowl. "Offset look a little scared at first," responded one user with a crying laughing emoji. Viewers also noted how cute it was that Kulture, Cardi's daughter, was trying to offer water to her father after he ate the spicy food.
@iamcardib

Soooo i did the viral spicybowl for my baby 🌶️HOPE YALL TRY IT!!
This isn't the first time Cardi B has shared recipes on the platform. She also posted a video on how to make an alcoholic drink for the holidays, and people reacted with the same enthusiasm. There's something people find wholesome about the honesty of her tutorials. They aren't polished, because she films them herself just like any average person would. People respond to the fact that her kids are running around and that the interaction of the family is natural and unscripted. The semi-slapdash approach is endearing, as one user said, "I sometimes forget that celebrities are regular people."