Taco Bell Vs. Taco John's: Who Has The Better Breakfast?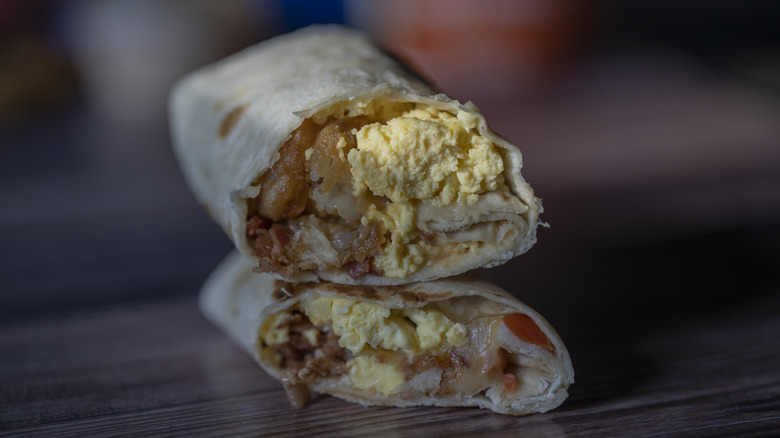 S.G. Howe/Mashed
When the hankering for a greasy brown bag full of marginally acceptable but still a bit suspect Tex-Mex-adjacent fast food sets in, which chain are you pulling up at? Taco Bell, with its commanding nationwide presence, is certainly the easier brand to find and establish loyalty with for most Americans. 
But in about half of the states in the U.S., the Live Más chain has to face some stiff competition in the form of Taco John's. This smaller Midwestern chain is known for more than being notoriously stingy with its "Taco Tuesday" phrase trademark. Fans will likely rave about Taco John's' famous crispy potato rounds known as Potato Olés, or its yummy cinnamon-sugar Mexican donut bites.
Is the reputation surrounding this taco slinger from America's heartland well-earned, or a bunch of bloated hype? Between Taco John's and Taco Bell, the better chain depends on what you're looking for. Is your goal to find the best tacos, the best value, or the most easily obtainable food? In this review, we pit the two chains against one another in a battle of the breakfasts — is Taco John's or Taco Bell better at morning grub? Here's what we learned.
Who makes the better burrito?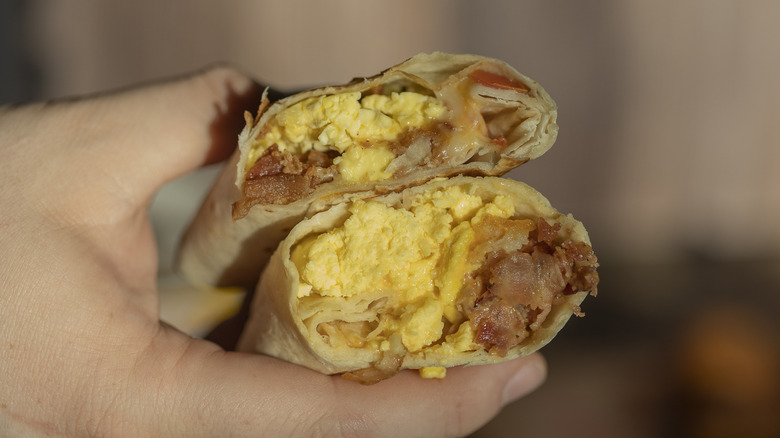 S.G. Howe/Mashed
A good breakfast burrito is nothing less than the holy grail of breakfast food, so it needs to be done right. As we saw when we bisected burritos from each chain, we're dealing with some very different construction approaches here. The Taco John's burrito was assembled in such a way that all of the bites on the left were full of egg, while the bites on the right were 100% bacon. The distribution needs some work. Perhaps the burrito from Taco Bell could lead by example with its much more homogenous mixture of fillings.
In terms of taste, the burritos are nearly identical. The ingredients in each are apparently the same, except Taco Bell's grande toasted bacon breakfast burrito has tomatoes. Those weren't in big enough pieces or great enough abundance to contribute much flavor, though. Since the taste was a draw, neither brand won points there.
When we looked at burrito size, it's clear that the Taco John's product is a fatter 'rrito. But the Taco Bell burrito is toasted on the grill, so the tortilla does have a nice crunch. That means just one point for TJ's and two for Taco Bell — winner, winner!
Who has the better potatoes?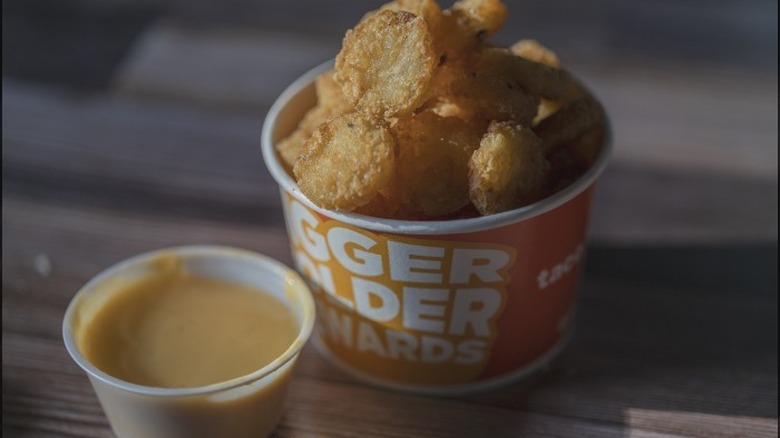 S.G. Howe/Mashed
It's a very poorly-kept secret that the Potato Olés from Taco John's are nothing short of iconic. If you aren't familiar with them, these little discs of starchy heaven are deep-fried, then tossed in seasoned salt. It's also a common Midwestern custom to order a cup of nacho cheese alongside the Olés. For many, the only acceptable way to enjoy these bad boys is by immediately giving them a dunk in the hot cheese, then popping them in your mouth while the fryer grease inside is still sizzling (the burns are worth it). Potato Olés come in three sizes, but even in a small order, you are given a miniature mountain of potatoes. 
Meanwhile, at Taco Bell, you can get a standard hash brown patty that's similar to what you'd get with breakfast from other fast food drive-throughs. Our Taco Bell patty didn't appear to be seasoned with anything other than salt (although we thought it was the perfect amount) and was a bit on the soggy side. Taco Bell does also have nacho cheese sauce available, which in our experience is a bit more viscous, less flavorful, and more artificial-tasting than the nacho sauce at Taco John's. In the category of potatoes, Taco John's easily takes the win. 
Who makes the better quesadilla?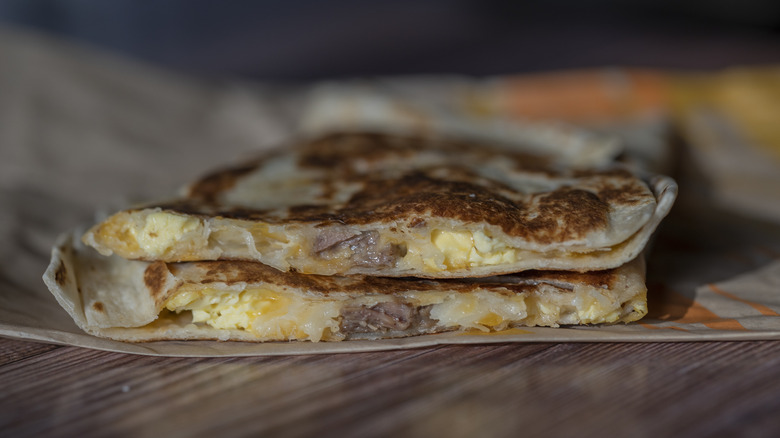 S.G. Howe/Mashed
We compared the new meat and potatoes quesadilla, made with steak, from Taco John's to a steak breakfast quesadilla from Taco Bell. The most significant difference is the lack of egg in the Taco John's quesadilla, but the bites of steak were also quite distinct. There needed to be about four times as much beef in the Taco Bell quesadilla, but what steak we did get was way more tender and flavorful than the same sort of meat found in the Taco John's 'dilla. 
On the other hand, it could be the blend of cheese that drowned out the TJ's steak. The cheeses — which are a blend of Monterey jack, cheddar, asadero, and queso fresco — were tasty. Yet they were also pungent and intense enough to steal the spotlight on the palate, overshadowing the steak. The Potato Olés in the quesadilla were too sparse, as well, and with the lack of egg, inadequate potatoes, and overwhelming cheese, the TJ's quesadilla just didn't stand a chance against the equivalent menu item from Taco Bell. 
Who makes the better breakfast sweets?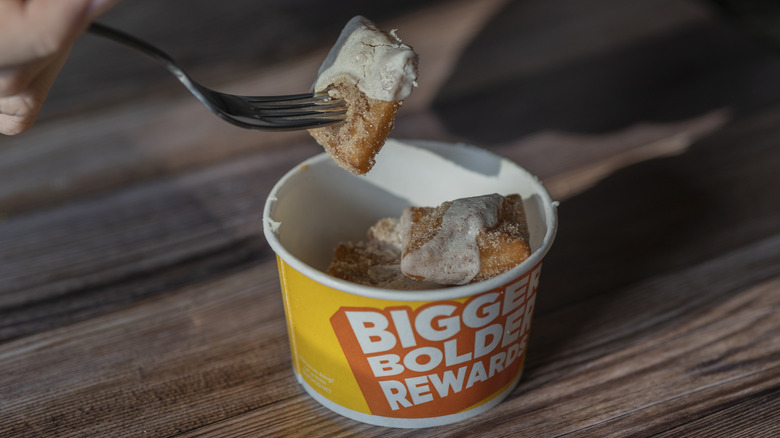 S.G. Howe/Mashed
There is no better way to wrap up that greasy, cheesy mess of drive-through breakfast food than with a carby sweet treat. At Taco Bell, those would be the Cinnabon Delights, little doughy spheres injected with cream cheese frosting and rolled in cinnamon sugar. Meanwhile, at Taco John's, there are the Mexican Donut Bites, which are similar to sopapillas but served with cream cheese frosting instead of honey. 
This was a tough call to make because the truth is that we had two fine dessert specimens in front of us. But there were some key distinctions. The primary issue is that Taco Bell's menu board image of the Cinnabon Delights fooled us. These Cinnabon Disappointments aren't bursting with a core of cream cheese at all, and we found that the pea-sized dollop of icing in ours was a massive let-down. The Taco Bell sweets were also a bit doughy. 
The Mexican donut bites, on the other hand, were light, airy, and came with a generous pour of frosting. The Cinnabon Delights cost around a dollar per dough ball (we purchased the two-pack for $1.99), while the Mexican donut bites were less than 40 cents each at $2.29 for six donut bites.
Who has the bigger menu?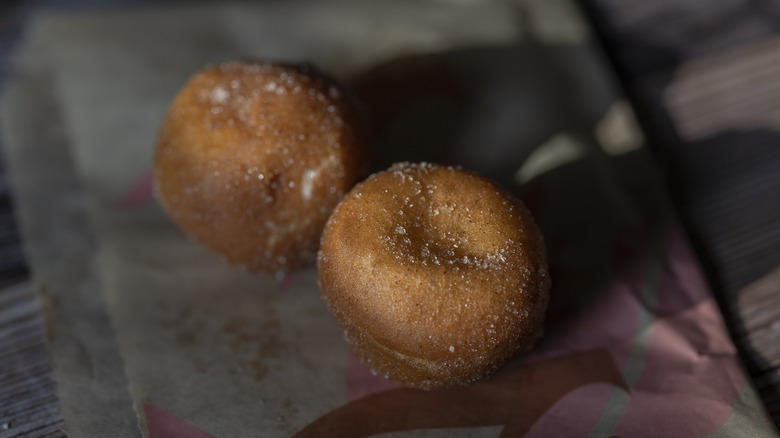 S.G. Howe/Mashed
Let's look at the Taco Bell menu first. There are two burrito types, cheesy and grande, both of which are grilled for a toasty tortilla. The cheesy burritos contain egg, a protein of choice (bacon or sausage), and cheese, while the grande adds tomatoes and potatoes, the option to upgrade to steak, and more filling overall. Then there are the Taco Bell breakfast crunchwraps, which come in California, bacon, and sausage varieties. There are three quesadilla flavors, too: sausage, bacon, and steak. Taco Bell also serves hot or iced Cinnabon coffee. 
At Taco John's, there are more burrito varieties, namely the Scrambler, meat and potato, and spicy chorizo. The Scrambler is filled with eggs, cheese, Potato Olés, tomato and onion, a protein of choice, and poblano peppers. The meat and potato burrito is all of the above, minus tomato, onion, and peppers. In the spicy chorizo, you get, of course, spicy chorizo sausage, jalapeños, nacho cheese, and salsa. There's no burrito even close to that at the Bell. All of these burritos can be made into a smaller "junior" version. 
While the TJ's quesadilla options sort of fall short — there's a double beef and potato quesadilla — the chain wins redemption with the Potato Olés Scrambler, a bowl of potatoes topped with eggs, tomato and onion, poblano peppers, meat, and cheese.
Burrito variety is Taco John's' strength, but Taco Bell has more unique items, so we yield the win to the latter.
Whose breakfast is better for you?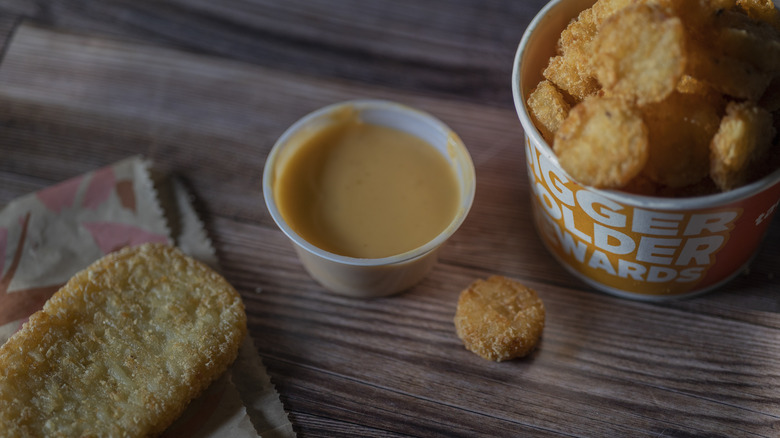 S.G. Howe/Mashed
It isn't likely that anyone rolls up to a Taco John's or a Taco Bell expecting to make sound nutritional decisions. But how bad can a brown bag full of West-Mex (as Taco John's calls its food) breakfast goodies be? At Taco John's, the answer may make you cringe. Admittedly, the Sausage Potato Olé Scrambler from TJ's is a bit of a calorie bomb, clocking in at 1,140 plus 79 grams of fat. Nutrition information for the whole Taco John's menu shows similar trends — although few other breakfast items break 1,000 calories, the regular-sized burritos all easily surpass 300, and that's without drinks or sides.
Meanwhile, nothing on the Taco Bell breakfast menu will cost you more than 1,000 calories on its own — well, unless you eat a 12-pack of Cinnabon Delights all by yourself. Items such as quesadillas and burritos tend to bounce around in the mid-300s to high 500s range for calories, while Crunchwraps will run you a bit more thanks to the inclusion of a hash brown patty. 
Taco Bell caught attention several years ago when it worked to strengthen the nutritional component of its products, even going so far as to get its vegetarian menu approved by the American Vegetarian Association. It also reduced its overall sodium content by 15%, opted to use only cage-free eggs, and axed artificial ingredients. While neither chain is the epitome of health food, Taco Bell emerges as marginally healthier than Taco John's.
Which chain has the better breakfast hours?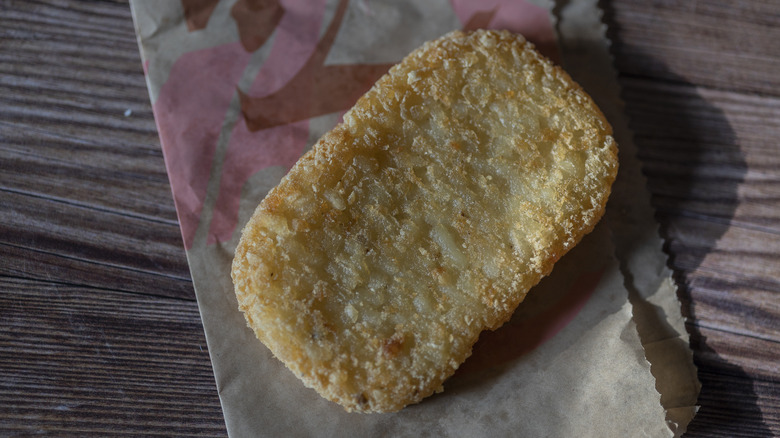 S.G. Howe/Mashed
There's nothing worse than rolling up hungry to a drive-thru, only to discover that the greasy heap of breakfast food that you've been craving all morning is no longer available. That's especially true if you've missed the buzzer by just a few minutes and are so close to that steak burrito that you can practically taste it. 
In the category of breakfast hours, our two competitors are tied. Fortunately for cheap West-Mex fast food fans, the breakfast party at both Taco John's and Taco Bell lasts all morning. 
At Taco Bell, most locations fire up the griddles at 7 a.m. and sling quesadillas until 11 a.m. Taco John's fans needn't fret, either, even if they wake up a bit late. The smaller Midwestern chain will serve you the most important meal of the day from 7 a.m. until 11 a.m. at most locations, too. 
Whose breakfast is the better value?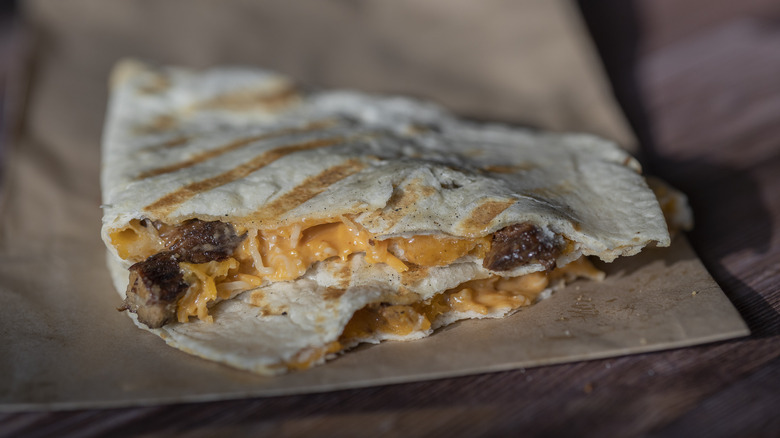 S.G. Howe/Mashed
At each location, we purchased one bacon burrito, one steak quesadilla, one potato side, and one sweet side. The price for all this at Taco John's was almost double the price at Taco Bell, at roughly $22 compared to $11. However, the Taco John's burrito was a bit bigger, there were tons more Potato Olés than there were Taco Bell hash browns, and we got six donut bites compared to just two Cinnabon Delights. 
The quesadilla at Taco John's that we purchased is frankly overpriced at $6.99, especially compared to the much better quesadilla that cost only $4.29 at Taco Bell. Taco John's combos are a bit expensive, too, with a burrito combo (that comes with a small order of Potato Olés, plus a drink) being over $10 even for a small. 
Over at Taco Bell, the value of the Bell Breakfast Box really can't be beaten. For $5.49, the box includes a medium drink, a breakfast Crunchwrap, an order of hash browns, and a couple of Cinnabon Delights. There really isn't any sort of combo at Taco John's that compares to this, and since most items at Taco Bell are generally cheaper than their equivalents at Taco John's, this category's win goes to the Bell.
Whose breakfast is more widely available?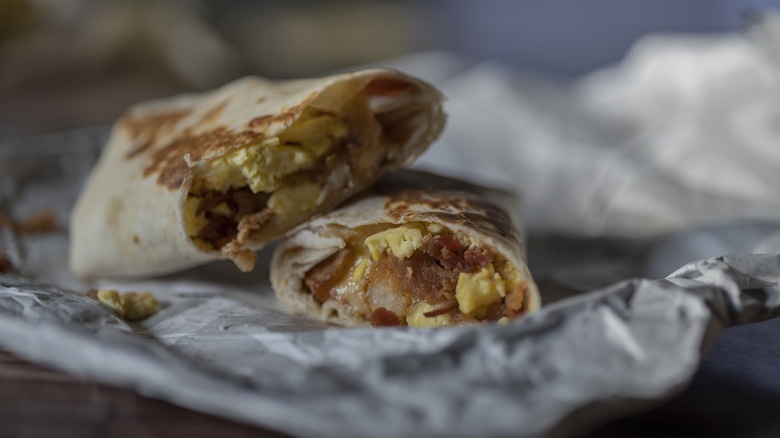 S.G. Howe/Mashed
Statistically speaking, you are much more likely to run into a Taco Bell than you are a Taco John's. Currently, there are a whopping 15,638 Taco Bell locations across the United States. That means that no matter what state you're in, there's a Taco Bell — especially for the residents of California, Texas, and Florida. These three states host most of these fast food restaurants compared to the rest. Houston, Texas boasts the most Taco Bell locations of any American municipality, with an incredible 128 Taco Bells within the city. 
Taco John's locations are decidedly more sparse. There were just 374 as of late April 2023. Minnesota alone claims 16% of that number, followed by Iowa and South Dakota. You are simply out of luck if you live in many other states in the U.S. and hope to get your hands on some Taco John's.
Overall, which restaurant has the better breakfast?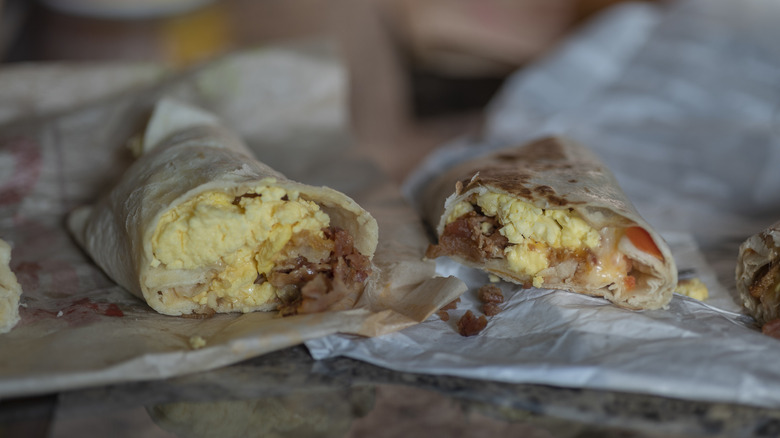 S.G. Howe/Mashed
It's tough to make a final call between these two fast food restaurants since each brand's food was tasty enough to order again. In tallying up all of the points, we found that Taco Bell has better quesadillas and burritos, more availability, a more diverse menu, better value, and healthier ingredients. Taco John's only took the win in our potato and sweets competitions. While it has a loyal following for its delicious, salty potato rounds, Taco John's lacks the core elements needed for a strong breakfast. 
Yet, to make a verdict based on taste alone, Taco John's would win. Its cheese is superior, its potatoes are well-seasoned, and its quesadilla was intense yet flavorful. The Mexican donut bites, when hot and fresh, are divine. 
But when aggregating all of the points we've covered, it's clear that Taco Bell has the better breakfast. The chain's food is cheaper, with more abundant locations, and can give you enough breakfast food for under $20 to feed a small army — or a minivan full of kids.