Meijer's Dark Chocolate Almonds Were Just Recalled For An Allergy Risk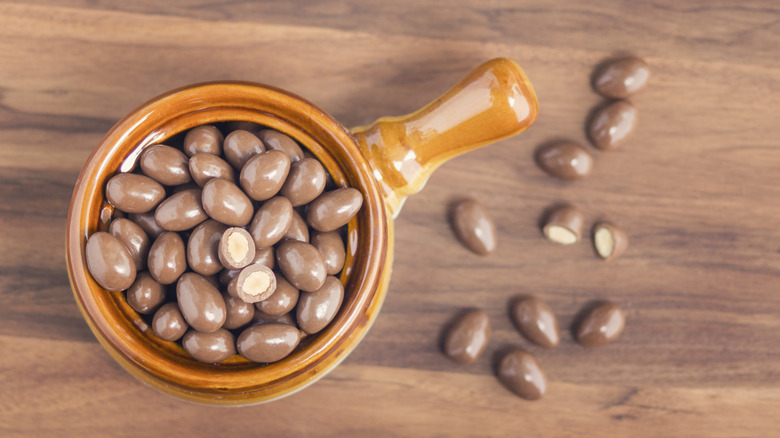 Kryssia Campos/Getty Images
Next time you're looking in your pantry for something sweet, be aware that your treat may have been subjected to a recent recall, especially if you currently live in the midwest. Such is the case with Frederik's Dark Chocolate Almonds and Meijer Express Go Cup Dark Chocolate Almonds sold at Meijer and Meijer Express locations in Michigan, Indiana, Illinois, Ohio, Kentucky, and Wisconsin. According to a company announcement from Meijer published on the Food & Drug Administration's website, the recall stems from the fact that the dark chocolate almonds might possibly contain a milk allergen not listed on the label. Meijer says this issue stems from a "product specification change" from Lamontagne Chocolate Corp., which manufactures the snack and reportedly did not convey this change to the store.
The affected products include Frederick's Dark Chocolate Almonds sold in 12-ounce packages with a UPC of 7-08820-68730-1 and Meijer Express Go Cups Dark Chocolate Covered Almonds sold in 7.5-ounce packages with a UPC of 7-60236-19787-4. All sell by dates have been affected.
Why milk allergies can be dangerous
While no one has gotten sick so far from these recalled nuts, the FDA announcement from Meijer states that people who have a milk allergy or a sensitivity to milk should not eat these chocolate almonds, as they may experience adverse reactions. Per the American College of Allergy, Asthma, and Immunology, allergic reactions to milk and dairy can cause stomach issues, bloody stool, and hives. It can also lead to anaphylactic shock, which can be life-threatening and requires immediate emergency care. These unpleasant symptoms occur because the person with the allergy's body interprets the milk product as being a foreign and harmful substance. If you have consumed these products and have any concerns about your health, you should contact a healthcare professional or seek treatment.
If you do find you have some of these Meijer dark chocolate almonds in your home, you should either throw them away or return them to your Meijer store for a refund. Consumers with questions can call Meijer directly at 800-543-3704 from 7 a.m. to 1 p.m. EDT.