I Tried Hershey's Immersive Candy Train Experience And It Was A Sweet Ride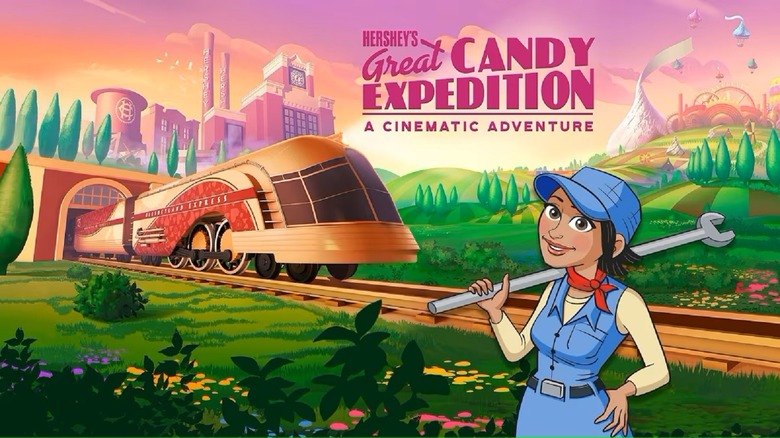 Hershey's Chocolate World
Hershey's Chocolate World opened 50 years ago in June, 1973. Because it is next to Hersheypark and shares a parking lot, many visitors do not realize that Chocolate World is a separate experience. The two are owned by different companies and have fundamentally different purposes. While Hersheypark is all about rides, shows, and other types of entertainment, Chocolate World is primarily dedicated to candy, not attractions. However, that is about to change.
On May 19, Hershey's Chocolate World opened the Great Candy Expedition to the public. The attraction is a wholly immersive experience that is built around a thrilling, interactive cinematic adventure. According to Todd Kohr, Marketing Manager, the Great Candy Expedition is "the only one of its kind in North America." The theater features 270-degree projection mapping with controls that guests operate from their seats to help navigate their travels, so the journey changes every time.
Admittedly, being part of the first group of non-employees to take a virtual ride on this attraction has created some bias. But, the experience was so fresh and exciting that it changed the way I thought about Hershey's Chocolate World. It is no longer merely a destination for the things you can eat. Especially during this 50th anniversary year, Hershey's Chocolate World is now a place to go for the things you can do. Here is why you need to book a trip on the Great Candy Expedition.
You get to step into another time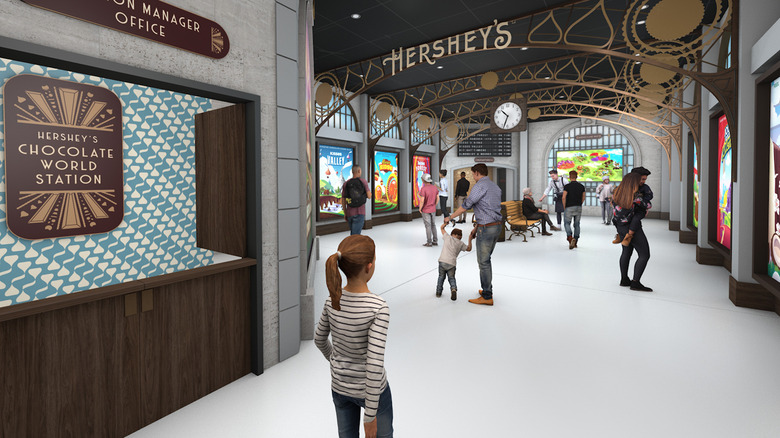 Hershey's Chocolate World
The Great Candy Expedition began when my traveling cohort and I walked through the doors to find ourselves in a large, open room filled with colorful posters of exciting candy-making worlds, such as Jolly Rancher Junction or Twizzlers Forrest. Danny Byerley, Creative Director & Owner's Rep, greeted us and offered a quick rundown of Hershey's Chocolate World Train Station and explained, "This is the first of many spaces that guests will encounter as they go through their journey. It's inspired by the golden age of travel and the Art Deco era when Milton Hershey traveled the world. We know that trains are really important to the history and heritage of Pennsylvania, and we brought that here to honor that."
For those who desire a big-picture view, there is also a digital map that cascades through all the possible destinations. But,while we explored and mingled, a soundtrack played ambient sounds throughout the station, and were treated to free samples of chocolate, so our taste buds were engaged as well. The public address system then alerted us to the approaching departure time as an attendant invited us into the next space.
Platform 73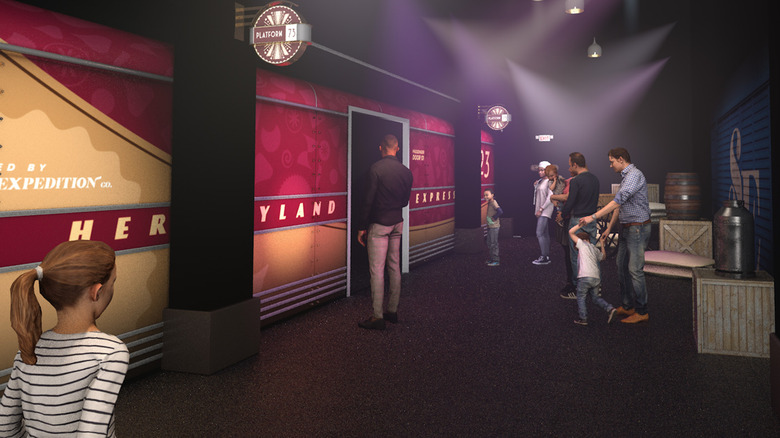 Allen Foster
The second space in the Great Candy Expedition is small and we did not spend much time there. But, it is crucial to the overall experience because is encouraged us to suspend disbelief as the countdown to boarding got our adrenaline pumping. This is when we realized we were not in Kansas anymore.
When we stepped onto Platform 73 — named after Chocolate World's founding year — the experiential lighting and ambient sounds immediately immersed us in a world that is strikingly different from our own. The smaller, darker room was a little haunting and far more mysterious. It made us believe something magical was about to happen because, somehow, we felt we were actually waiting to board a train in the early 1900s.
"We wanted to create a transition space that helps step guests further and further into that story," Danny Byerley informed. "Here, on Platform 73, we wanted to create that sense of mystery as if the adventure is materializing out of thin air, giving guests that expectation right before they board into the theater itself."
Marvel at the jaw-dropping, immersive technology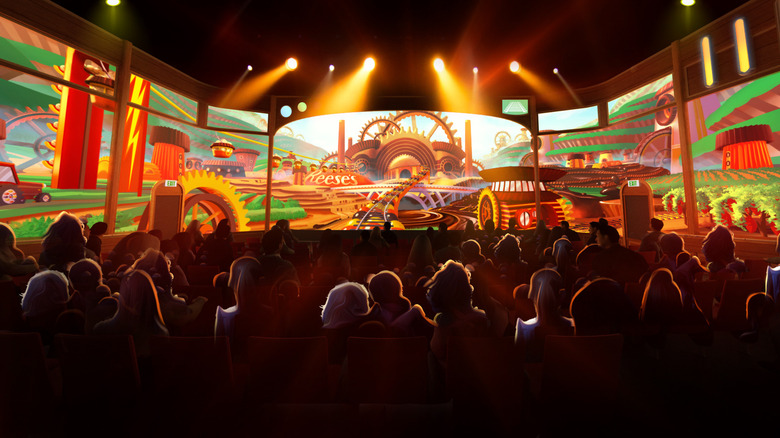 Hershey's Chocolate World
All the buildup pays off when the Hersheyland Express arrives at Sweets Expedition Co. Platform 73. We moved into an expansive, brightly lit theater that holds 125 audience members. And, for the next couple of minutes, we marveled at the beautiful design of the theater and enjoyed the ambient sounds of the station. When the whistle blew, this experience went into overdrive.
The gasp-worthy 270-degree screen came alive and a series of larger-the-life animated characters guided us through a fully immersive, interactive adventure. The purpose of our journey was to learn all about how Hershey's candy is made. And, we got that knowledge from the colorful individuals who are in charge of the process: Phil of Kisses Valley, Judy of Jolly Rancher Junction, Rip of Reese's Ridge, Kaia of Almond Joy & Mounds Cove, Edgar Snap of Kit Kat Timbers, and Fritz of Twizzlers Forest.
Along the way, we felt the tracks beneath us as our seats rumbled throughout our travels. If we visited a world where we took flight, the wind blew in our face as we swooped about the sky. And, if we were really lucky, we'd choose a world that is filled with the delightful scent of candy.
When Hershey says the ride is fully immersive, they aren't exaggerating. If you include the yummy sample at the beginning of your trip, all of the five senses are engaged in this adventure.
You have an active part in the fun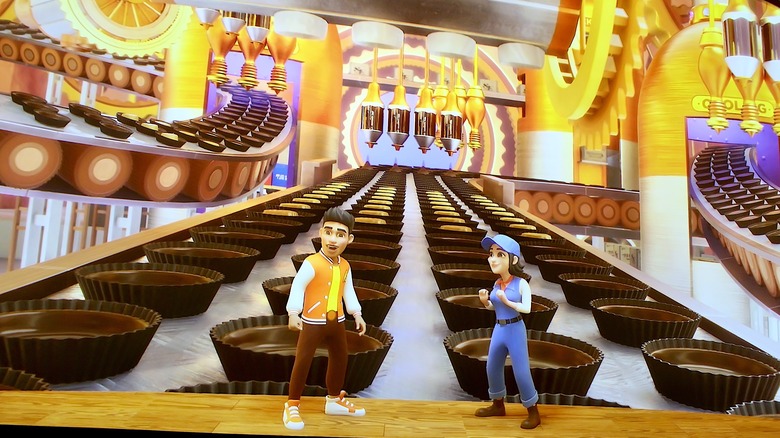 Allen Foster
Perhaps the best part — besides the chocolate treats — is we, the audience, played an important role. Each seat has three buttons: a left arrow, a right arrow, and a circle, and for a portion of the ride, we decided where to go. When the train arrives at a fork in the track, we voted on whether to turn left or right. We tapped the arrows as a clock ticked down, and whichever candy world got the most votes, is where the adventure went. Ultimately, each trip visits three of the possible six worlds.
Additionally, throughout the tour, we interacted with the characters to help them perform their tasks. This was accomplished by pressing the round action button, either repeatedly or at precise moments. The result, according to Todd Kohr, Marketing Manager, is that "you can come back several times and have a different experience each time."
Between the gradual and complete immersion into the adventure, the dazzling technology, the interactive element, and the delightful characters, you might think that's all Hershey has to offer. Well, after the train arrives at its destination, the excitement kicks up to a whole new level with a spectacular grand finale (which I won't spoil for you here). And when we exited the attraction, we found ourselves in Hershey's Chocolate World where we could truly be kids in a candy store — Hershey's largest candy store, that is — making for one unforgettable, choc-tacular experience!