Starbucks Is Supposedly Releasing A Chick-Fil-A-Inspired Drink This Summer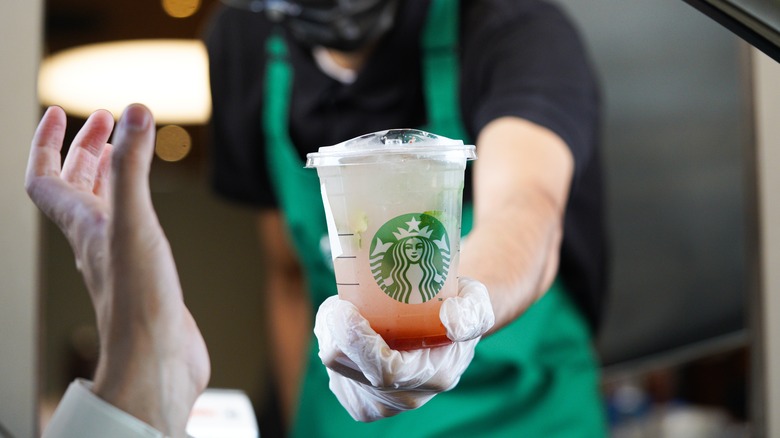 rotanachannel/Shutterstock
Between the regular menu and the Starbucks secret menu, there are thousands of unique flavor combinations you can create. The new and always-intriguing seasonal drinks added each year do a good job of keeping things fresh for the famous chain's cult fanbase of creative sippers. In preparation for the summertime heat that will drive customers to search for a thirst-quencher, Starbucks announced that it will be doing a frosty spin on its popular and fruity Refreshers. Combine the Refresher with the Blended Strawberry Lemonade and you're on the right track. The new additions to the Starbucks "Summer 2" menu will be very familiar to Chick-fil-A lovers who enjoy cooling down with gulps of its Frosted Strawberry Lemonade.
Along with fruit purée, Chick-fil-A's frosted lemonade has ice cream mixed into it, but the Starbucks ones won't have this dessert added in. Instead, it's sticking to the basics: real fruit, lemonade, the Refresher base, and ice. Not only that, but it will be offering three flavors of frosted lemonade that match the three Refreshers already on the menu. Strawberry Acai, Mango Dragon Fruit, and Pineapple Passionfruit are the frosty new summer treats that Starbucks will be introducing on June 27, each topped with extra strawberry purée for an extra mouthful of fruity flavors. Although, baristas that know about the new summer drinks likely aren't exactly thrilled, because you can already order them off the secret menu.
Order it blended and with extra fruit purée
Open up the app or simply give your barista a personalized order, and you can already enjoy a Starbucks Frosted Lemonade by requesting a blended Refresher with extra strawberry purée. If you want the added creaminess of a Chick-fil-A frosted lemonade, you can ask for a blended lemonade with white mocha and whipped cream. We weren't kidding when we said there were thousands of possibilities on the secret menu (over 87,000), so fans comeing up with this specific blend was bound to happen. It's not known if the coffee shop will increase the prices of these three new beverages purely for the summer novelty, but there's always the secret menu to fall back on in case there is a big price difference.
Some other new summery drinks you can try for a short time are the cookie crumble-topped White Chocolate Macadamia Cream Cold Brew and the Chocolate Java Mint Frappuccino which were both offered on May 9. If you're way ahead of the game and have already been following a Chick-fil-A copycat lemonade recipe, you might be tempted to see how the Starbucks summer drink menu stacks up to the sweetly tart brew you've already perfected. Much like Taco Bell's Baja Blast Freeze flavors that rotate on and off its menu throughout the year, Starbucks' Frozen Lemonade Refreshers could become a real hit this summer. And it's great news for those who love a drink that's heavier on the fresh fruit versus one that's syrupy-sweet.