7 Best And 6 Worst Grocery Store Bakeries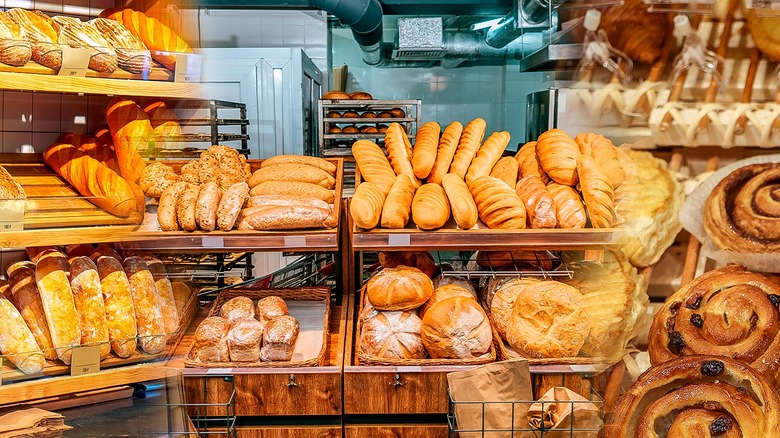 Static Media / Getty / Shutterstock
Having a bakery inside of a grocery store isn't a novel concept to anyone these days, but this wasn't always the case. It wasn't until 1930 that grocery stores began to include things alongside dry goods like meat counters, produce and dairy products, and yes, even bakeries.
While shopping for your weekly groceries, you'll likely grab at least one thing from the store's bakery section. This could be your favorite loaf of sourdough bread or maybe a dozen cookies to have as a sweet treat. No matter what we decide to buy from the grocery store bakery, we all share one thing in common: We want it to taste good.
Sounds obvious, right? It is, but some grocery store bakeries outshine others. Whether this is because of the sheer number of offerings, reasonable prices, or just plain good-tasting sweets, Mashed has come up with a list of the best (and worst) grocery store bakeries in America. Follow along with us as we reveal our seven favorites (and six less-than-stellar options).
Worst: Lidl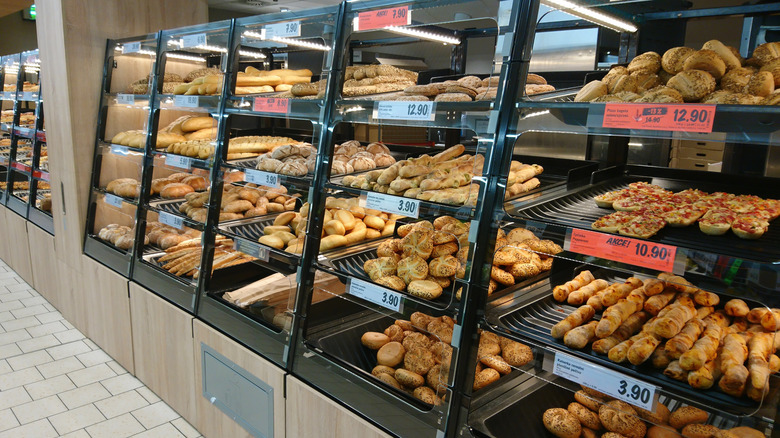 Hamik/Shutterstock
Lidl is an affordable grocery store with a lot of perfectly good offerings storewide. However, we're not in love with the budget retailer's less-than-fresh bakery section. Customers can grab their own croissants, bagels, cookies, and rolls using the provided tongs and little bags. While this isn't a bad idea in theory, some individuals make the process disgusting for others by simply grabbing the items with their bare hands (yes, we've seen this happen multiple times).
This makes the experience unhygienic for other customers. Couple this poor setup with just okay baked goods (not to mention the croissants have been stale on occasion for us), and you have a below average grocery store bakery.
"I can't stomach Lidl's bakery," one customer on Reddit explained. "The local one is ... all open right by the (entrance). Saw a big dirty ass blue (bottle) fly crawling over one of the pastries in there about 3 years ago. Haven't been able to view Lidl the same since haha." Another user wrote that they used to love the bakery, " then I took a step back and watched the manky people fingering the bread and pastries. I've seen people sneeze in the food, cough in the food and squeeze the bread to find the softest roll ... I just can't eat from there any more."
Worst: Target
Target does a lot of things right, but having a wide selection of fresh bakery treats isn't one of them (unless you're at a Super Target). The bakery section (if you can even call it that) is one or two small tables of frosted sugar cookies, breads that are a day from their expiration date, and a pack of powdered donuts or two.
And although most Super Targets have a full-fledged bakery, the baked goods they put out are more of the same: Most are pre-frozen and taste like biting into a bland block. We do, however, not mind the cakes it makes. If you're looking for a pre-made cake for a birthday party or corporate event, these are above average. You can order sheet cakes, round cakes, cupcakes, and even cookie platters. Simply fill out the bakery order form in the store or call your local Super Target to order ahead.
Worst: Aldi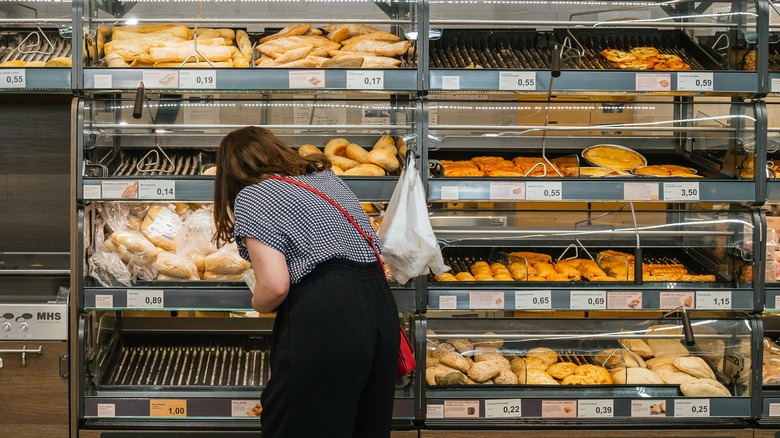 Daniel VG/Shutterstock
Like Lidl, Aldi is an affordable grocery store chain that offers a variety of bakery items including croissants, muffins, cookies, and soft pretzels. We once tried a soft pretzel from the case and were immediately disappointed. There wasn't enough salt on it, and the dough itself was chewy and difficult to swallow (it felt like it was sticking to our throat).
And just like Lidl, Aldi offers its pastries and breads in a self-serve case, which can lead to a less than hygienic spot to get your carb fix. Customers often reach into the cases without using the provided tongs or supplied bags. Although Aldi can't control what customers do in the store, it can switch the method by which it serves these bakery items (like not allowing customers to help themselves).
"I bought a couple of loaves of sandwich bread a couple years ago," one Aldi shopper said on Reddit. "It was soft, beautiful, smelled great. I put some peanut butter on it, took a bite, and it's like I ate a paper towel. No flavor, and it dried out my whole mouth. One of the ingredients was cellulose ... I buy other stuff from aldi, but I usually get my bread from Costco now."
Worst: Safeway
Safeway's bakery is a good option for those who are looking for an affordable sheet cake for an event, but otherwise, it falls flat with its run-of-the-mill pastries and baked goods. According to All Cake Prices, Safeway prices its cakes comparable to other grocery stores based on size. However, this doesn't mean Safeway cakes are anything special. We were underwhelmed by the blandness (and dryness) after eating one for our cousin's baby shower.
Plus, Safeway's desserts always taste pre-made, and now we have confirmation from a former Safeway employee that some of them are. "So I worked in a bakery at Safeway lol," a former employee said on Reddit. "We don't make the cakes there (as in the actual cake part, we frost and decorate it all by hand though) we get them in frozen and thaw them. The frosting comes in giant buckets that we buy. The only hand made frosting we did when I was there was the whip cream frosting."
While Safeway is not criminally bad by any stretch of the imagination, its offerings lack innovation and variety. We'd love to see Safeway improve the quality of items it's "making" and expand the selection as a whole.
Worst: Food Lion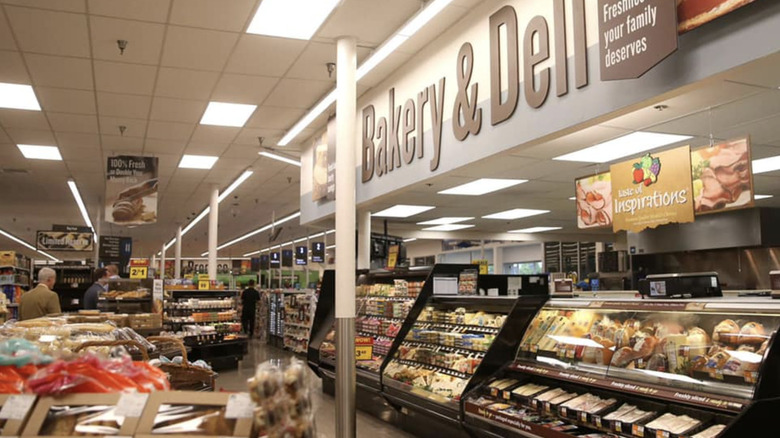 Billy F Blume Jr/Shutterstock
Food Lion may not be our favorite grocery store bakery, but we can certainly appreciate the large selection of items it carries. It feels like half of the store is lined with an overwhelming selection of cakes, cookies, muffins, and donuts.
However, if there is anything we've learned from years of evaluating food and restaurants, it's that no establishment can be good at everything it makes. We'd rather see Food Lion pare down its offerings and instead focus on making memorable, quality desserts people want to come back for. As of right now, Food Lion makes decent desserts. It gets the job done in a pinch, but you're not rolling your eyes into the back of your head because it's that good.
The one thing we do like? Food Lion's apple turnovers. Shockingly, this is one of the few bakery items Food Lion claims to make in-store, and the uptick in quality is obvious. If you're looking for a toaster strudel on steroids, these are a good choice.
Worst: Harris Teeter
Harris Teeter has a variety of pastries and cookies to peruse as well as pre-made and customized cakes for purchase. However, the steep prices and the just okay taste leave us underwhelmed. We also tend to think of its desserts and pastries as stale and dry, as if they've been sitting out for too long.
We feel particularly upset about the sharp decline in Harris Teeter's cookie quality. Back in the day, the bakery used to make fresh sugar cookies for kids and guests to enjoy (for free!) and set them in the front case of the large Harry the Happy Dragon cutout. Unfortunately, the store began to put only sugar-free cookies in the case (which were not good), and then stopped the process altogether after the pandemic.
"I worked there and nobody would eat them," a former employee states on Reddit about Harris Teeter cookies. "They are not good, but none of their own brand is. Hard and tasteless."
Best: Trader Joe's
Trader Joe's is known for its seasonal and unique offerings storewide. Try babka, a box of sour cream donuts, or the cranberry dunkers for something different. Trader Joe's is also a great place to go if you have dietary restrictions (gluten free or dairy free) or are vegan or vegetarian.
"GF chocolate cupcakes!" one Trader Joe's fan raved on Reddit about the gluten-free option when asked about best bakery desserts. "Not the minis but the four pack. Even my non-GF friends scarf them!" If we had to choose a favorite bakery item, it would be the Iced Raspberry and Cream Cheese Danish Strip. After cutting ours into more manageable pieces, we like to microwave it for a little over 10 seconds to make the cream cheese ooze out of the danish. It's best served with a glass of milk (and a lot of napkins)!
However, it is worth noting that Trader Joe's isn't the place to go if you're looking for more traditional grocery bakery fare or a premade cake. The store doesn't make or decorate whole cakes, and it doesn't always have basic offerings like chocolate chip cookies or croissants.
Best: Walmart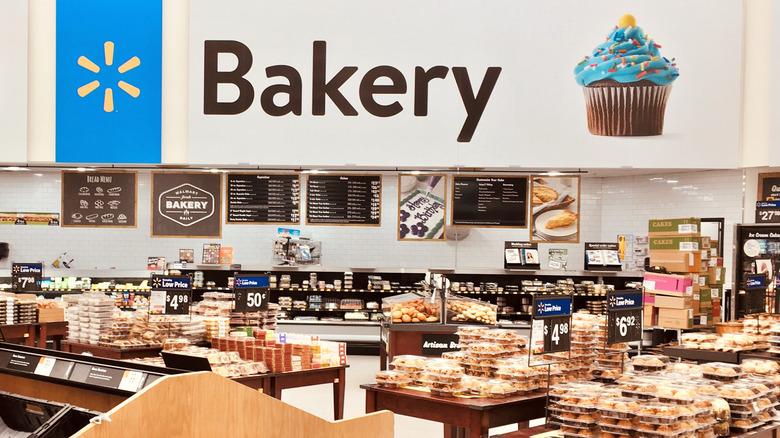 Jim Lambert/Shutterstock
If affordable yet tasty is what you're going for, Walmart's bakery section delivers. It has reasonably priced treats (mostly under $6) and even a clearance rack where desserts get as low as $1. Grab a plastic container of mini muffins, blueberry scones, or chocolate brownie bites to go with dinner later.
"Those little single slices of loaf cake," a customer posted on Reddit when asked about their favorite bakery item. "Marble cake, lemon cake, and banana nut all slap. It's my go to sweet treat when I'm on my lunch break, and they only cost $1."
Some of us may or may not have spent the majority of their college years enjoying Walmart's reasonably priced croissants and cookies in their apartment, but we digress. Regardless of your cravings, Walmart likely has what you're looking for. And Walmart is truly the most accessible bakery option on this list, as there are over 4,500 locations nationwide.
Best: Costco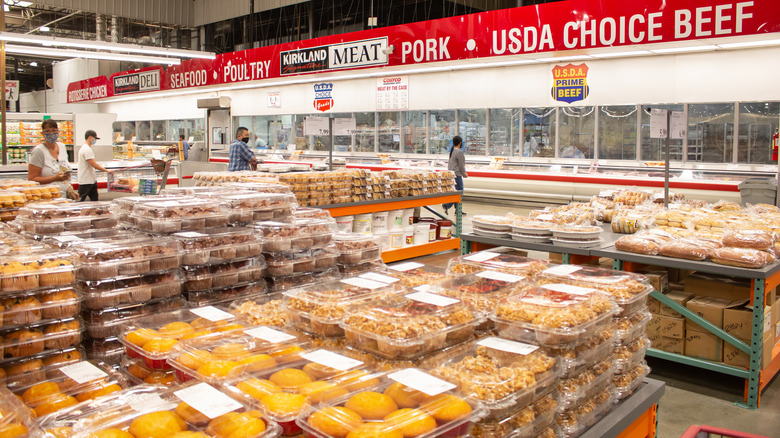 The Image Party/Shutterstock
Costco's bakery is the best grocery store bakery option for those who have large families to feed or a party happening. The membership warehouse club offers bulk bakery items for sale including hefty cakes that weigh almost seven pounds, boxes with 100 individually wrapped Madeleine cookies, and tables and shelves filled with pastries as far as the eye can see.
However, with so many bakery items available, some are bound to not be freshly baked. And according to a Costco bakery employee, some items come into the store frozen and are baked onsite while others are both made and baked in the store. Wondering which are house-made? "Baked fresh: all the muffins, cheesecake, 10" round and sheet cakes, buttercreams, fudges, fillings for cakes, pumpkin pies, pecan pies, mini all American cupcakes," the employee explains via Reddit. While we personally don't mind that some of the items aren't freshly baked, it is still worth noting for those who do.
Speaking of freshly baked items, Costco's Signature Kirkland chocolate muffins are probably the best offering it has. They're under $10 (as of May 2023), baked in-store, and are pillowy soft yet golden on top. Biting into one of these muffins is like eating the muffins your grandmother used to make — comforting, but you may eat a half dozen if you're not careful.
Best: Publix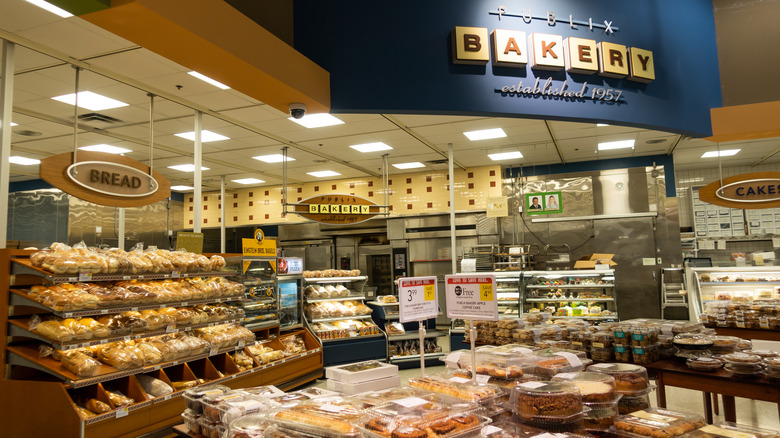 Joni Hanebutt/Shutterstock
Publix bakery might be best known for its delicious pumpkin pie (at least in the circles we run in), but did you also know it makes excellent wedding cakes? Spoiler alert: It does!
"Besides having the BEST cakes, Publix staff is (usually) super friendly, helpful, and accommodating," one happy customer reported on the WeddingWire site. "The woman who assisted us made great suggestions, helped us find the perfect flavor combinations (even ordered a fourth sample just so I could be sure of my choice) and made adjustments such as cake size, height, etc. which kept us in budget."
Not having a wedding anytime soon? No worries. Publix makes specialty and custom cakes for any occasion. Whether you're hosting a baby shower, celebrating a kid's birthday, or just wanting to eat cake, Publix has an option for you. Choose from premade decorated cakes from behind the bakery counter, or order ahead (yes, you get to choose the filling and cake flavor) for pickup later. Besides cake, Publix also has multiple shelves of freshly baked bread loaves and four or five tables filled with a wide variety of cookies, croissants, and muffins. One thing is for sure: You won't leave Publix hungry.
Best: The Fresh Market
The Fresh Market bakery is the place to hit up when you're panicking because you forgot to make a pie for Thanksgiving. This grocery store bakery has a surprisingly good selection of seasonal pies like apple and pumpkin, but the real star is the fudge pie. Sweet, chocolate-y custard filling is placed inside a pie shell with a golden crust. We recommend eating this treat chilled (stick it in the fridge for an hour or two before consuming) and adding a scoop of vanilla bean ice cream on top. Yum!
Behind the refrigerated glass case at The Fresh Market, you'll find a variety of whole cakes, tortes, and cupcakes all freshly made -– and available at reasonable prices. The Fresh Market, which has stores located in the eastern half of the U.S., may have a reputation for being expensive, but its prices aren't that bad (pies are around $10 to $13).
Whether you're looking for a cake for a friend's birthday party or just want a sweet treat for one, The Fresh Market has you covered. Choose from cake varieties like red velvet, chocolate truffle, strawberry chantilly, coconut cake, carrot cake, and more. And as for the sweet treats for one? You'll have your pick of mini fruit tarts, cinnamon rolls, individual cannoli, and tiramisu portions. No matter what kind of baked goods you're craving, The Fresh Market probably has it.
Best: Wegmans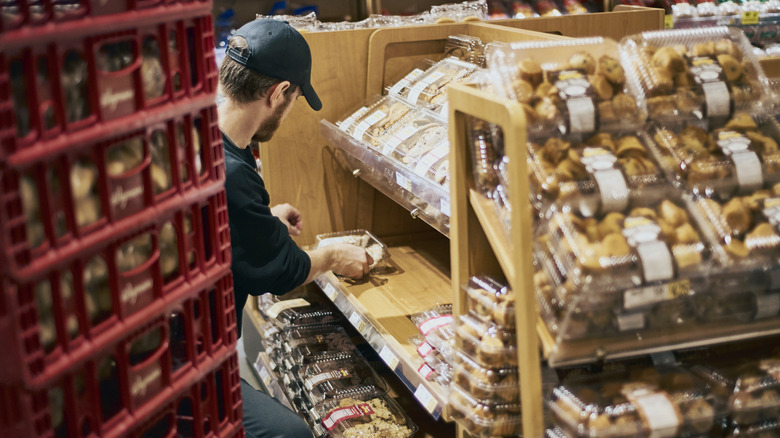 Bloomberg/Getty Images
Wegmans has a superb reputation among foodies -– and it isn't hard to see why. Its bakery section is one of the best around. Enjoy a variety of bread, allergy-friendly goodies, and desserts that'll blow you away. We're huge fans of the luscious cannoli dip tray, especially for parties. The cream is made with rich ricotta, and the cannoli shells are cut into triangles and dusted with powdered sugar.
"My first time in a Wegman's and I was impressed," a reviewer said on TripAdvisor about the bakery. "The selection and quality were superb. We bought the crumb apple pie. I hated to share it with my wife, but relented."
When you initially walk into a Wegmans, you'll notice large signs that say "dessert" and "bakery." These are the way to the promised land (only partially kidding). From there, choose to pick up freshly baked loaves of bread on a nearby table or ask for a slice of the Ultimate Chocolate Cake from behind the counter. The chocolate cake is a fan favorite and includes a thick layer of chocolate frosting and a moist but dense cake base. Our mouths are watering as we speak.
Best: Whole Foods
Smith Collection/gado/Getty Images
The Whole Foods bakery section is the stuff of dreams –- that is, if your dreams are made of fresh bread, decorated specialty cakes, and more cupcakes and cookies than you've ever seen. Pop over to the bakery case for the viral Berry Chantilly Cake, which has an airy vanilla base with creamy frosting and is dotted with blackberries, blueberries, strawberries, and raspberries. You can order this decadent treat by the slice, or call your local Whole Foods bakery to pre-order an entire cake for a special occasion.
Another thing we love about the Whole Foods bakery section? The seasonal desserts! For example, Whole Foods sells multiple kinds of fruit pies topped with flakey crusts in the summer (we're partial to the cherry pie), which are a perfect end to any meal.
Besides what's behind the bakery counter at your local Whole Foods, you'll also find other premade carb-y delicacies packaged up and ready to be enjoyed on large tables nearby. These items include croissants, bread, cookies, and scones. At certain Whole Foods locations, you may also be able to self-serve individual bakery items to take home and enjoy. If you're looking to get your weekly grocery shopping done and buy handmade sweet treats while you're at it, Whole Foods is a must-try.