Baskin-Robbins Is Going All-In On Cookies For Its June Flavor Of The Month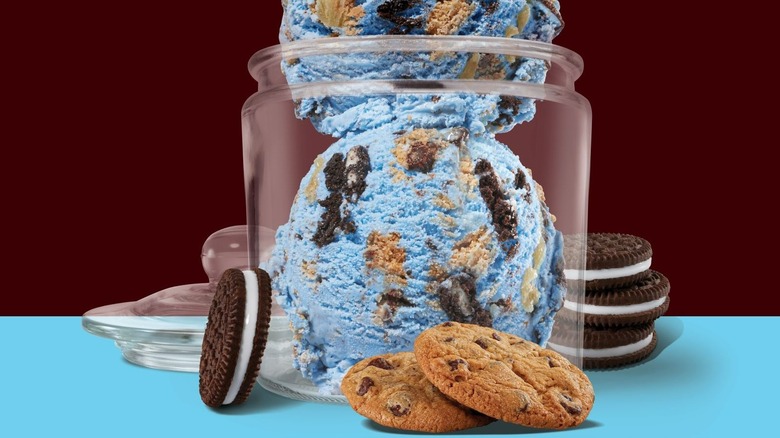 Baskin-Robbins
If you're prone to cookie cravings, Baskin-Robbins' flavor of the month may serve as your June highlight. On June 1, the corporation began to offer a new Cookie Monster ice cream for a limited time only. The ice cream is based on the loud and energetic character from "Sesame Street," who is of course known for his love of cookies. 
Like the Cookie Monster's fur, Baskin-Robbins' flavor is blue with pieces of cookies mixed throughout. According to a press release, the base of the creation is sweet cream ice cream, which is then mixed with an additional flavor resembling cookie dough batter. The sweet cream is then blended with chocolate sandwich cookie pieces and finished with pieces of chocolate chip. Of the ice cream's distinct color, Jeanne Bolger, director of product research and development for Baskin-Robbins, said in a statement, "We wanted to make sure it was not only delicious, but also visually striking, resulting in a bold blue base with not one, but two types of cookie pieces."
Cookie Monster ice cream is the latest inspired by cookies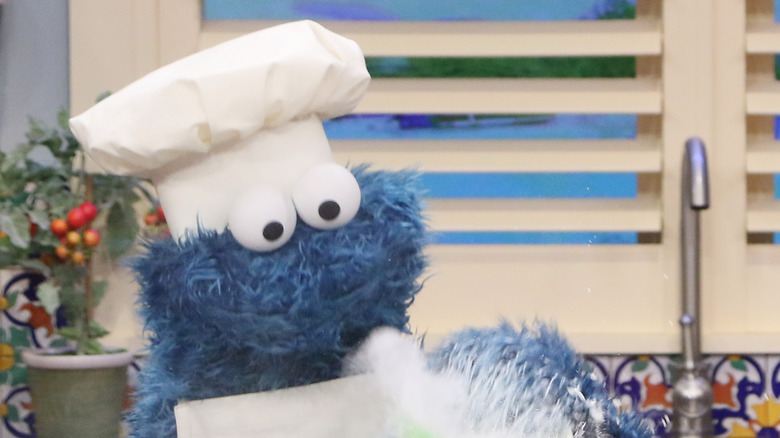 Alexander Tamargo/Getty Images
Cookie Monster is the newest bold flavor from Baskin-Robbins, which introduces a new flavor to try each month. Adventurous choices in the past include Chick'n & Waffles, PB'n J, and, most recently for May 2023, Strawberry Dragonfruit. 
While Baskin-Robbins has put its own spin on the flavor, Cookie Monster-inspired ice cream has actually been around for some time — served at various ice cream shops like Handels Ice Cream in California. If you miss this limited-time Baskin-Robbins treat, you can always make a copycat version at home with blue food coloring, ice cream of your choice, and cookies. (However, it probably wouldn't taste quite the same).
Although Cookie Monster ice cream won't last forever, the brand has permanent menu items that are somewhat similar. Year-round options include Oreo Cookies 'n Cream, Chocolate Chip Cookie Dough, and Chocolate Chip. Along with Cookie Monster, Baskin-Robbins' has released two cookie-inspired cakes for the month of June – Oreo Ice Cream Cookies & Scoops Cake. Cookie Monster himself would be pleased.