The Humble Cookie Could Kick-Start The Next Big Fast Food Chain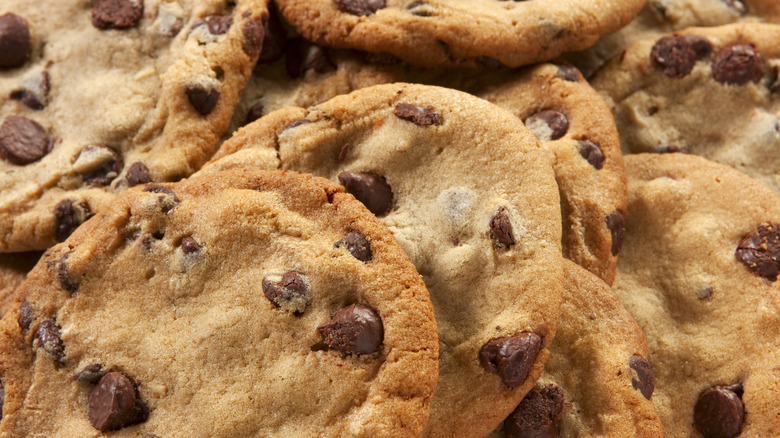 Boblin/Getty Images
Move over, McDonald's and Wendy's. There's a new fast food market in town, and let's just say the founders and owners of these companies are pretty smart cookies. Fast food lovers might soon be moving away from burgers and French fries and instead moving toward more dessert-forward foods, specifically, cookies. A boom in quick-serve cookie bakeries is happening across the country with big players like Crumbl, Cookie Plug, Chip Cookies, and Great American Cookies driving the trend. The more popular of these have upwards of 700 bakery stores nationwide, an ever-growing number.
So, why is everyone suddenly turning to cookies? First of all, and somewhat obviously, everybody loves cookies. They're a timeless comforting treat people enjoy at any age. People will shell out more money for small indulgences like fancy baked goods. But there are more business-minded reasons as well. A cookie bakery has a smaller overhead than an ordinary fast-food restaurant. They require smaller spaces, fewer employees, and the initial investment to open a cookie bakery is much less. Cookies aren't as perishable as meats or vegetables, so storing and delivering them isn't as difficult.
Though people have always loved cookies, this sudden boom in cookie bakeries comes at the perfect social-media moment.
Cookies are social media darlings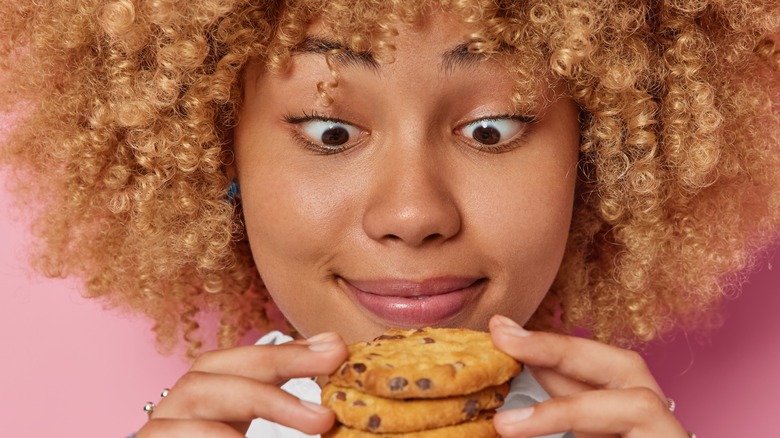 Wayhome studio/Shutterstock
Cookie bakeries seem tailor-made for pretty much every social media foodie trend, and the savvier companies are taking full advantage of that. Cookies are photogenic. A big cookie with melting chocolate chips or pretty sprinkles or frosting is the ultimate Instagramable food. And because they're not greasy or sloppy, they can be packaged in equally eye-pleasing — and recognizable — boxes. 
Cookie recipes abound on Instagram and TikTok, and people enjoy watching cookies being made and decorated. TikTok videos shared by bakeries get hundreds of thousands of views. One of the most successful cookie bakeries, Crumbl, only offers four new limited flavors a week, which it announces to its 6.8 million TikTok followers and 3.8 million fans on Instagram. Fans and followers share videos of themselves guessing what the new cookie flavors might be, rushing to the store to buy them, and tasting and reviewing each new cookie. A simple video of friends eating churros and wondering (and hinting) at the week's new flavors got nearly a million views. 
Another clever marketing strategy is to know your consumer. Everyone craves a cookie from time to time, particularly college students pulling an all-nighter. Seth Berkowitz, founder of Insomnia Cookies made this part of his business model by situating his bakery shops near college campuses, and offering delivery late into the night — with milk if desired. 
Some business insiders worry that the market might become overcrowded, but it doesn't seem likely that the popularity of cookies will ever wane. One thing's for sure: Cookie companies have developed a business model that is catapulting the industry into the future of fast food.