You Could Have Chili's Cater Your Wedding For Free — Here's How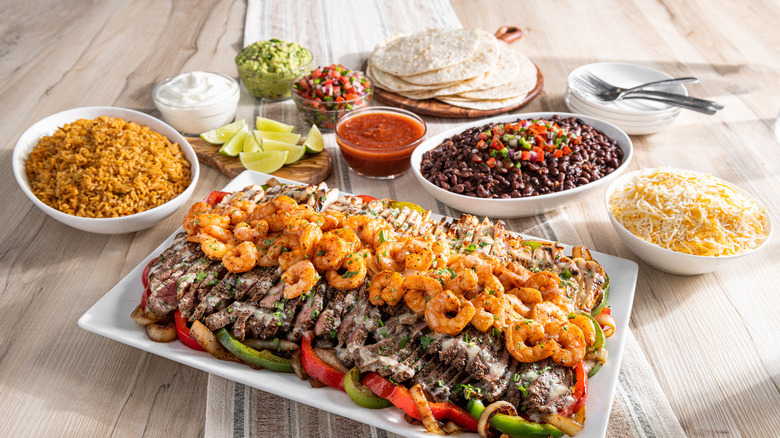 Chilli's
Planning your wedding can be incredibly stressful, not to mention expensive. Depending on the number of people you have invited, trying to figure out a proper meal that meets everyone's needs while sticking to a budget can be quite nerve-racking. The average cost of having a wedding catered can run you about $4,000 with some services spiking past $7,000, according to Wedding Wire. If this added expense is already giving you serious thoughts of running away and just eloping, don't worry, because there might just be a way to have your whole wedding catered for free. Chili's is offering soon-to-be-hitched couples the opportunity to win a completely catered wedding.
In a TikTok video shared by Chili's, they explained that the first three couples to propose marriage at a Chili's location, will get their entire wedding catered for free by the popular restaurant chain. To be considered you need to upload the video of the proposal to TikTok and tag @chillisofficial in order to qualify for the contest. This unique opportunity is open from May 31 and ends at 11:59 pm on June 9. You can check out the full list of details for the contest here. This amazing offer was originally inspired by newlywed Madison Mulkey who shared her story about using Chili's to cut down the meal costs of her wedding. Let's take a look at how she was able to save huge on her big day.
The TikTok video that inspired Chili's latest Bridal giveaway
A limited-time contest where couples can win free wedding catering from Chili's is a direct response to a viral TikTok video shared by newlywed Madison Mulkey (@brideisapersonality), where she showed her hack for saving money on her wedding food bill. She explained that she was able to feed 99 guests at her wedding by ordering selected items from Chilli's and the whole catered meal only cost her $1,950.04. The meal consisted of a variety of items and — as explained by Mulkey — also included five specialty meals to please those who needed dairy-free and gluten-free options.
Obviously, the savings was a huge bonus, and having fast food catering weddings isn't entirely abnormal, but how did they work around the logistics of using food from a restaurant that may not typically offer catering services? In her video, Mulkey mentioned that to save on the extra cost of delivery, they chose to pick up the dishes which had to be prepared earlier than anticipated, due to the wedding coinciding with the busy St. Patrick's Day weekend. After some creative thinking and help from her friends, she was able to feed everyone at her wedding on a budget and had nothing but rave reviews from her guests. Hilariously, when Chili's responded to the video they included a title card that read "Chili's Wedding Catering: Guess We Do That Now."