Things You Should Never Order At Buffalo Wild Wings
Buffalo Wild Wings is a solid spot to go when you gather a group of friends who are looking to have a lively dining experience. The chain is always bustling with energy, and if you're a big sports enthusiast, there's always a slew of games airing on the dozens of big-screen televisions hanging all over the walls. It's loud, it's vibrant, and it's the perfect place for when you want to kick back with a few beers and enjoy some tasty cuisine. When you and your appetite are looking for a wildly fun time, look no further than Buffalo Wild Wings.
When your hunger is screaming its head off, every item you see on a menu looks appealing. Every photo of food jumps out at you and every smell that wafts from the kitchen gets you more jazzed for your upcoming meal. But this is when you need to focus hard. It's so tempting to just start pointing at random menu items and ordering them because your stomach is impatient, but this can lead to a disappointing dining experience. Not everything on the Buffalo Wild Wings menu is worth your money, so to make things easy, we've compiled this list of dishes you should steer clear of so you walk out of the restaurant feeling like a champion. You deserve an award-winning meal.
Saucy Chicken Sandwich
Any condiment enthusiast knows that being a boss of the sauce means you embrace a hearty slathering of flavor-packed sauce whenever possible. Yes, you would like an extra serving of ketchup on the side. And while you're at it, go ahead and ladle on another helping of that delicious aioli. A great sauce can take an ordinary meal and blast it into the stratosphere with amazing flavor — that's how much power they can have. This is why the Saucy Chicken Sandwich at Buffalo Wild Wings might spring off the page at you if you're looking for something that's gonna smack you with an assertive condiment. But sadly, this menu option just doesn't cut it.
The sandwich comes with a filet of hand-breaded fried chicken coated in your choice of either sauce or dry seasoning and pickles all stacked in a challah bun. There are a few issues here. First, the texture of the bun is quite unappealing. Challah bread should have a soft, squishy texture that makes for the perfect vessel to transport all of the ingredients, but here it's dry and often crumbly. Next, if you opt for the sauce instead of the dry seasoning, you get so much of it that you feel like you're eating a sauce sandwich. Even the biggest lovers of condiments would find this way too much. On the other hand, if you choose the dry seasoning, it doesn't feel like there's enough to really make a flavorful impact.
Naked Tenders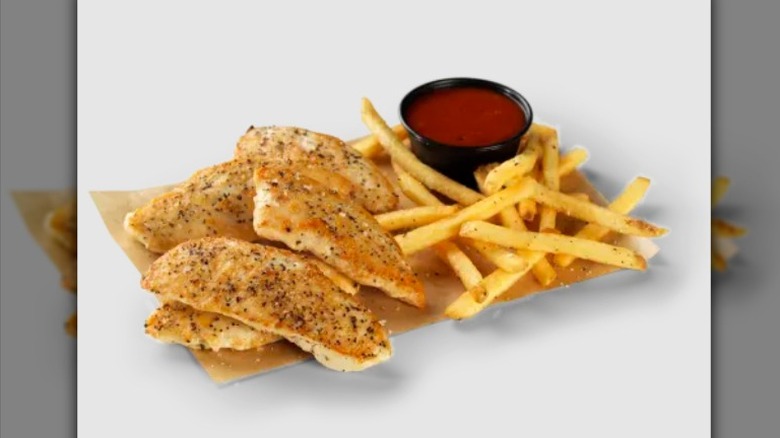 Buffalo Wild Wings
As delicious as chicken tenders are, some people might steer clear of them because plunging anything into the deep fryer doesn't exactly align with a healthy diet. People can be justifiably sensitive about the kinds of foods they put into their bodies, and cutting out the deep-fried stuff is a way to avoid adding a whole bunch of calories to your diet. Buffalo Wild Wings makes an attempt to cater to people who love chicken tenders but want to avoid that plunge into hot oil by offering customers Naked Tenders. It's a noble attempt, but not one that succeeds.
These Naked Tenders are grilled instead of fried, and you get your choice of either sauce or dry seasoning to give them flavor. The problem here is that you have to rely solely on the seasoning or sauce to give you any kind of pleasurable experience. The tenders are super dry, and you're left grabbing for a drink to wash down every bite. If you choose a dry seasoning on the chicken, you'll get some flavor, but the parched texture remains the same. Obviously, sauce will add some moisture, but you're still stuck chewing through dry chicken while the sauce does its best to combat it. You don't want to have to rely on sauce to make a meal pleasurable.
Loaded Bird Dawgs
When it comes time to really do some serious eating, there's nothing better than ordering something that's "loaded." When you see that word next to a menu option, you know it's going to come piled high with a whole bunch of good stuff. Loaded options always have a variety of flavors and textures meant to satisfy your hunger. This is what makes the Loaded Bird Dawgs at Buffalo Wild Wings such a bummer. Are they loaded? They sure as heck are. But are they worth it? Nope.
These Loaded Dawgs use hand-breaded chicken tenders instead of franks, which is nice for anyone who doesn't like messing with the mystery meat in hot dogs. The tenders are plopped into brioche buns and topped with wild honey mustard, grilled onions, green onions, and New Belgium Fat Tire beer cheese. Everything here works well except the beer cheese, which is a shame because that's likely the ingredient that would get people stoked the most. The cheese is drizzled on generously, but it has such a sharp, pungent flavor that it totally dominates the other ingredients. It's the only thing you can taste, and that's a huge problem when you have other fantastic flavors trying to peek through.
Classic Chicken Wrap
Wraps are great substitutes for buns if you're trying to reduce carbs in your diet. You still get an ideal vessel to hold all the ingredients, but you don't feel like you're filling up on bread. Buffalo Wild Wings offers customers a Classic Chicken Wrap for anyone who wants to enjoy a hand-held meal without a stomach full of carbs afterward. The wrap comes stuffed with either boneless fried or pulled chicken, cheddar-jack cheese, shredded iceberg lettuce, tomatoes, and your choice of either sauce or dry seasoning. Sounds appealing, right? Too bad the reality is the opposite.
The texture is the big issue when it comes to this wrap. The chicken just doesn't pack that juicy punch you want it to, and seeing as chicken makes up most of what's inside the flour tortilla, that's a big problem. The pulled chicken is softer than the boneless chicken, and the consistency of the shredded protein gives somewhat of a juicy sensation, but it's just not enough. You have the option to choose a sauce, and that helps give a bit of moisture to everything, but when the star of the show needs such serious help from the supporting cast, it's not really an event worth going to.
Chicken Caesar Salad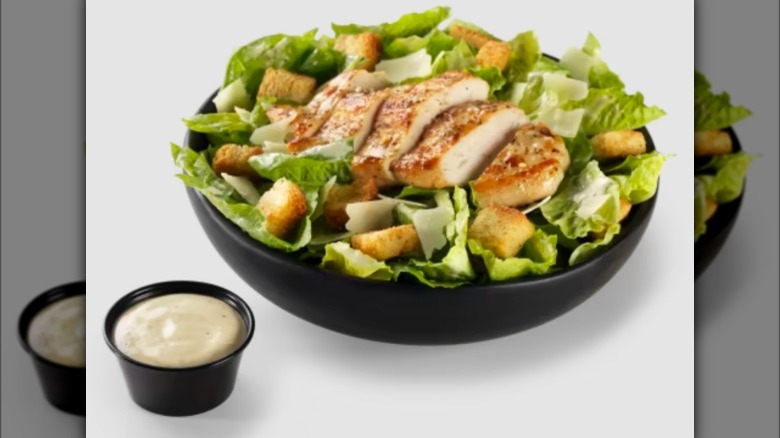 Buffalo Wild Wings
When you storm your local Buffalo Wild Wings looking to plow through as many chicken wings as humanly possible, it might be a good idea to get some greens in your diet before packing away a ton of calories. Even though a bowl of vegetables might not sound as appealing as a meaty bonanza, your body will definitely thank you for the decision. Buffalo Wild Wings has several salads on its menu, one of them being the Chicken Caesar Salad. If you are the kind of person who enjoys your roughage, Caesar salads are usually a winning option. Emphasis on the word "usually," because in this case, it doesn't earn its spot on the winning podium.
The salad comes with romaine lettuce as the base. It's topped with slices of grilled chicken, shaved Parmesan cheese, croutons, lemon-pepper seasoning, and of course, Caesar dressing. The chicken on top looks like it's grilled to perfection, but after one bite you realize it's cooked so long there's not a speck of moisture in it. You might look to the dressing to help alleviate this issue, but you soon realize the dressing tastes like it's packed with a week's worth of sodium. You can almost feel your blood pressure trying to have a stern conversation with you after each bite. Really the only enjoyable aspect of this salad is the croutons, which give a much-needed crunch to offset the creaminess of the overly-salty dressing.
Chopped Cobb Salad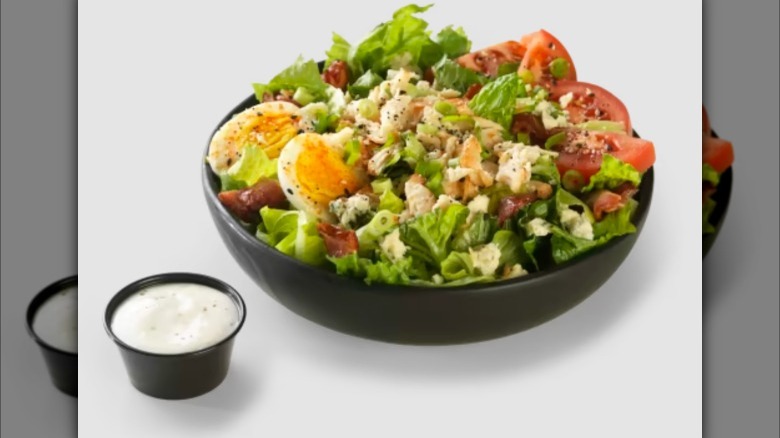 Buffalo Wild Wings
If you're seeking out a salad that has a ton of flavors and textures, a Cobb salad is an excellent choice. There are a bunch of contrasting tastes and a plethora of textures that all combine forces to create one heck of an awesome way to get some greens into your stomach before the savory main dish arrives. Buffalo Wild Wings has a Cobb salad on the menu, and that surely would get anyone who loves Cobb salads excited. Unfortunately, this isn't the kind of Cobb salad that's worth writing home about.
The salad has some standard Cobb ingredients and a few other things that make it more unique. It comes with romaine lettuce, pulled chicken, bacon, a hard-boiled egg coated in buffalo seasoning, green onions, tomatoes, blue cheese crumbles, everything seasoning, and ranch dressing. With a combination like that, you'd think it would be impossible for this not to be a huge grand slam, but you'd be wrong. The bacon is extremely salty, and even though you always expect bacon to have a salty taste, this tastes like it's twice as salty as any bacon you've eaten before. The blue cheese doesn't pack that tangy punch it should, and there's something about the ranch dressing that feels off. It strangely tastes like there's another flavor mixed in with it.
New York-Style Cheesecake
Who doesn't love a big plate of something sweet after plowing their way through a super savory meal? If you're smart enough to leave some real estate available in your belly, a decadent dessert always rounds out a meal perfectly. Your body gets tired of savory flavors after a while, and the sugary contrast on your palate is always welcome. Buffalo Wild Wings has a slew of desserts on the menu, and most of them are well worth your money. However, if you're eyeing the New York-Style Cheesecake, do yourself a favor and navigate your focus to something else. It's a shame, we know, but you won't regret your decision to walk the other way.
One thing that you can give applause to here is the aesthetics of this dessert. It looks fantastic. It's a thick piece of rich cheesecake drizzled with a golden caramel sauce. Just the sight of it activates your sweet tooth. That's why it's such a letdown that the flavor doesn't hold up to the promises the visual aesthetic makes. The texture is exactly what you expect cheesecake to be — coat-your-mouth rich — but if the caramel drizzle wasn't involved it would taste super bland. You don't get that wonderful hit of cream cheese flavor that typically makes the dessert so wonderful. And the caramel sauce is so super sweet that it's almost a bit too much, even for people who live and die by desserts.
Fried Pickles
The flavor of vinegar is strong, but anyone who loves pickles understands just how important the sharp taste plays in a meal. A pickle offers a blast of vinegariness that cuts through any richness and helps the other ingredients it's paired with take on a wonderfully tangy sensation. That's why it makes so much sense to deep fry them. You get the richness of the fried casing contrasted with the bite of vinegar for a one-two flavor blast that dances on your palate. Buffalo Wild Wings offers Fried Pickles as an appetizer so you can kick off your meal with the great taste combination. However, this particular basket of breaded pickles falls short of being a home run.
The dill pickle chips that come with this appetizer are breaded, deep fried, and served alongside a ramekin of Southwestern ranch dipping sauce. In theory, this should be a must-have item on your table. But there's so much batter on the pickles that all you taste is grease. You only get a tiny hint of that awesome vinegary flavor of dill pickles and you're left with the taste of unappealingly rich oil on your tongue. The Southwestern ranch sauce is super yummy, but even when you plunge one of those little suckers into the ramekin you're still overwhelmed by the greasy, fried texture and flavor.
Everything Pretzel Knots
Everything seasoning is a perfect addition to a meal because it carries a little bit of, well, everything. You get salt, garlic, sesame seeds, and poppy seeds in one fell swoop. You can put this stuff on pretty much anything savory and it's a fantastic addition that cranks your meal up from 10 to 11. Buffalo Wild Wings has an item on the menu called Everything Pretzel Knots, and for those who love everything seasoning, it seems like it's a no-brainer to add it to your order. But, in the end, you'll wish the appetizer never made an appearance at your table.
The starter consists of several hefty pretzel knots covered in everything seasoning served alongside honey mustard for dipping as well as New Belgium Fat Tire beer cheese. The pretzel knots are served warm, but they cool off quickly, leading to a tough texture that immediately turns you off. When they're warm, they're soft and squishy with a perfect mouthfeel. But once they reach room temperature you feel like your jaw struggles to get through every bite. Chewing through hard bread is no one's idea of a good time. To make matters worse, the beer cheese has a strong and off-putting taste. It's too pungent, and the flavor lingers in your mouth long after you finish the knots, interfering with every other ingredient that hits your palate from that point on.
Ultimate Nachos
It's impossible to see a plate of nachos hit the table and not think, "It's time to party!" When the word "nachos" hits your brain it immediately switches you to fiesta mode. When you're devouring a plate of loaded nachos with friends, you're setting yourself up for a fun-filled day. So it seems pretty obvious that with all this party-time hullabaloo surrounding nachos, you'd better make sure you ordered some up the next time you and your buddies snag a table at Buffalo Wild Wings, right? Sure, you could do that, but make sure you're mentally prepared to regret the decision once the platter of Ultimate Nachos arrives at the table.
It's such a shame this plate of nachos deserves a hard pass, because as we said earlier, ordering nachos means you're having a good time. These ultimate nachos come loaded with crema, pico de gallo, Hatch chile queso, cheddar-jack cheese, pickled hot peppers, cilantro, salsa, guacamole, and your choice of chicken, brisket, or chili. Yes, these things seem loaded, but looks can be deceiving. Only the top layer of nachos is loaded. Everything underneath is completely devoid of all the amazing fixings. Every chip on the top layer blasts you with flavor, but that layer runs dry really quickly, and you're left with a platter of bland chips. This is a sure-fire way to ruin the party in your belly.
Cheddar Cheese Curds
Cheese is so delicious it should be the base of the food pyramid. There are so many different varieties with tons of flavor profiles. You can pretty much find some kind of cheese to properly pair with anything savory. It's such a versatile ingredient, and who can resist that wonderfully gooey texture it takes on when it melts? Buffalo Wild Wings calls out to all cheese lovers with its Cheddar Cheese Curds appetizer. You get a pile of Wisconsin white cheddar cheese curds that are battered, deep-fried, and served alongside a Southwestern ranch dipping sauce. But, although this sounds terrific, you should try your hardest to resist the temptation to order this dish.
The reason these morsels of golden-fried gooeyness should be avoided isn't because they're not tasty. The Wisconsin white cheddar has a buttery, nutty flavor that cheese lovers would definitely enjoy, and the Southwestern ranch sauce has a little kick of creamy heat that makes for a solid dipping accompaniment. It's just that these are so darn rich you can only throw back a few before your palate raises the white flag. The cheese is rich, the fried breading is rich, and the Southwestern ranch coats your tongue with rich flavor. It's just too much, and you hit your breaking point quickly. Opt for another choice that won't have you reaching your richness threshold so quickly into the meal.