The LA Fast Food Joint That Gives Dairy Queen A Run For Its Money
If you live outside of California, chances are you probably haven't heard of Foster's Freeze — a regional fast food chain which, similar to Dairy Queen, specializes in soft serve ice cream, as well as hamburgers, chicken tenders, and fries. Founded by George Foster in 1946 in Inglewood, Calif., its 66 franchised stores are all located within the state. Although Dairy Queen, which launched a few years earlier in 1940, eventually mushroomed into a nationwide powerhouse now featuring more than 4,000 locations in 49 states, Blizzards don't rule the soft serve roost everywhere.
In Los Angeles, Dairy Queens are scarce and the go-to place for one's ice cream fix is more likely to be Foster's Freeze, where you can order a Twister, the Foster's Freeze equivalent of a Blizzard, and have various candy bar or cookie pieces crumbled and swirled into a cup of soft serve. The reason for this dates back to an issue Foster encountered when he decided to open his first restaurant in California.
You can't say 'dairy'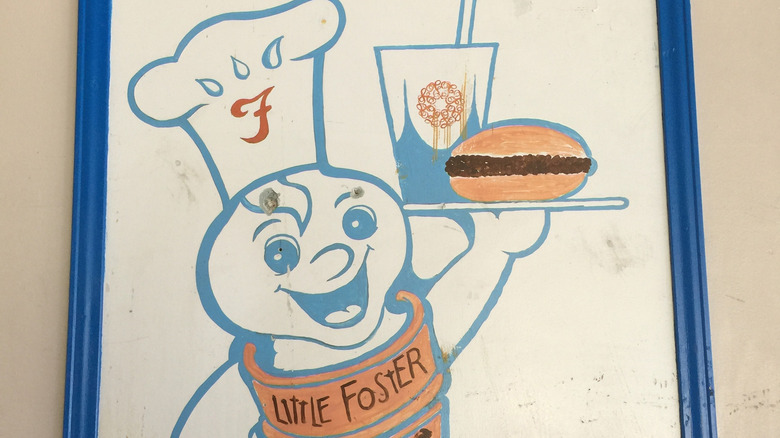 Jim Steinfeldt/Getty Images
George Foster didn't originally set out to name his soft serve fast food joint after himself. In fact, he bought the developmental rights in California for the Dairy Queen company with the initial goal of establishing Dairy Queens throughout California and the West. However, Foster ran into an unexpected roadblock when he discovered that in California the dairy industry basically had a monopoly over the use of the word 'dairy.' The Dairy Queen idea was quickly scrapped.
Forced to change track, he called his enterprise Foster's Freeze instead. He experienced tremendous early success, growing the regional chain to 360 franchise locations within only five years of launching that first store in 1946. Foster didn't stick around long though. In 1951, he sold the thriving business for a cool million bucks to Meyenberg Milk Products. But since Foster's Freeze gained an early foothold in the Los Angeles County area, and the name Dairy Queen was once verboten in California, it remains more common to see one there today. 
In true LA style, Foster's Freeze has even appeared in movies, with the Atwater Village store used as a set location in the 1994 Tarantino classic "Pulp Fiction." Foster's Freeze may have never reached the lofty heights of Dairy Queen, but in Los Angeles at least, it's still local's preferred spot to enjoy a little chill and grill.