A Jar Of Peanut Butter Transforms Pasta Into A Flavorful Lunch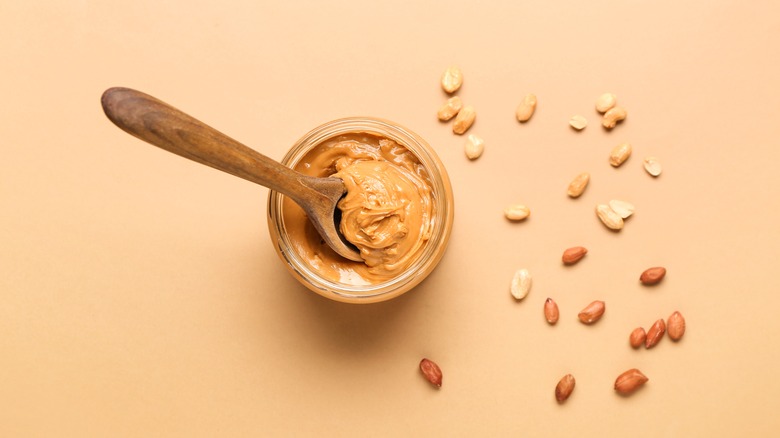 Pixel-Shot/Shutterstock
Weekday lunches can be an exercise in creativity, but more often than not, they end up being a mish-mash of easy-to-cook ingredients and usually aren't something you'd try to make again. But for a quick and delicious lunch, reach for your nearly-empty peanut butter jar for a tasty, savory, dish that will take you straight to flavor city. And best of all? You won't be wasting any of that precious peanut butter. 
Simply add soy sauce, sesame oil, and sriracha to the jar — you might need to experiment a little to get the right ratio, but if you prefer things on the salty side, add plenty of soy sauce; if you want more richness, go heavy on the sesame oil; and if you like things spicy, then use the sriracha without mercy. After you've added your ingredients, toss in some just-boiled noodles to the jar; this TikTokker used udon noodles, but ramen, soba, flat rice noodles, or even spaghetti will work just as well. Close the lid, then give the jar a good shake to get the sauce fully mixed and the noodles thoroughly coated — now you have a flavorful, effortless lunch that you'll look forward to at the bittersweet end of each peanut butter jar. Feel free to eat straight from the jar, or toss it onto a bowl if you're feeling fancy. 
Peanut butter noodle adaptations
You can try a take on this recipe even if you aren't scraping the last few morsels of peanut butter from the bottom of the tub. It'll require a little more time at the stove but should be comparably delicious. Just take a tablespoon or so of peanut butter and put it in a saucepan, then add your soy sauce, sesame oil, and sriracha. Over medium-low heat, stir the ingredients together until they are fully combined. Then add the drained udon noodles to the saucepan and use tongs to ensure each noodle gets an even coat of the peanut butter sauce. 
One benefit of using the saucepan method is that you can easily sautee some garlic in the pan before adding the sauce ingredients. To further upgrade the snack, try chopping up a few spring onions or cilantro — they're super flavorful and a bit of greenery always adds some nice contrast. You can also top it with sesame seeds and whole peanuts for a satisfying crunch factor.