Yes, Cereal Belongs In Cocktails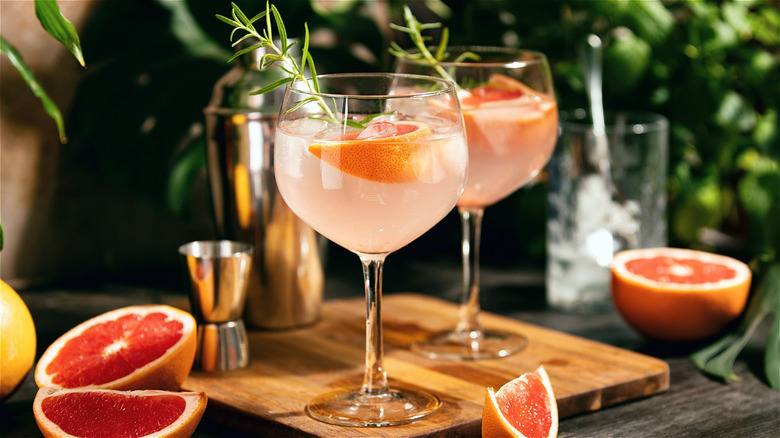 Fortyforks/Shutterstock
During a night out with friends, what's better than a decadently sweet cocktail? What if that cocktail features your favorite childhood cereal? The cereal cocktail trend offers a mix of nostalgia and boozy sweetness. Why shouldn't you make a White Russian and throw in your favorite cereal for good measure? The trend has already taken TikTok by storm.
For instance, why not try a Cinnamon Toast Crunch hot chocolate cocktail developed by popular TikToker @realtipsybartender? Not only does his recipe feature a muddled Cinnamon Toast Crunch rim, it includes white chocolate chips, warm milk, whipped cream, RumChata Cream Liqueur, and a mini bottle of Fireball. The drink has gotten a positive response with one person writing, "This one shoulda been named 'breakfast on cloud 9.'"
If Cinnamon Toast Crunch doesn't do it for you, perhaps you may prefer @bevsbybeverly's Boozy Fruity Pebbles containing Chambord Liqueur, coconut milk, whipped cream vodka, and of course, a Fruity Pebbles rim. Dozens of TikTok creators have you covered if you want to make your own cereal cocktails, but what about when you go out?
Mixologists also sometimes use cereal in cocktails
It isn't just TikTok, bars and restaurants have created their own cocktails featuring classic cereals. Taylor Panza of Boston's City Tap's created a Lucky Charmtini cocktail to celebrate St. Patrick's Day. This drink includes Blue Curaçao, Baileys, and amaretto, and is topped with a Lucky Charms garnish. She told Boston.com, "People wouldn't expect the ingredients to work so well together, but they do, and it's super tasty."
While TikTok creators often use popular cereals as toppings, some bartenders infuse cereal into spirits. For example, Arlington's B-Live offers mini bowls of Lucky Charms infused with vodka or other liqueurs [per Northern Virginia]. Punch reported that New York bartender Meg Lazar created a Cocoa Puffs-infused drink featuring Campari, Japanese whisky, sweet vermouth, and apricot liqueur. While the drink was originally a way to use up leftover chocolate torte, they pivoted to cocoa puffs after removing that dessert from the menu. Lazar told Punch, "Everyone loves the milk at the bottom of the Cocoa Puffs, right?"