Mountain Dew Soft Serve Ice Cream Is A Soda Lover's Dream Come True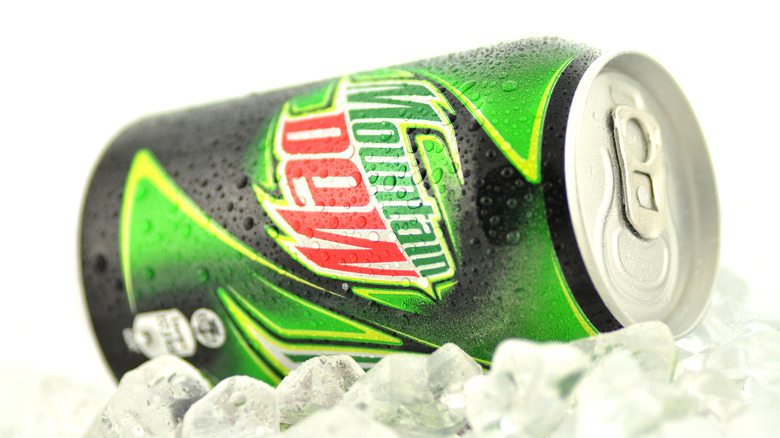 Darios44/Getty Images
If you're an avid soda lover, we have both good news and bad news. The good news is, there's such thing as Mountain Dew flavored ice cream. The bad news is, you have to travel to Redford, Michigan if you want to try it. Perhaps even worse news, you only have two more days to do so, as the local Dairy Whip store is only serving it until June 11.
Each week, Dairy Whip offers a limited-time flavor, and Mountain Dew returns at least once annually. Completely free of dairy products, the vegan soft serve took quite some time to make, but owners Josh and Cody Hutchison were determined to make it happen. "It's Mountain Dew with some stabilizers and a few different things," Josh revealed to MLive. The name of the ice cream is Mountain Moo — a hilarious spin on the Mountain Dew brand that also incorporates what the ice cream shop is known for. Redford residents love the creation, flocking to Dairy Whip every year to buy a cone, pint, or quart of the flavor.
Redford residents are fans of the ice cream
As soon as Mountain Moo's yearly return was announced via Facebook, fans of the flavor loaded the comments with sentiments of excitement. "Mountain Moo should be a regular flavor," one soda lover wrote. The user behind the comment said they planned to travel quite some way to purchase two quarts. A second Facebook user felt the same way. "[I] wish you carried it a few times a season," they wrote.
Yesterday, June 8, Fox 2 Detroit visited Dairy Whip to interview customers about the flavor. One man who commented on Mountain Moo admitted it wasn't what he expected; apparently, its texture is different than traditional ice cream. "It was kind of like a sherbet ... but I do like it," he revealed. The variation in consistency can likely be explained by its lack of dairy product. However, when talking to MLive, owner Josh Hutchison claimed it "tastes just like ice cream." Those seeking a more familiar taste are welcome to add vanilla-flavored ice cream to alter the taste.