Ultimate Bacon-Wrapped Chicken Bomb Recipe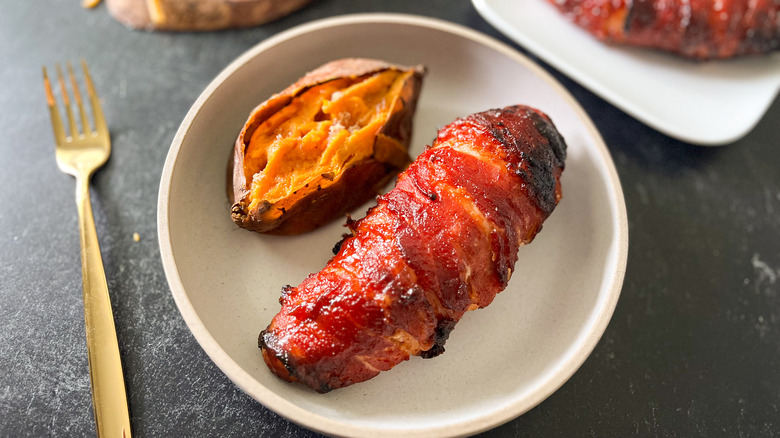 Erin Johnson/Mashed
We've all had that dreadful experience of eating dry, boring, and overcooked chicken, and fortunately, this recipe is the furthest thing from that. Prepare for the most decadent and flavorful chicken you've ever had — not only is it stuffed with a savory cheesy filling, but it is wrapped in bacon, and saturated with barbecue sauce, all before baking. Are you drooling yet?
Recipe developer Erin Johnson brings us this recipe for the ultimate bacon-wrapped chicken bomb. "This dish combines the flavor of a jalapeño popper with chicken for an easy but indulgent feeling meal," she says. This recipe only requires 20 minutes of hands-on prep time, making this perfect for most weeknight meals and guaranteeing that you aren't defaulting to boring chicken again and again. We recommend serving this rich entree alongside light and easy to prepare side dishes like roasted broccoli and simple baked potatoes for a well-balanced and nutritious meal.
Gather your ingredients for this ultimate bacon-wrapped chicken bomb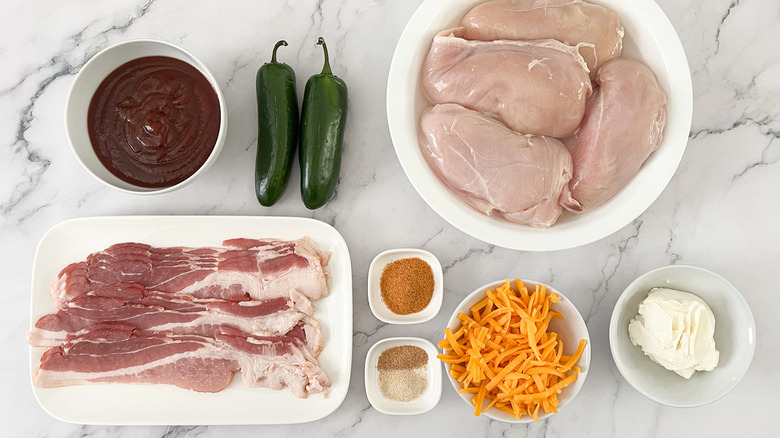 Erin Johnson/Mashed
To make this ultimate bacon-wrapped chicken bomb, you can start by gathering your ingredients. For this recipe, you will need cream cheese, cheddar cheese, jalapeños, garlic powder, onion powder, chicken breasts, seasoned salt, bacon, and barbecue sauce.
Depending on who you are serving this to, you may want to dial up or dial back the heat in this dish. Luckily, Johnson has a few recommendations. "If you want a milder heat, remove the seeds from the jalapeños," she suggests. "For more heat, include them or consider swapping the cheddar cheese with pepper Jack."
Mix the filling and stuff the chicken breasts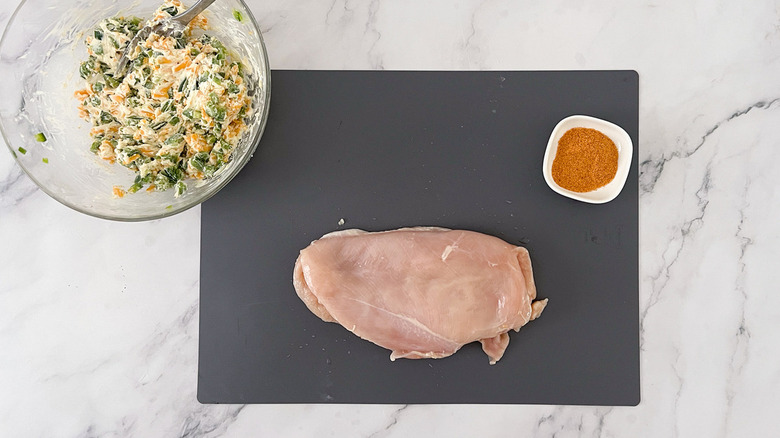 Erin Johnson/Mashed
Preheat your oven to 350 F. Make sure that your chicken is ready to go. It should be boneless, skinless, butterflied lengthwise, and pounded thin. This helps to ensure that the filling has room to be stuffed into the chicken and doesn't ooze out. Season each breast with seasoned salt.
In a large bowl, add the cream cheese, shredded cheddar cheese, diced jalapeños, onion powder, and garlic powder. Using a spoon, mix these ingredients until they are well-combined. Then, scoop about ¼ of the mixture and place it into each butterflied breast, before rolling to close the breast back up and secure the filling inside.
Wrap each chicken breast with bacon and brush with barbecue sauce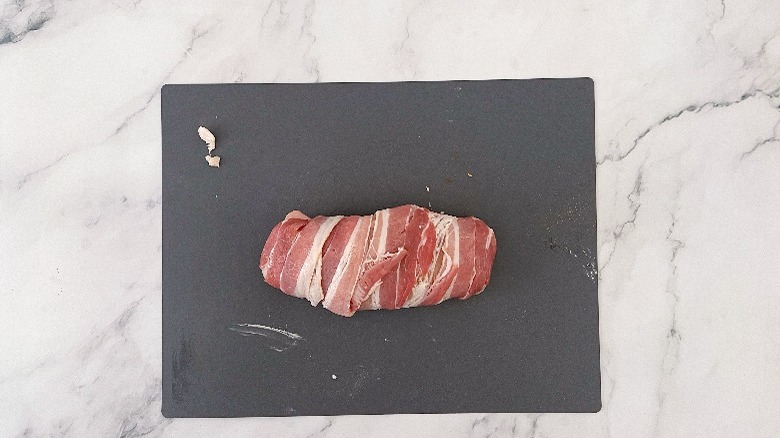 Erin Johnson/Mashed
Once you have stuffed and rolled your chicken, it is time to wrap each chicken breast with three to four pieces of bacon. "It's best to not use thick cut bacon with this recipe," Johnson advises. "The regular [cut] wraps and cooks more evenly and ensures the bacon and chicken are both cooked through."
Then, once the chicken has been wrapped in bacon, use a brush to douse each chicken breast in barbecue sauce. Then, place each chicken bomb on a baking sheet that is lined with a baking rack.
Bake and broil the chicken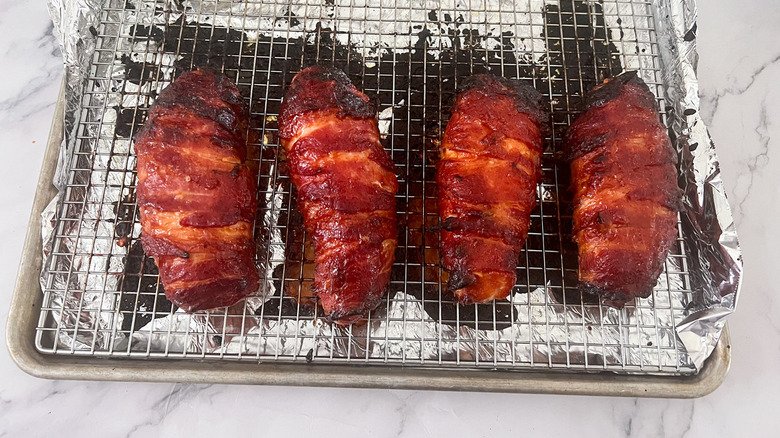 Erin Johnson/Mashed
Place the baking sheet in the preheated oven and cook for 90 minutes. Every 30 minutes, be sure to check on the chicken, flipping it over, and brushing it with more barbecue sauce. This guarantees that the chicken is not only fully cooked, but packed with flavor. Once the chicken is cooked, brush on a final layer of barbecue sauce, then put it under the broiler for 5 minutes to caramelize.
While this comes together fairly easily, some nights you don't have the extra 20 minutes for prep time. "You can prep this in advance and then put it in the fridge until you're ready to cook it," Johnson says. This way, come dinner time, all you have to do is bake, flip, and brush the chicken before dinner is on the table.
Once the chicken is cooked, you can store leftovers in the fridge for up to three days. Just be sure to warm thoroughly before serving, then you're ready to enjoy the flavor bomb all over again.
Ultimate Bacon-Wrapped Chicken Bomb Recipe
If you're looking for a way to liven up chicken breasts, this ultimate bacon-wrapped chicken bomb recipe will definitely keep things interesting.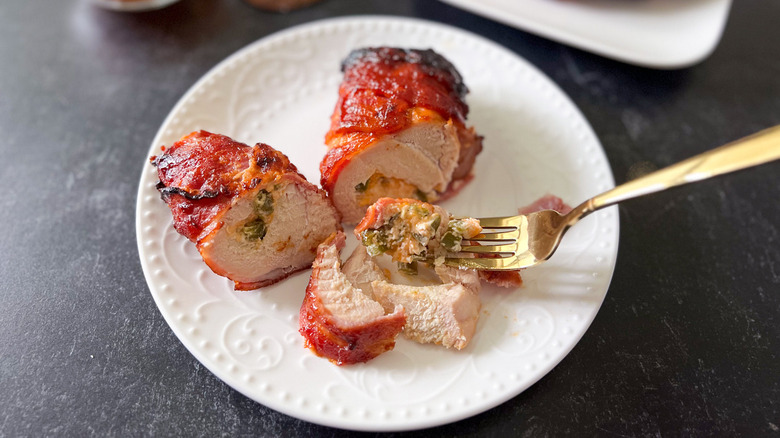 Total time: 1 hour, 55 minutes
Ingredients
4 chicken breasts, butterflied and pounded thin
1 teaspoon seasoned salt
4 ounces cream cheese, softened
1 cup cheddar cheese, shredded
2 jalapeños, diced
¼ teaspoon garlic powder
¼ teaspoon onion powder
12 strips bacon
½ cup barbecue sauce
Directions
Preheat the oven to 350 F.
Season each chicken breast all over with seasoned salt.
Mix together the cream cheese, cheddar, jalapeños, and the garlic and onion powders until well combined.
Put ¼ of the mixture into the chicken breast then roll it up.
Wrap each breast in 3-4 strips of bacon depending on size. Place them on a rack-lined baking sheet.
Brush each chicken breast with barbecue sauce.
Bake for 90 minutes or until the internal temperature of the chicken reaches 165 F. Flip the chicken over and brush with more barbecue sauce every 30 minutes.
Brush the chicken breasts one last time with the barbecue sauce and then put under the broiler to caramelize, about 5 minutes.
Allow the chicken bombs to rest for 5 minutes, then serve.