Wisconsin's Black Otter Supper Club Dishes Up A 160-Ounce Steak
Many restaurants offer prizes to those who can devour the hottest wings or the largest burger on the menu. One contest-offering establishment is the Black Otter Supper Club — home to the largest steak you'll probably ever eat. Sold at a varying market price, The Extreme Cut is a 160-ounce prime rib that's become a staple of the Wisconsin restaurant. Each of the restaurant's prime ribs spends multiple hours slow roasting and comes with a side of au jus.
Though such a large cut of steak may seem overwhelming, devouring one in a single setting will land you an Extremely Best t-shirt, named after the steak itself, a gift card for $20, and a photo on the restaurant wall to commemorate your accomplishment. If the 160-ounce prime rib seems a bit out of reach, you can also opt for the Super Cut. This steak weighs around 116 ounces, and it also lands you a spot on the wall as well as a t-shirt.
One TikToker shared his experience with the steak in a video. Filmed as a time-lapse, the TikToker quickly downed the entire prime rib in a little over an hour. However, users in the comments section weren't impressed — not with TikToker's success, but rather with the steak itself.
TikTokers question the steak's prime rib status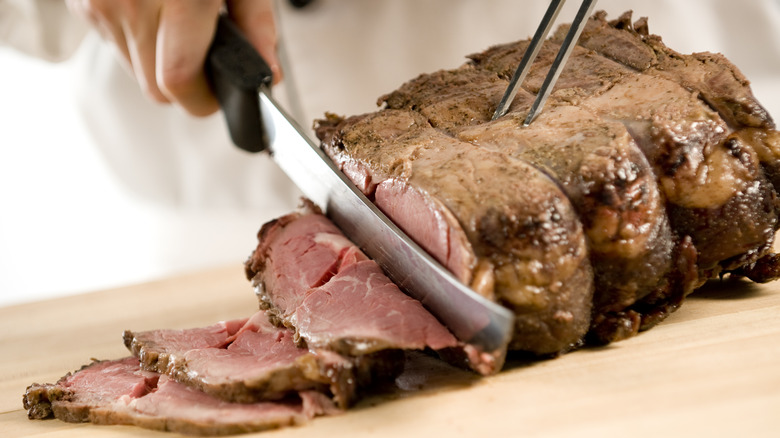 Stockstudiox/Getty Images
Black Otter Supper Club has its 160-ounce steak listed as a prime rib —a fact many TikTok users don't agree with. After watching the video posted by the Tiktoker,  comments criticizing the meat came pouring in. "People don't know how prime rib is supposed to look apparently," one comment read. Another user wrote, "Are they not gonna cook it, or is that a part of the whole challenge?" Other TikTokers agreed that the cut looked undercooked, with one commenter claiming it looked "boiled" due to its lack of crust.
However, those who've actually tried the steak seem to be fans. In fact, The Black Otter Supper Club was listed as having one of Wisconsin's best steaks by the Post Crescent. "Hands down, the best steaks in this area," one customer, Meredith Ulman, revealed to the outlet. "[Owner Geri Guyette] is known to hand-pick the meat and do much of the cooking herself." Thankfully for those who want to try the prime rib without committing to a giant cut, the restaurant also offers a 32-ounce variety. You could also whip up your own prime rib using our homemade prime rib recipe.