Almost-A-Milkshake Blueberry Smoothie Recipe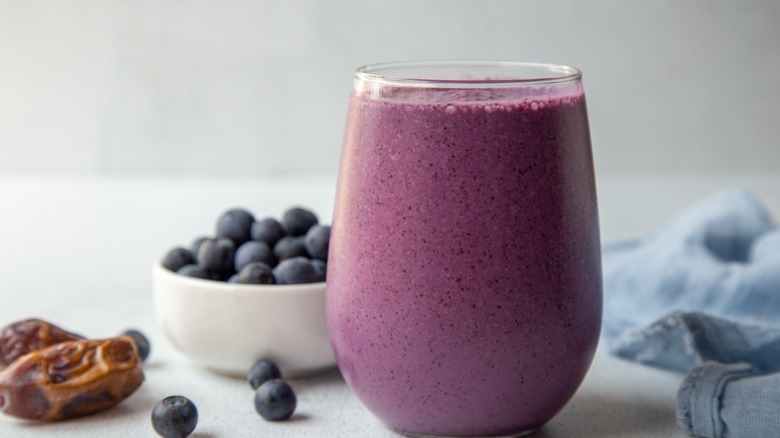 Kate Shungu/Mashed
The next time a craving for a milkshake hits, instead of trying to keep it at bay, lean into the desire for that cold, thick, refreshing beverage and make this "almost-a-milkshake" blueberry smoothie recipe, instead. You'll satisfy your sweet tooth while giving yourself the satisfaction of sucking down a more nutrient-dense option — what's not to love? 
And here's the secret to the milkshake-like quality of this smoothie: a medjool date. "The key to this recipe is the addition of the date — it adds a caramel-like sweetness to the smoothie that complements the sweet/tart blueberries," says recipe developer Kate Shungu of Gift of Hospitality. "This smoothie is sweet, refreshing, and filling." She also points out it's a recipe you can customize based on what you have on hand. So if you don't have blueberries? Don't sweat it! Throw in strawberries, mixed berries, or even mango as a replacement. Whatever you choose, it's easy to whip up and will be ready to enjoy in just 5 minutes flat. 
Gather the ingredients for this almost-a-milkshake blueberry smoothie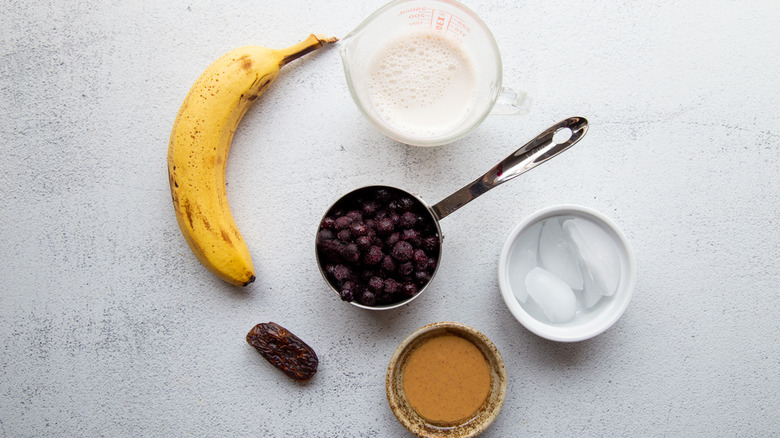 Kate Shungu/Mashed
You don't need much to make this incredibly tasty smoothie. Simply grab a banana, a medjool date, frozen blueberries, peanut butter, almond milk, and some ice. While the date adds extra sweetness to the smoothie, Shungu says the peanut butter gives it a little extra protein and fat to help make the smoothie filling. And as for that ice? "The ice bulks up the smoothie (who doesn't love a bigger smoothie?) and lessens the sweetness a bit," Shungu says. 
Also, if you don't have almond milk on hand, you don't need to go out and buy it. "You can swap it for whatever milk you have in the fridge," Shungu assures us. 
Place the ingredients into the blender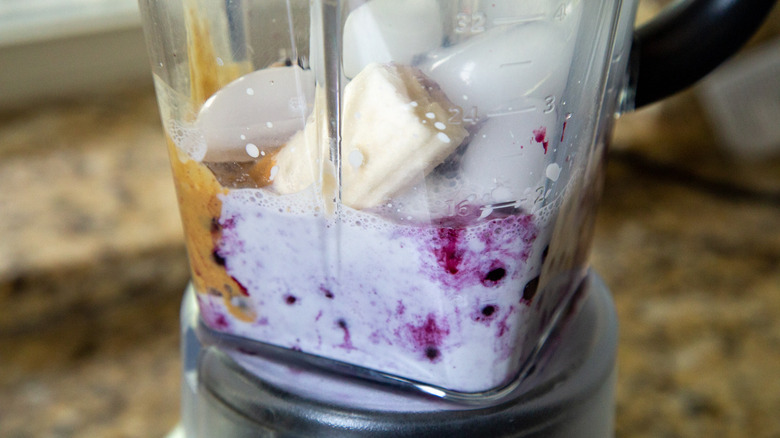 Kate Shungu/Mashed
If you've ever made a smoothie before, you know the drill. Start by loading up your blender with all the ingredients. Just keep in mind you should start with a little less milk (⅓ cup). You can add more if it ends up being too thick. 
Blend and serve the smoothie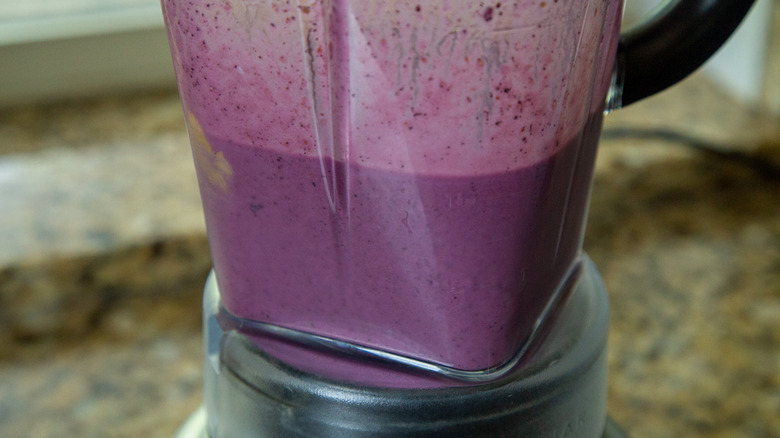 Kate Shungu/Mashed
Go ahead and turn your blender on and blend on high until smooth. If you decide you need more milk, add it a splash at a time until your smoothie achieves your preferred consistency. 
"I serve this as a quick breakfast, but it's a great after-workout snack, after-school snack, or a treat after some time outside on a warm day," says Shungu. Just keep in mind, it's best served immediately — a watery, lukewarm smoothie definitely doesn't have the same appeal as a thick, cold one.
Almost-A-Milkshake Blueberry Smoothie Recipe
This blueberry smoothie is so thick and creamy that it's almost like a milkshake, with the added bonus of nutritional benefits.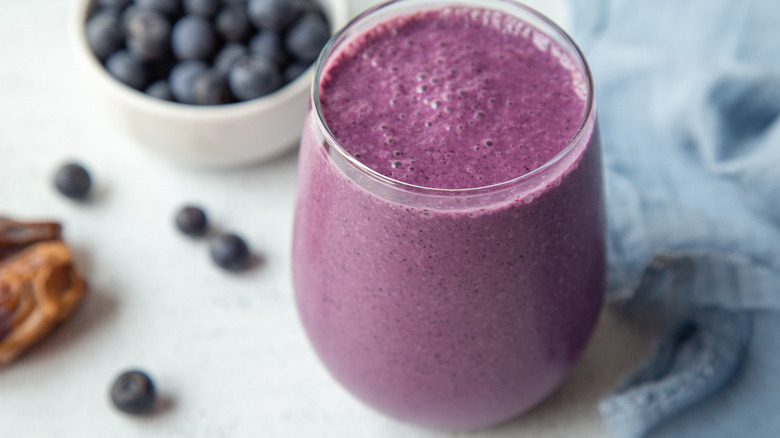 Ingredients
1 ripe banana
1 cup frozen blueberries
1 medjool date
1 tablespoon peanut butter
⅓ cup almond milk
½ cup ice cubes
Directions
Place all the ingredients into a blender. Start with ⅓ cup milk. If it's too thick to blend, gradually add more, up to ½ cup.
Blend on high until smooth.
Pour the smoothie into a glass and enjoy right away.
Nutrition
| | |
| --- | --- |
| Calories per Serving | 361 |
| Total Fat | 10.0 g |
| Saturated Fat | 2.1 g |
| Trans Fat | 0.0 g |
| Cholesterol | 0.0 mg |
| | |
| --- | --- |
| Total Carbohydrates | 70.3 g |
| Dietary Fiber | 9.4 g |
| Total Sugars | 46.5 g |
| Sodium | 67.1 mg |
| Protein | 6.8 g |