Denny's Baconalia Menu Makes A Meaty Return After 10 Long Years
Close your eyes and think back to 2011. There was one ingredient that seemed to be everywhere in the late 2010s, from restaurant menus to novelty items, and it was all thanks to a big marketing push by the pork industry: bacon. Diner chain Denny's capitalized on the bacon mania of the time by introducing a "Baconalia" menu to its restaurants in 2011, which lasted until 2013. But now, bacon is back, baby. Sales of the breakfast meat have been on the rise in recent years, and Denny's is counting on this continued popularity as it brings back its Baconalia menu for the first time in more than a decade.
The new, limited-time Baconalia menu is bigger than before; according to a press release, it features seven savory and sweet bacon-loaded items. Customers can choose from the Premium Bacon Loaded Pancakes, Triple Bacon Sampler, Bacon Obsession Burger, Sweet Maple Bacon Sundae, Hormel Black Label Bacon Slam, Sweet and Smoky BLT&E, and the What's Shakin' Bacon Milk Shake. This time, the chain is also specifically featuring Hormel Black Label Premium Cherrywood Bacon. Cherrywood is prized by smoked meat aficionados for its versatility, imbuing meats with a light, sweet, smoked flavor that isn't overpowering.
Baconalia is back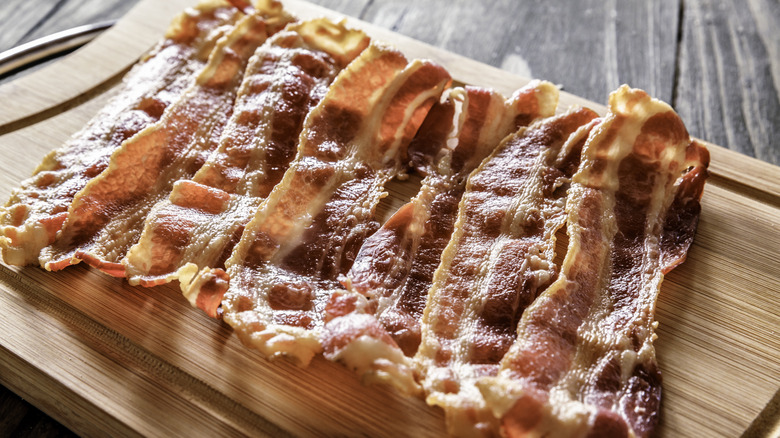 Apomares/Getty Images
Just as Padma Lakshmi hilariously sends her household into a bacon frenzy when she fries up a pan of the breakfast favorite, Denny's fans may very well become crazed with pork lust when confronted with the bacchanalian Baconalia menu. Fans have been calling for its return on social media, and now it's here. "This menu is the origin of my Gamertag," shared one customer on Facebook. "Can't wait to celebrate by going to Dennys." 
So how does the Baconalia menu taste? We found some reviews of the Baconalia menu of yore, and it sounds like there were some hits. "I had the Bacon maple shake the other week," shared one Reddit user. "Oh my goodness, it was amazing." As for the Maple Bacon Sundae? "It's good. Give it a shot. I thought it was so WTF I had [to] try it, glad I did," shared another. Those craving a hit of Baconalia nostalgia have from June 21 through August 29 to try the menu before it disappears again. But if you miss the window or just don't feel like going to Denny's, don't forget that there are some amazing ways to use bacon at home, too, like this air fryer candied bacon recipe.