Air Fryer Candied Bacon Recipe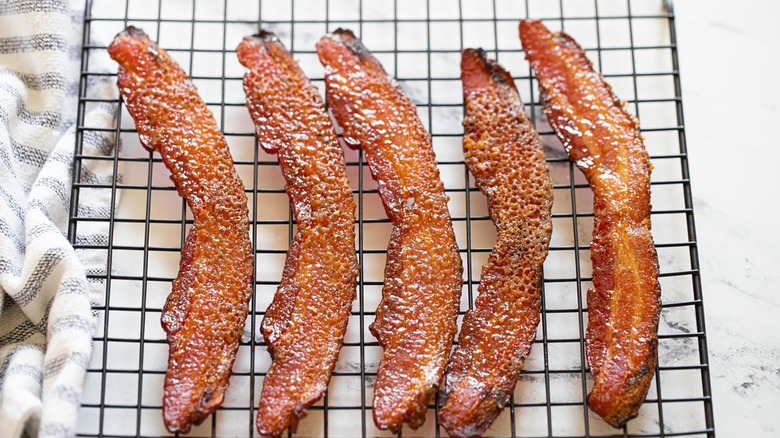 Kit Hondrum/Mashed
What's better than a nice piece of candied bacon? The answer is nothing ... because there's nothing better than some good old-fashioned candied bacon. This delicious recipe is great for several different occasions, and the bacon has so much flavor that you can enjoy it by itself. It also is an excellent addition for brunch and can be served on a sandwich, as a side, or one of our favorites — inside of a bloody Mary. Another great part about this air-fryer candied bacon is that it takes just a few minutes to make. And since you make it in the air fryer, that means there's little fuss and work on your end. It also makes the clean-up super easy. What's more to love?
Recipe developer Kit Hondrum came up with this flavor-packed and straightforward recipe that has so many pluses. "I love how easy, yet impressive this recipe is! It's really an unexpected treat to add to your next brunch," Hondrum shares. We would have to agree. Keep reading to find out how to make this tasty dish.
Gather the candied bacon ingredients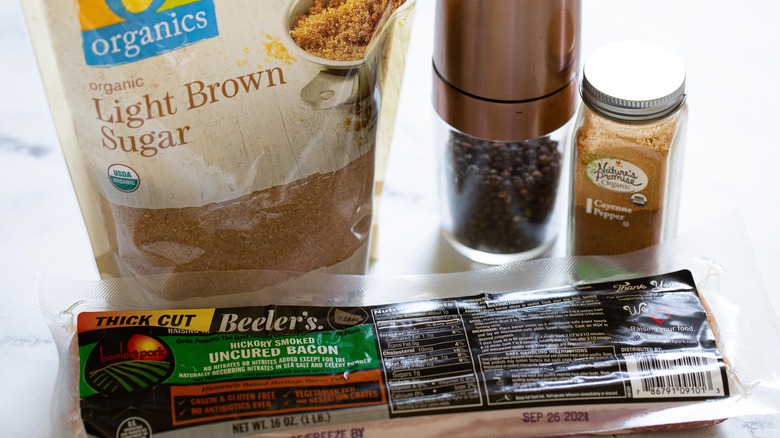 Kit Hondrum/Mashed
The first order of business is to gather all of the items you will need to make this yummy candied bacon. The main ingredient is a few pieces of thick-cut bacon. "You need thick-cut bacon since thin cut will burn before brown sugar caramelizes," Hondrum says. You will also need some brown sugar and freshly ground black pepper. Luckily, this is a common item used in cooking and you likely have it at home already. 
Last but not least is cayenne pepper. Once you have all of the items in front of you, it's time to begin!
Mix the spices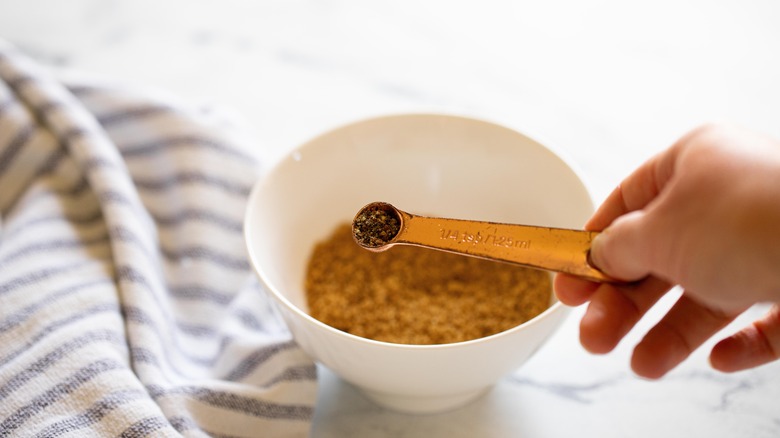 Kit Hondrum/Mashed
Take out a small mixing bowl for your spices and then it's time to get to mixing. First, you'll want to add the brown sugar, followed by the freshly ground black pepper. Be sure to measure them accordingly. The last item that will go in this mix is cayenne pepper. "The cayenne pepper doesn't add any noticeable heat to this candied bacon," Hondrum notes. "It's just added to subtly enhance the flavor. Increase to ⅛ teaspoon cayenne if you want a little heat to it!" That means it's still great for both spice lovers and non-spice lovers alike. 
Lay the bacon in the air fryer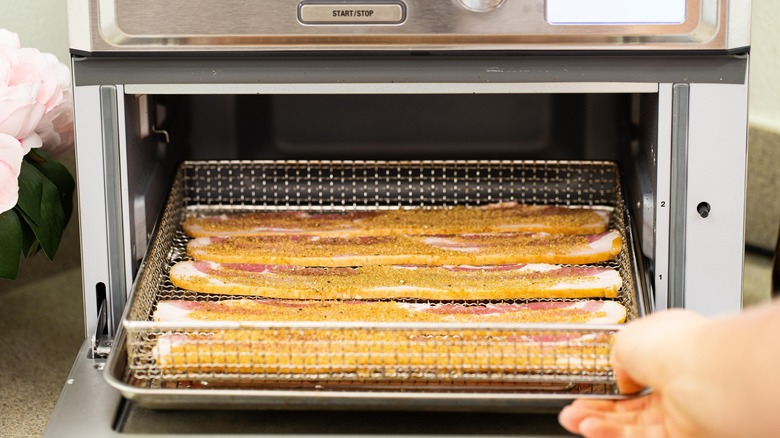 Kit Hondrum/Mashed
Now, it's time to bust out the air fryer, aka your BFF in the kitchen. Lay the bacon in a single layer in the air fryer. Honestly, the air fryer is one of our favorite kitchen gadget because it gives you the same taste of fried food but with way less guilt. "The air fryer is super quick and the air circulation really gets all of the parts of the bacon nice and crispy, while caramelizing the sugar perfectly," Hondrum shares. 
You don't need to spray the bottom of the air fryer since the bacon produces enough oil to prevent it from sticking to the bottom as it cooks. Now, sprinkle half of the brown sugar mixture on top and use the back of a spoon to smooth it out. Make sure to cover all of the pieces evenly.
Air fry the bacon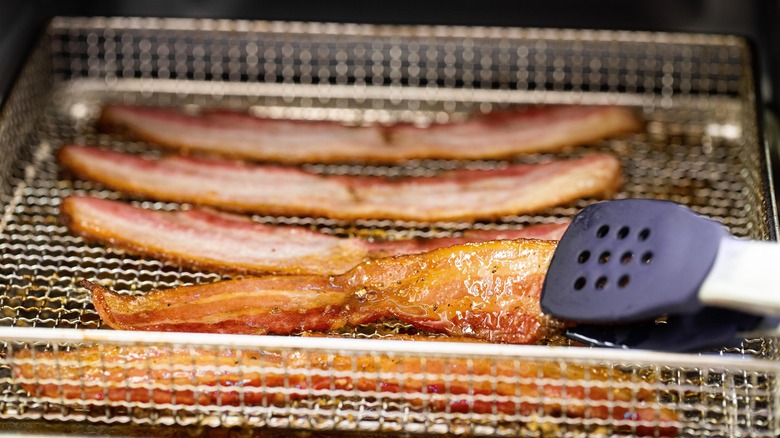 Kit Hondrum/Mashed
Place the rack back in the air fryer back in and set the temperature to 350 F. You do not need to preheat the air fryer for this recipe. Then, turn your timer on for 15 minutes. About halfway through, you will want to flip the bacon and add the remainder of the brown sugar mixture. Then, allow the bacon to finish cooking. Hondrum says that you should "work in batches if necessary" and be sure not to overlap any of the bacon.
Let the bacon cool and enjoy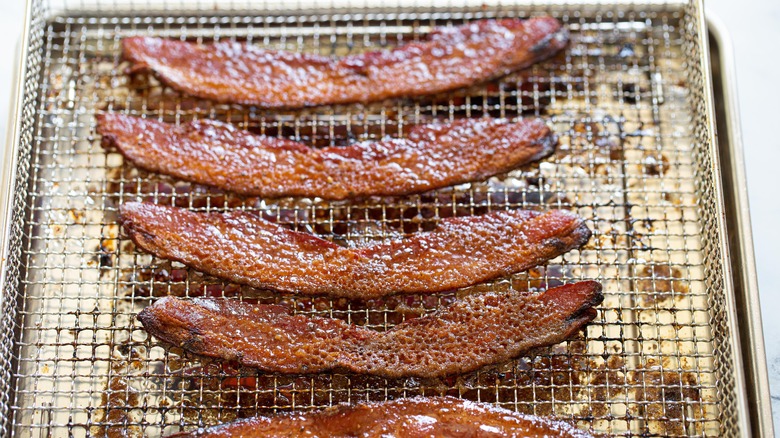 Kit Hondrum/Mashed
Once your timer goes off, remove the bacon from the air fryer and set it on a cooling rack immediately to prevent the bacon from sticking to the bottom of the pan. Allow the bacon to cool for about five minutes on the rack before serving. "Serve with brunch, on burgers, on top of a bloody mary, or even crumble on top of cupcakes or cake!" Hondrum suggests.
"There probably won't be any leftovers! Everyone will be fighting for the last piece, guaranteed," Hondrum raves. "But if you do have leftovers they should be good in the fridge for up to 1 week (but it won't stay crispy)." 
We hope you love this recipe as much as we do, because it's one of the best spins on bacon ever. 
Air Fryer Candied Bacon Recipe
Making candied bacon is easier than ever with an air fryer. This tasty treat goes great with burgers or brunch and comes together in less than 20 minutes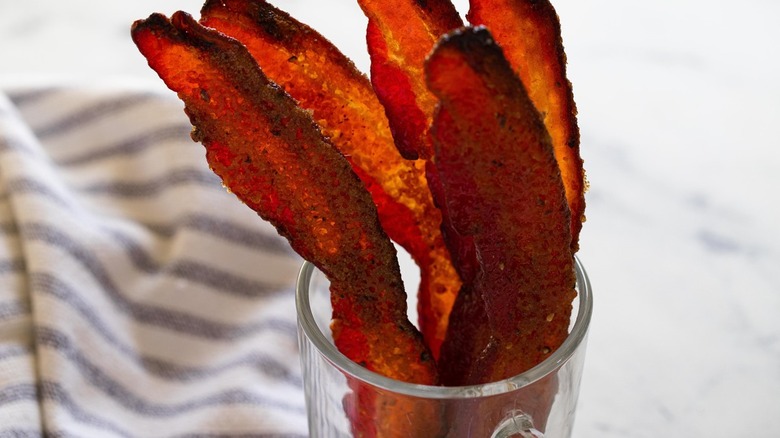 Ingredients
8 ounces thick-cut bacon
¼ cup light brown sugar
¼ teaspoon freshly ground black pepper
1/16 teaspoon cayenne pepper
Directions
Mix brown sugar, black pepper, and cayenne together in a small bowl.
Lay bacon on the air fryer rack in a single layer. Sprinkle with half of the brown sugar mixture and smooth it out with the back of a spoon, covering the pieces evenly.
Place the rack in the air fryer and set it for "air fry" at 350ºF for 15 minutes.
Flip halfway through and sprinkle with the remaining half of the brown sugar mixture.
Move the bacon to a cooling rack immediately to prevent sticking. Allow to cool for about 5 minutes on the cooling rack before serving.
Nutrition
| | |
| --- | --- |
| Calories per Serving | 271 |
| Total Fat | 22.5 g |
| Saturated Fat | 7.5 g |
| Trans Fat | 0.1 g |
| Cholesterol | 37.4 mg |
| | |
| --- | --- |
| Total Carbohydrates | 9.7 g |
| Dietary Fiber | 0.0 g |
| Total Sugars | 9.4 g |
| Sodium | 377.9 mg |
| Protein | 7.2 g |