Aldi And Trader Joe's Are Part Of A Massive Frozen Fruit Recall For Potential Listeria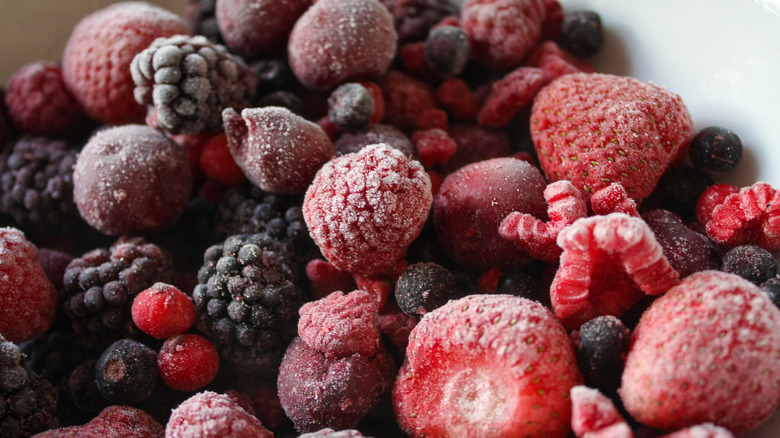 Scott-cartwright/Getty Images
Everyone check your freezers. A massive frozen fruit recall is underway that applies to products sold at many grocery stores across the U.S., including Aldi and Trader Joe's. Per a press release, several frozen fruit products from Sunrise Growers Inc. are being recalled due to the risk of listeria contamination.
Products affected at Aldi include the store's Season's Choice Tropical Blend and Mixed Fruit, which is sold in a 32-ounce plastic bag. The press release details various best-by dates, lot codes, and states in which the product was sold from October 2022 to May 2023.
Over at Trader Joe's, affected fruit products include Trader Joe's Organic Tropical Fruit Blend sold in 16-ounce plastic bags in 31 states and Washington, D.C. between March and April of 2023. Again, if you have bought this product, it's wise to review the press release to see the affected lot numbers and best-by dates. This isn't the first time this product has been recalled; Trader Joe's customers were also encouraged to discard this product this past March due to a Hepatitis A outbreak (via Food Safety News).
Other grocers have also been affected by this recall
Luckily, there have been no reports of illness related to this recall thus far. However, signs of listeriosis — the infection caused by listeria contamination — are serious and require medical attention. Per the Centers for Disease Control (CDC), symptoms of listeriosis might include fever, headache, muscle aches, and even convulsions, among other signs. Listeriosis is particularly dangerous in pregnant people, who might feel like they have the flu, but it can harm an unborn child.
The recall has also affected other frozen fruit products sold at other stores including Walmart, Whole Foods, Target, and Associated Wholesale Grocers, so if you purchase any kind of frozen fruit, it's probably a good idea to take a look into this recall to determine whether the product is safe. If you are in possession of any of the recalled fruit, you are encouraged to throw it away or take it back to the store where you bought it for a refund.