These Cake Pops Sold At Costco Will Have You Skipping Starbucks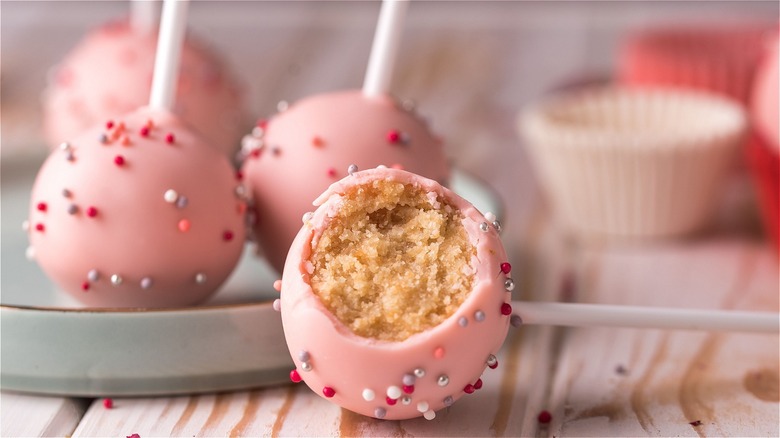 EugeniaSh/Shutterstock
Just in case nobody told you this: You deserve a little treat today, and when it comes to treats, cake pops are among the best. Bite-sized pieces of icing-infused cake served on a stick and coated in a layer of colorful chocolate and sprinkles — does it get any better? As a matter of fact, if you're also a major fan of macarons, it can.
As noted recently at Costco by TikTok user @costcohotfinds, the big-box retailer is now home to Mac Pops, a product of the Texas-based macaron bakery Macarooz that uses the French sandwich cookie as the base of its pops, as opposed to actual cake. As seen in a video shared by the TikToker, the wholesale club is inviting shoppers to "make every day your birthday" with 10-count packages of the brand's Birthday Mac Pops. The decadent snack features a filling made from birthday cake macarons and buttercream icing, plus a garnish of rainbow sprinkles.
Each pack comes with a price tag of $12.99, which may be reason enough to start ditching your usual Starbucks cake pops that can go for as much as $3.75 each. However, the savings alone isn't the only thing that sets Mac Pops apart. The treats are also certified gluten-free, SQF certified for food safety, and, according to some people on the internet, pretty tasty. "They are so, so good. They're the best cake pops I've had," @costcohotfinds raved.
Currently, only Texas-based Costcos offer Mac Pops
It seems cake pop fans and Costco shoppers alike are seriously hyped about the retailer's gluten-free baked good on a stick.
"WHAT OMG I NEED IT I LOVE CAKE POPS SO MUCH THEY ARE THE BEST OMGG I NEED THIS. I LOVE CAKE POPS," one TikToker enthusiastically commented on @costcohotfind's spotlight on the treat. "Yeah imma need a costco membership now," another quipped.
Several others, meanwhile, said they were having trouble finding Macrooz's birthday cake-flavored Mac Pops at their local Costcos which can likely be chalked up to the fact that they're exclusively available at locations in one state. Per an Instagram post from the brand last month, the treats have only made their way into warehouses in Texas — though, fortunately, there are a few other places you can head to for the dessert. In addition to Costcos in the Lone Star State, Mac Pops are also available at all Harris Teeter locations throughout the country and can be ordered directly from the Macrooz website, as well.